Yesterday Toshiba took the wraps off their latest smartphone, the TG01, and with it catapulted themselves into the must-see category at Mobile World Congress next week.  We've got details, photos and high-definition video of the TG01 if you need to get fully up to speed, but basically it's a 9.9mm thick WM6.1 smartphone with a 4.1-inch touchscreen, all the usual 3G and GPS connections, and a custom GUI as is so common now among users of Microsoft's mobile platform.  There's no denying it's a slick, attractive handset – so how come I can't get excited?
There's plenty of time between now and Toshiba's "Summer launch" for the handset to be tweaked and polished, at which point I'd wager the hardware is going to be even more tempting.  Trust me, the photos and even the video don't do the TG01 justice; even the dummy models had me wanting to slip one into my bag and run.
On paper the Toshiba is special: the display quality, the connectivity, the size.  In fact they may have created the first MID that mainstream users are actively drawn to.  And yet I really feel the TG01's Achilles heel will be its OS.  Although Toshiba announced the TG01 with Windows Mobile 6.1, it'll inevitably launch with version 6.5 – after Microsoft announce the update at MWC later this month. 
I'm excited about the Palm Pre: webOS promises new, intelligent levels of information management and the ability to learn from usage patterns, plus there's a basic kinetic appeal about a handset that physically slides open.  For a similar reason – together with how it hints at multitouch devices to come – I'm excited about the Nokia N97.  I'm still excited about the iPhone 3G, because of the promise its GUI still holds, and the way Apple manage to finesse the user-experience.  Thanks to a growing array of augmented reality software on Android, I'm even managing some excitement about the T-Mobile G1, though most of it is saved for future devices running the platform.
When it comes to Windows Mobile 6.5, though, right now we're being asked to get excited about a new, honeycomb launcher, a new version of Internet Explorer Mobile and a larger 'close' button.  Given that Toshiba's own GUI will cover up the former, and that even I struggle to summon glee over a big 'X', that makes the most significant change – by which I mean the change you and I will see the most of – the browser.
Now a browser with full Flash compatibility, running on a 4.1-inch 800 x 480 display with 384k pixels is nothing to be sniffed at.  However it's also not something you can create too much enthusiasm for a whole platform over.  Windows Mobile does some things very well – its Exchange integration is great, and setting up a new phone with an existing account is a joy compared to doing the same thing on S60 or the BlackBerry OS – but creating an addictive, intuitive user experience isn't one of them.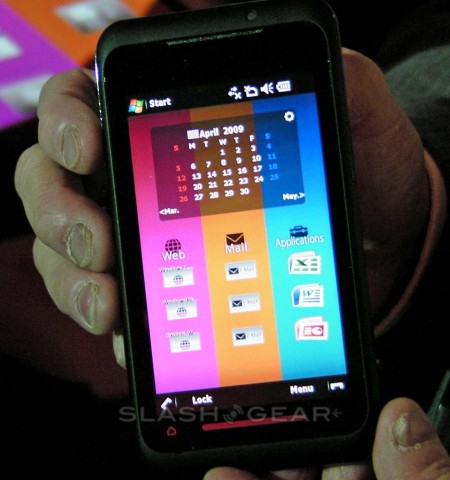 Here's an example: you might remember our review of the HTC Touch HD, probably the best Windows Mobile 6.1 handset I've experienced.  HSDPA, WiFi, a gloriously large and high-res touchscreen (indeed the finest resistive display on a smartphone I've used) and 5-megapixels of camera goodness; I certainly missed it when HTC called for it back.  Yet despite the fact I could have probably scored a free Touch HD from my current carrier – I'm years overdue an upgrade – in return for 12-24 months new contract, I didn't even try.
Of course, I fell in love with the iPhone 3G while living in the US last year, but when I came back to the UK I didn't buy one of those either.  It's just that Windows Mobile's strengths – which the TG01 will emphasise, certainly – are tied up in an overall package that doesn't feel special, that feels old.  Too many taps, too many settings pages to go through; I want a device that, like the iPhone 3G does, like I think the Palm Pre will, makes you pick it up and play with it even when you don't really need to.  No Windows Mobile device has, in my experience, managed that so far.
I could be wrong about the Toshiba TG01 – in fact, given the industrial design and the spec sheet, I hope I am – and the company could do wonders with their GUI.  If they can manage to hide Windows Mobile then they might be onto something.  At the moment I can see a Start button, and a standard WM6.1 status bar, and it's turning me off; the OS does a lot, but it does it in an ugly way and, right now, that's not what consumers want.  I'm a consumer, and half of me loves the TG01.  I just wish they'd put Android on it.