Toshiba TG01 announced: iPhone 3G and Touch HD killer?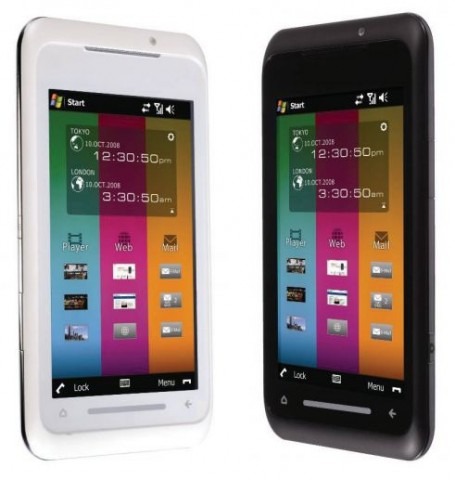 Toshiba this morning announced their latest smartphone, the TG01, set to take on the HTC Touch HD and iPhone 3G.  The Toshiba TG01 is a 9.9mm thick Windows Mobile 6.1 smartphone, with a 4.1-inch WVGA 800 x 480 384k pixel resistive touchscreen, 3G HSPA, WiFi, GPS and A-GPS.  It also features Toshiba's own 3D user interface, and is the first device to use Qualcomm's 1GHz Snapdragon QSD2850 chipset.
The TG01 has an 8-percent larger display than the Touch HD and 21-percent slimmer.  Toshiba's new GUI is intended for one-handed use, with finger-friendly vertical panels that can be swiped through and rotated like vertical blinds.  The smartphone also responds to gestures and shaking, with the shake feature used to answer and end calls, as well as to return to the homescreen; the accelerometer is also used to rotate the display.  There's also a virtual trackpad that can be used to navigate complex webpages in Internet Explorer Mobile 6, which comes with full Flash support.  The handset also has direct access to Facebook, Google and YouTube.
We're expecting big things from the Snapdragon CPU, which has dynamic speed control allowing it to throttle back during low use and, Toshiba claim, run for a whole day without requiring the user to hold back on their multimedia activities.  The screen also has many of Toshiba's HDTV technologies, including color matching, dynamic gamma correction and LCD backlight control.  A microSDHC slot supports cards up to 32GB; it's unclear what internal memory the TG01 has.
Toshiba expect the TG01 to be available in Europe sometime this Summer, and while they confirm that they're in talks with carriers with regards exclusivity deals, they won't say which networks.  Price is also unknown, but expect something along the lines of the Touch HD and the iPhone 3G.
Details on the handset were relatively sparse today, with only two working pre-production prototypes in white and black.  We've got live photos here, plus video of the Toshiba TG01, and we'll be spending more time with the smartphone at Mobile World Congress where Toshiba promise more availability details.