Nokia planning multitouch devices for Q2 launch?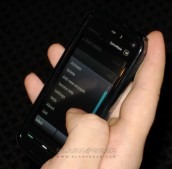 Nokia is planning several 3G and 3.5G devices with multitouch and multimedia functionality in 2009, according to the latest industry rumors.  Despite poor financial performance in the last quarter, and predictions that the mobile device market would shrink in the coming year, Nokia have apparently told chip suppliers that it will increase orders in March, with new handsets using the technology launching in Q2 2009.
According to the same sources, the manufacturers most likely to benefit from Nokia's sales splurge are Qualcomm, Texas Instruments and Synaptics.  There's no word on which devices could use the new technology – particularly multitouch, which is not present on Nokia's upcoming N97 flagship.
Nokia has previously confirmed that the N97 and 5800 'Tube' XpressMusic are only the first in a range of new touchscreen devices, but other than that the company has been tight-lipped regarding possible developments.  If the rumors of one or more multitouch handsets pan out, the Finnish company could find itself in the midst of the Apple IP argument.