Top notable Windows 10 tablets in 2015
2015 is nearly over and with that comes two things: holidays and shopping! And while reflecting on the great things that has happened in the past months and planning for the next twelve, it might also be time to consider whether your computing needs is also due a much needed update. This year has seen many a new things, from a new Windows 10 to new Intel processors, that might have you thinking about your next purchase. But what if you valued mobility just as much as your budget? Worry not, because we have here some of the most notable Window 10 tablets this year that will give you the best bang for your buck.
The criteria
It is too tempting to put Microsoft's Surface tablets, both Pro and non-Pro, in each of the lists. After all, they are supposed to be the model for Windows 10 tablets. And they are really good at being that. But aside from their price, which has often been criticized, it is only fair to see how the rest of the OEMs are doing, and they're doing quite an interesting job at times.
We also took into consideration the latest CPU generation. That means Intel's 6th gen Core i and m families, a.k.a. Skylake, as well as the latest 5th gen Atom processors, also called Cherry Trail.
While we are looking at tablets, like what we said, tablets are becoming hybrids. Here there are two trends: detachable 2-in-1 tablets and flipping laptops. We considered both kinds when looking at what's available but do prefer the more mobile option of the two.
Styluses are also not an essential factor, but it's interesting that, except for the top tier, almost all of them advertised support for a digital writing instrument.
The Top Dog: Lenovo YOGA 900 ($1,200 to $1,500)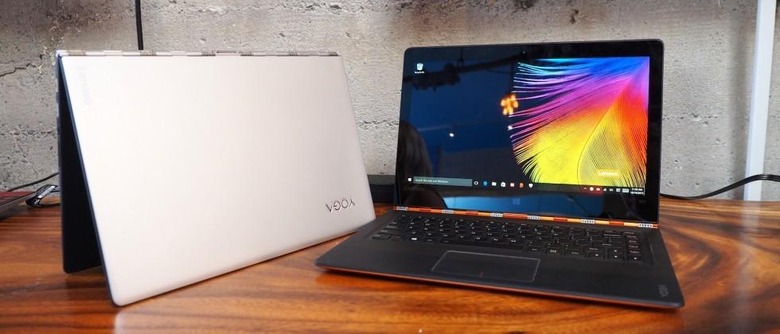 This is admittedly the only Flip style Windows 10 computer in this list, because there seems to be very few, almost none except the Surface Pro 4, of the detachable kind that matched our specifications. The Lenovo YOGA 900, however, does not disappoint. Powered by a 6th gen Intel Core i7, this beast boasts of configurations with 8 to 16 GB of RAM, 256 to 512 GB of storage, and a 13.3-inch screen with a rather odd QHD resolution of 3200x1800. Unlike a Surface Pro, you won't have to worry about balancing the YOGA 900 on your lap or toppling it over. By now, Lenovo has perfected the art of bending over to accommodate all your computing needs. Well, almost, as the YOGA 900 does not have any support for a stylus whatsoever.
Another flip style convertible that comes a close second is the Dell Inspiron 13 7000 series. Although it starts at a lower price tag of $799, it does also start with lower specs, like a Core i5 CPU and only Full HD resolutions. Furthermore, it is considerably heavier than Lenovo's baby, a good 1.67 kg (3.68 lbs) versus the YOGA 900's 1.3 kg (2.8 lbs). Dell's new XPS 12 also almost made it to the list, except for the fact that it ran on a relatively weaker 6th gen Core m5. Too bad, as it does support Dell's Active Pen stylus and comes in a 2-in-1 form.
What didn't make it to the cut is VAIO's first 2-in-1 entry into the US market. Although nice to look at, especially for digital graphics artists, the VAIO Z Canvas is not only twice as expensive but also ran on yesterday's CPU generation.
The Middle Ground: Lenovo Ideapad MIIX 700 (Est. $700)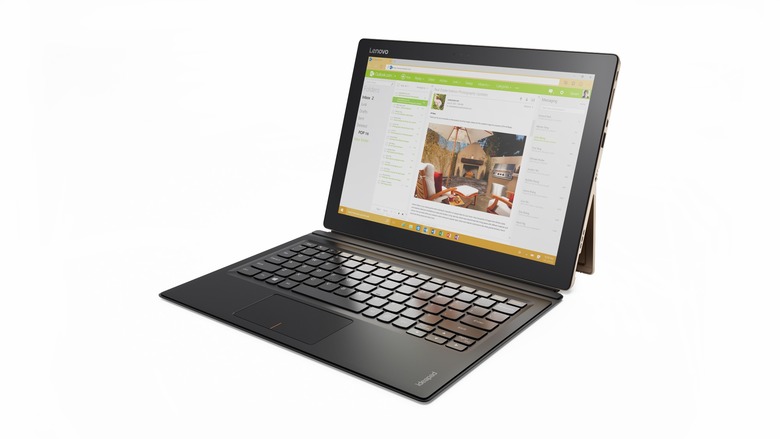 The Surface tablets were both praised and derided for their unique design, a design that some manufacturers have seemingly decided to emulate. None is that more apparent that Lenovo's upcoming Ideapad MIIX 700, which is almost a dead ringer for the Surface Pro 3. Based on earlier revealed specs, this tablet will have a 12-inch screen with a remarkable 2160x1440 FHD+ display, again like the Surface Pro. It will, however, run on a 6th gen Core m7 processor, like the Surface 3, with up to 8 GB of RAM and 256 GB of storage. As you might have guessed, this would have support for a stylus. Excited? We are too, but we'll have to wait as the MIIX 700 is still coming, with no date set yet.
If you are in a hurry, two of HP's tablets might be a better choice, but for a higher price tag and some lower specs. The HP Elite x2 starts at $900, but almost dials down all the starting stats to Core m3, 1080p resolution, 4 GB RAM, and 128 GB storage. The HP Spectre x2 has practically the same starting point but with an even lower $799 price. Both come with support for HP's styluses and, perhaps the most interesting, 4G connectivity.
The Wallet Saver: HP Envy 8 Note ($330 to $430)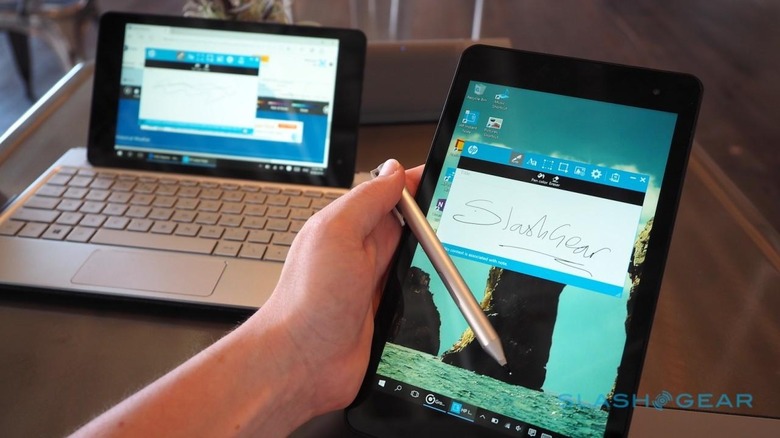 If you're really in a bind, there are dozens of entry level Window tablets available. Or at least there were, as HP is reported to be dialing down its budget tablets. In fact, the cheapest Windows tablet that remains on its online store is exactly this tablet. The Envy 8 Note has a rather strange proposition. It has an 8-inch screen that makes it completely portable. But its official keyboard dock comes in a 10-inch size. HP's reason is that users want small screens but comfortably big keyboards. Whether that works in practice will little squinting remains to be seen.
The HP Envy 8 Note is, unsurprisingly powered by an Atom, the 5th gen Cherry Trail x5-Z8300. There's only 2 GB of RAM but perhaps more worrying is the base 32 GB of internal storage. Interestingly, that 8-inch screen manages to have a 1920x1200 resolution. And yes, there is a stylus in the $330 package. With a keyboard, however, the price jumps to $430.
If, however, you're not so hot about weird tablets, then ASUS' latest Transformer Book iteration, the T100HA, might be more to your fancy. The screen is larger at 10 inches, but resolution caps at 1280x800 HD. There's options for 2 or 4 GB of RAM and up to 64 GB of storage. It runs on the same Atom x5 but starts at a lower $300 price. No stylus for this one, however.
Wrap-up
The new Windows and new Intel CPUs have ushered in a new generation of laptops and tablets, enough to fill several pages. Of course, not all of them have to be interesting and many are just plain utilitarian. Still, if you're in the market for something useful, wallet-friendly, and fun at the same time, this list may help you make up your mind.