Hands on with the HP ENVY 8 Note: A sorta-Surface Mini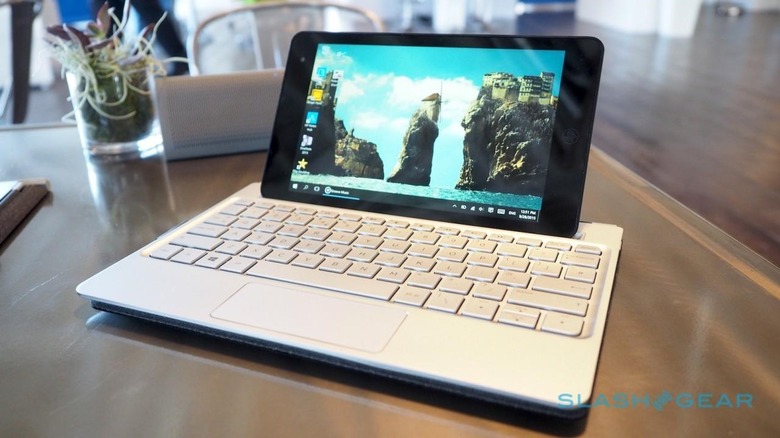 Microsoft won't launch the much-rumored Surface Mini, so along comes HP to fill the gap with the unusual ENVY 8 Note. An 8-inch tablet paired with a 10-inch keyboard, the Windows 10 slate slides into its QWERTY companion for easier transportation, and also includes a digital pen for note-taking and sketching.
Now, small tablets aren't unusual – though Windows on a sub-10-inch device is still a relative rarity compared to larger models – but we don't normally see a mismatch in size between them and their companion peripherals.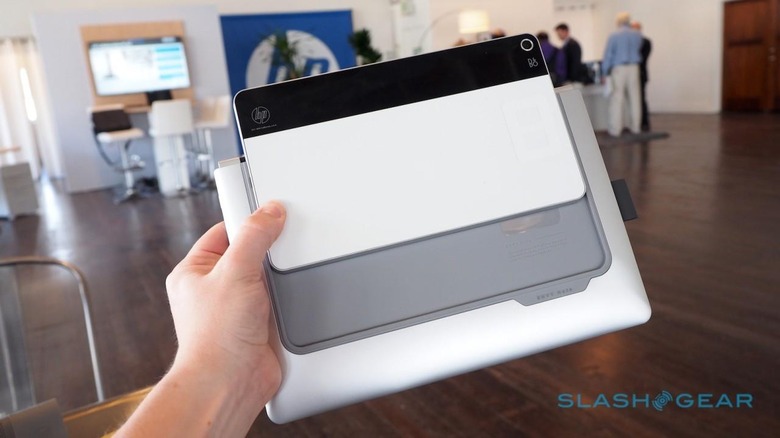 HP's argument is that, while many people like the idea of a smaller form-factor tablet, they also expect comfortable typing. The combination of an 8-inch screen, for easy holding while reading or web browsing, and a detachable keyboard more commonly found with a 10-inch product, ticks both those boxes.
On the tablet side, there's a 1920 x 1200 LCD display with Gorilla Glass 3, made of aluminum and plastic. Keeping Windows going is an Intel Atom x5-Z8300 processor – running at between 1.44GHz and 1.84GHz – along with Intel HD graphics.
On its own, it tips the scales at 0.8 pounds, and comes in at 7.7mm thick. There's a 5-megapixel camera with autofocus on the back and a 2-megapixel camera on the front, while B&O Play branded speakers deliver the audio.
Ports are, unsurprisingly, on the limited side. You get a microSD slot, microUSB 2.0 OTG, and a headphone jack, while inside there's a Verizon LTE modem.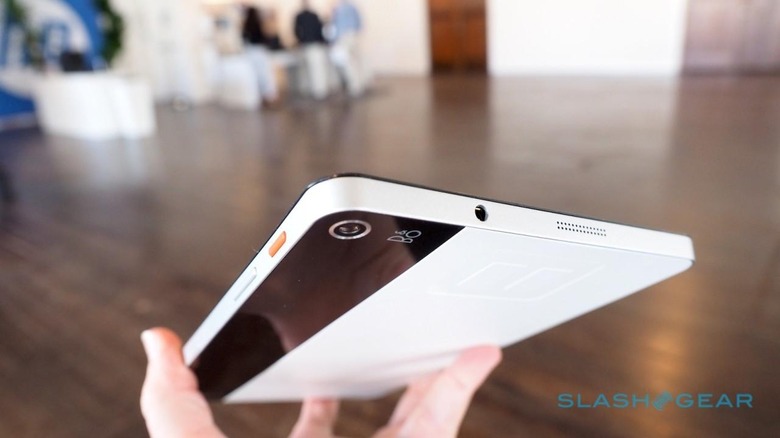 It all feels sturdy and well put-together, and though the Atom chip isn't going to inspire fear and envy in the Surface Pro 4, Windows 10 moved along reasonably in my brief testing, with only a little lag in orientation flips spoiling the show. Unfortunately, HP hasn't had much space left for battery, and so the most it expects to get from the ENVY 8 Note is 6.25 hours.
That's on the low side if you're comparing with Android or iOS tablets, though admittedly they're not running a full desktop OS.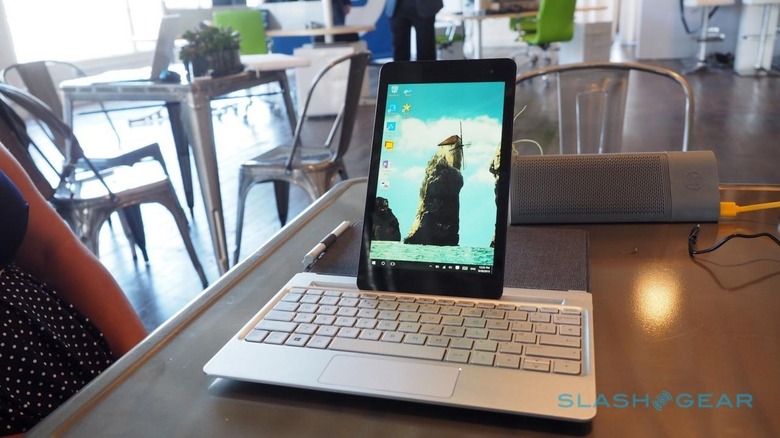 Neither do they have the ENVY 8 Note's keyboard party trick. The 'board itself is similarly well constructed, and the keys – very close to full-sized – have the same 1.5mm travel as HP's regular notebooks.
The groove at the back holds the tablet in portrait or landscape orientation, and the two parts connect via Bluetooth. There's a loop on the side for the standard digital pen, too, plus a microUSB port for charging.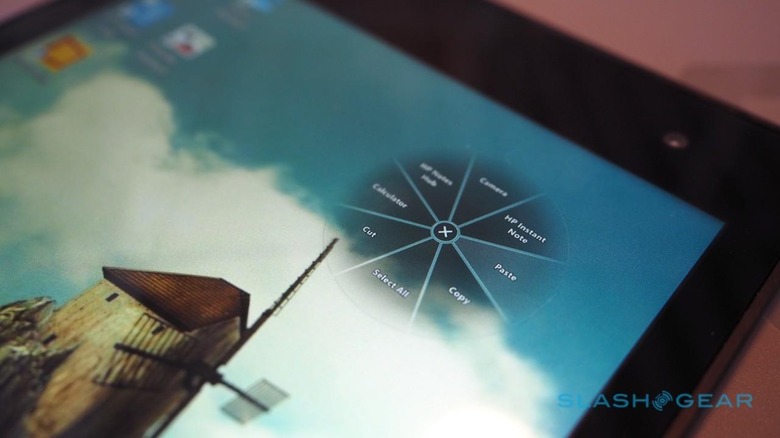 Hover the nib over the screen and press the side button and you get a pop-up radial menu for shortcuts, similar to what Samsung does on the Galaxy Note 5. One of those shortcuts leads to HP's own Instant Note app, which makes snipping and annotating webpage screengrabs easy with automatic URL capture.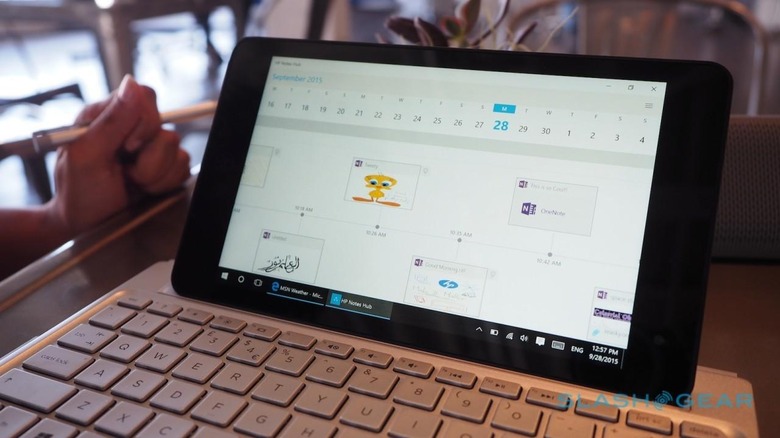 Another is HP Notes Hub, which puts all of your digital jotting on a timeline for easy search and rediscovery. Cleverly, it also taps into your calendar if you allow it, matching up the notes you made with the meetings you were attending at the time.
Usually I'm skeptical of these homegrown memo apps, but I could see HP Notes Hub actually being fairly useful if you're a keen user of the pen.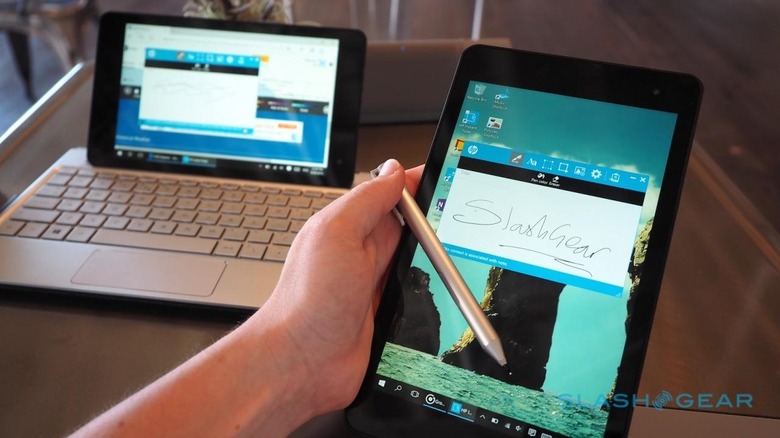 The HP ENVY 8 Note will go on sale in the US come November 8.
It'll be priced at $329 for the tablet and stylus, while throwing in the keyboard folio takes that up to $429.
[gallerybanner p=408618]