Time, patience and a taste for danger demanded for DIY Retina MacBook Pro fixes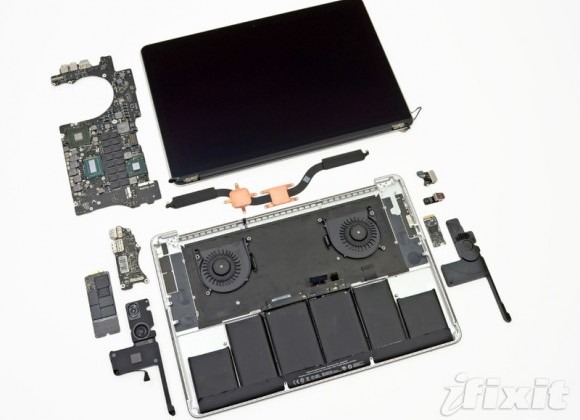 Apple's MacBook Pro with Retina Display was strongly criticized from some quarters for its resilience to DIY-repair, but new unofficial guides suggest it's more a case of how determined you are to complete your own tweaks. iFixit has pushed out a fifteen-part tutorial for removing and replacing different elements of the flagship Apple notebook, with the pinnacle of difficult probably being switching out the battery.
"Removing the battery is very difficult" iFixit warns. "There is always a chance of inhaling noxious fumes and lighting the battery on fire. Work in a well ventilated area." The preliminary steps involve wiggling out fans and other components from within the tightly-packed computer – tricky but not necessarily dangerous – but gets significantly more worrisome when you're actually trying to peel up the battery from the glue holding it in place.
"You will be using a plastic putty knife and a spudger to release the adhesive holding the battery to the upper case" iFixit describes, going on to point out that "the adhesive is very strong, and will require a lot of strength and patience to remove."
If all that sounds like too much hard work and death-dicing, Apple will happily do it for you – albeit for $199. That could actually be something of a bargain, however; iFixit estimates that "third party battery replacements will cost over $500 if technicians follow the safer Apple-suggested procedure and replace the entire upper case assembly along with the battery."
In short, if you're keen to have a MacBook Pro you can repair yourself, the older-style model is probably what you should be looking to; a slim machine like the Retina Display version demands some compromises. Apple is yet to release sales breakdowns indicating exactly how many people have made that compromise in return for the notebook's undoubtable charms, though the company apparently struggled to keep up with demand post-launch as shipping times extended into several weeks.
[via 9 to 5 Mac]