The slammed, lifted, crazy cars of SEMA 2015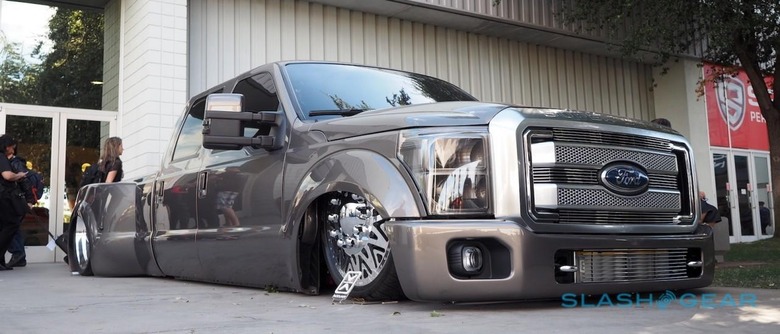 I honestly wondered if the air suspension was broken when I saw my first slammed truck at SEMA 2015 this week. So close to the ground that a vole couldn't squeeze beneath the undercarriage and the parking lot, and with the vast wheels pushed so high into the arches that you'd seriously doubt they could rotate, never mind turn for corners, it turned out the effect was not only intentional, but repeated on several cars and trucks around the show.
That's one extreme. At the other, you have the mods which send the suspension sky-high. Never mind the motorized fold-down runners of the Escalade I reviewed recently; I'd need a full step-ladder to unfurl just to get me into the cabin of some of the lifted trucks.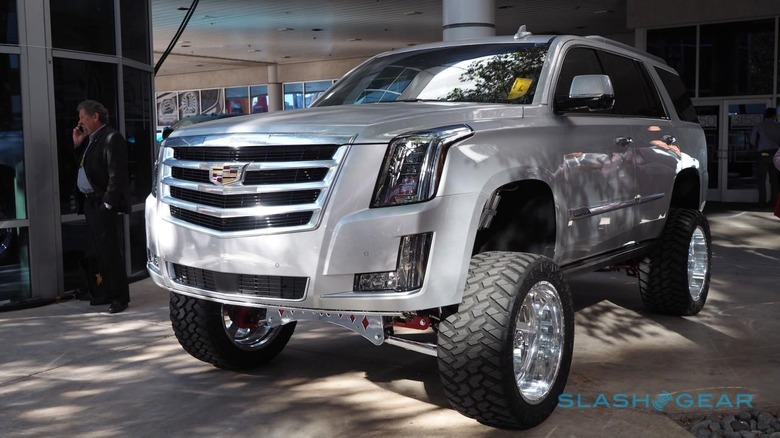 It's my first SEMA, and the world's best-known speciality automotive show is certainly eye-opening. In-between the drops and the lifts are more modifications, customs, and tweaks than you could imagine, running the gamut from tasteful to... divisive.
The exotica is relentless, and none of it is stock. Everyone from engine filter companies through aftermarket suspension, wheel, gear shift knob specialists, and to the people who put reversing camera screens in your rear-view mirror or the tine on your windows has a supercar to catch your eye.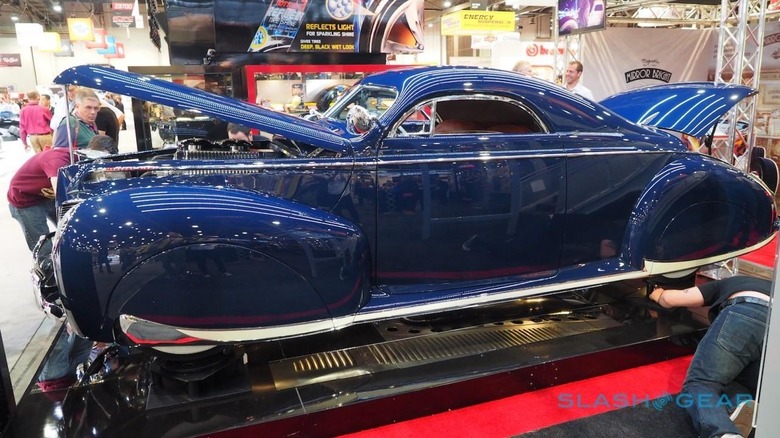 It becomes a competition in excess, and of course money. Wheels that cost more – and are harder to maintain – than a Civic, or upholstery so louche that an ermine-lined glovebox sounds sensible in comparison. Classics both beautifully maintained and purposefully intended to look like they're creaky rust-buckets, or at the other extreme the cars you never thought people would love, but treated with the sort of care a McLaren might be.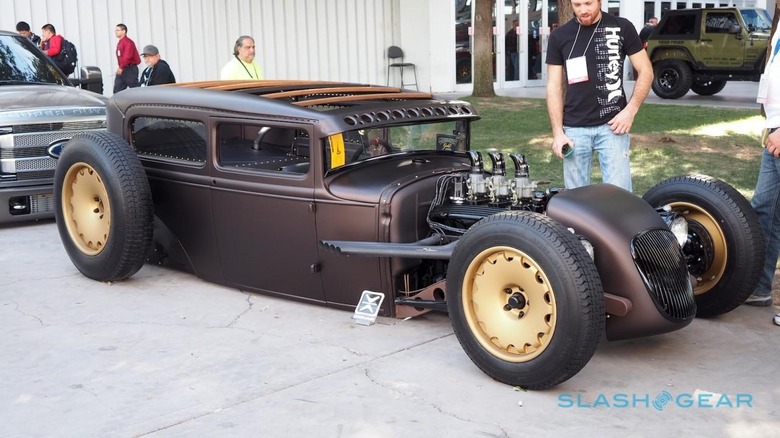 In contrast, for the most part the automakers themselves showed some restraint. Acura's gold ILX, for instance, matched its fancy paintwork with new wheels, dropped suspension, a new fascia, and matching interior detailing: nowhere near as outlandish as many cars at the show, but a lot more practical for an ILX fan to potentially recreate.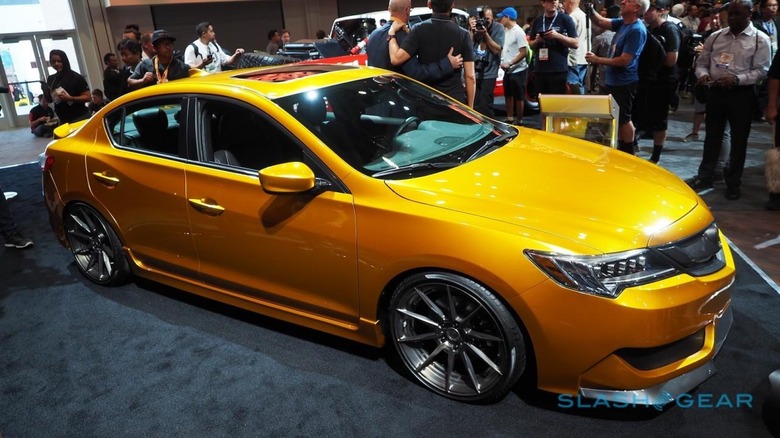 Kia, which had invited me to the show, pushed the boat out with four outlandish concepts, complete with a mobile photo editing studio on wheels, a city runaround turned extreme mud hopper, and a sensible sedan with the top chopped off.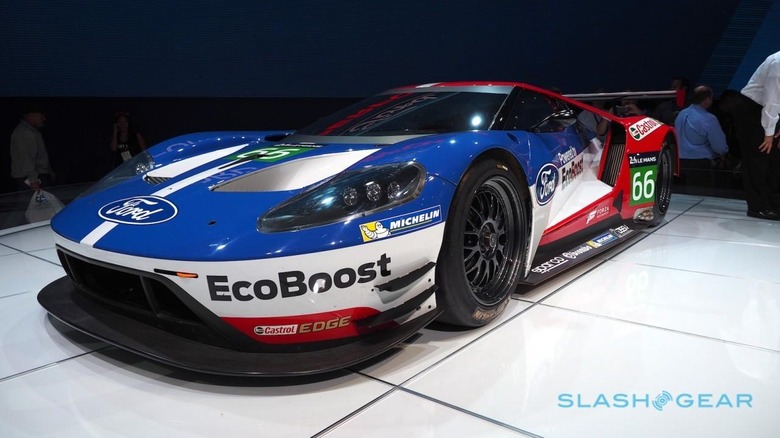 Chevrolet played up its truck heritage, bringing in Kid Rock to design his own custom model complete with patriotic body art and a trailer towing a pair of a Gibson amphibious vehicles, while Ford leaned heavily on racing, with its track-destined GT40 meeting with particular approval judging by the cooing I heard around me.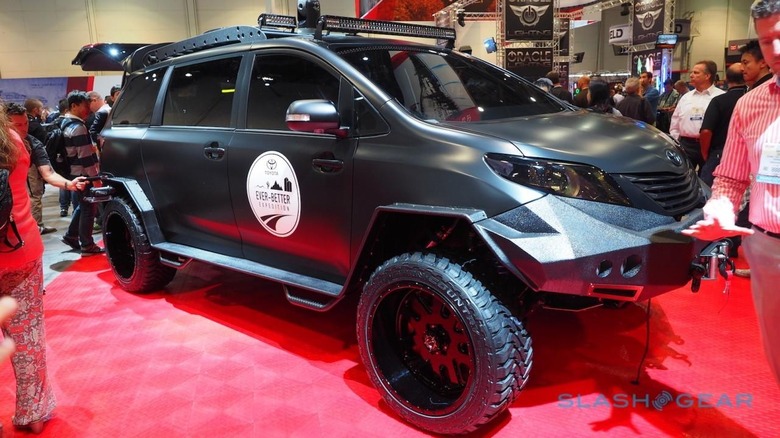 NOW READ: Local Motor's 3D printed car could change everything
Even Toyota couldn't resist. Its outlandish Back to the Future Mirai concept looked almost staid – despite the gull-wing doors and infinity rims – next to its weird Tundrasine truck-turned-stretched-limo and an "Ultimate Utility Vehicle" that mashed up a Sienna minivan, a Tacoma truck, and the sort of infrared camera and satellite connectivity you'd expect from an army command center.
It'll have a chance to prove its mettle, too, joining Toyota on a cross-North America trek through Canada and Alaska. That might well be more action than many of the other vehicles at SEMA see, designed as they are for awe not the everyday.
Plenty more photos of SEMA exotica in the gallery below...
[gallerybanner p="413022"]