Toyota Tundrasine Concept is an odd pickup, limo hybrid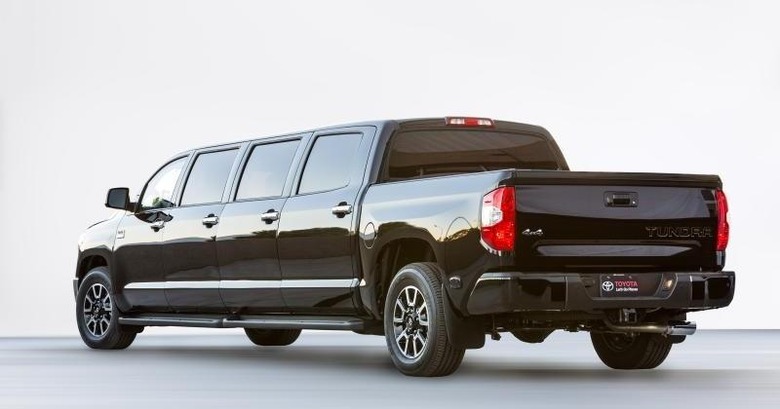 We've seen a lot of concept cars before, most of them rather futuristic, some bordering on the absurd. One of the concepts that Toyota just revealed at the Specialty Equipment Market Association, or SEMA, show stands somewhere in between and definitely takes the cake. It's a Tundra pickup truck. It's a limosine. No, it's a Tundrasine pickup limosine. Takings its Tundra model to new lengths, literally, Toyota's idea is to offer the versatility and power of a pickup with the luxury and comfort of a limosine.
Toyota basically took its Tundra 1794 Edition 4×4 CrewMax pickup with a 5.7L V8 engine and stretched it to 26 feet in length. It also increased the wheelbase to 235.9 inches. The result is an odd sight, at least from the outside. Covered with a Midnight Black Metallic paint job, the Tundrasine does have the length of a typical limosine, including the conventional 8 doors, but the height, size, and not to mention rear of a pickup.
While the visage outside might send mixed signals, inside is a different story. There is only one pervading theme, and that is a design of comfort akin to the interior of private jets. Instead of black, the cabin is primarily covered in luxurious brown leather. While the exterior of the Tundrasine betrays a utilitarian, almost rugged, personality, there is no doubt that the interior was designed for luxury and comfort.
Toyota says that SEMA members love taking cars to the extreme, and so it has revealed a car that will, in turn, take drivers and passengers to extremes but doing so in style as well. Undoubtedly, the Tundrasine is one of Toyota's biggest headturners. If you happen to be somewhere near SEMA, the Toyota Tundrasine concept will be on display until Friday.
SOURCE: Toyota