2016 Cadillac Escalade Platinum Review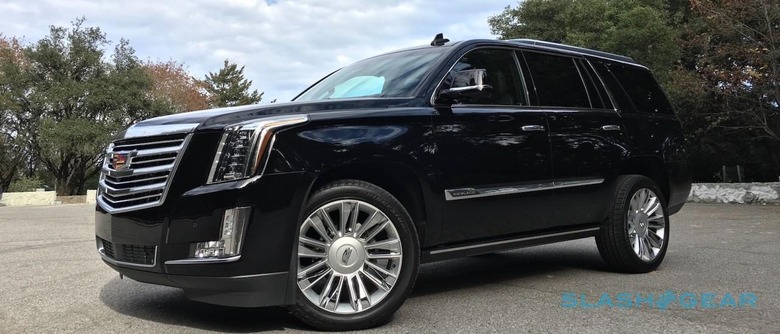 I am not a rapper. I'm not even – to my parents constant disappointment – a superstar DJ. Instead I'm a 5'8 British man, and I really shouldn't like the 2016 Cadillac Escalade. In fact, as someone who believes in climate change and gets vaguely embarrassed by expressions of outlandish and obvious excess, I should probably hate it.
I come from a country where 1.8-liters is considered a large engine, after all, and where anything over 2.0-liters is strongly suspected of being over-compensation for shortcomings elsewhere.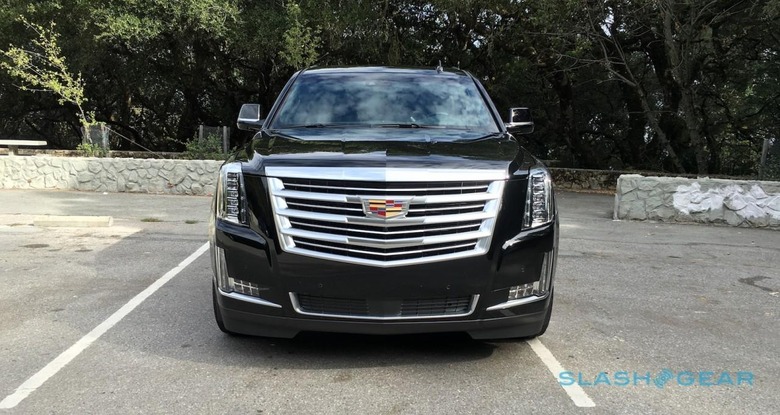 So I'm a little bemused to discover that, in reality, I love the Escalade with a fiery, illicit passion.
It's a flawed antidote for eco-smugness, were you to believe that such a thing is required, refusing to be cowed and instead wearing its stacked headlamps, neon tail-fin style brake lights, and illuminated Cadillac logo with pride.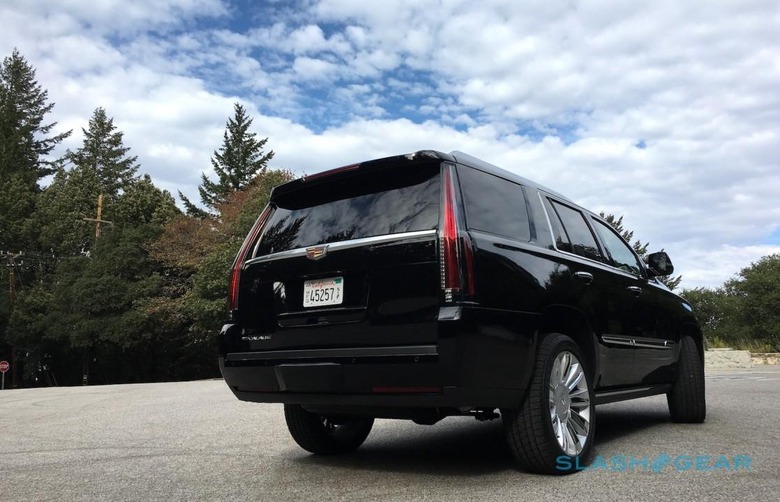 Other drivers display a sudden tendency to move over when the gigantic grille fills their rear view mirror, as though the Chrysler Building has unexpectedly caught them up and is itching to pass. There's an expectation that any Escalade driver is going to be, frankly, an ass; one woman did a visible double-take when I let her out of a junction.
Never a company to shy away from excessive power when there's the expansive hood to accommodate it, Cadillac gifts the Escalade a 6.2-liter V8 engine. That's good for 420 horsepower and 460 lb-ft of torque, and is matched to an eight-speed automatic transmission.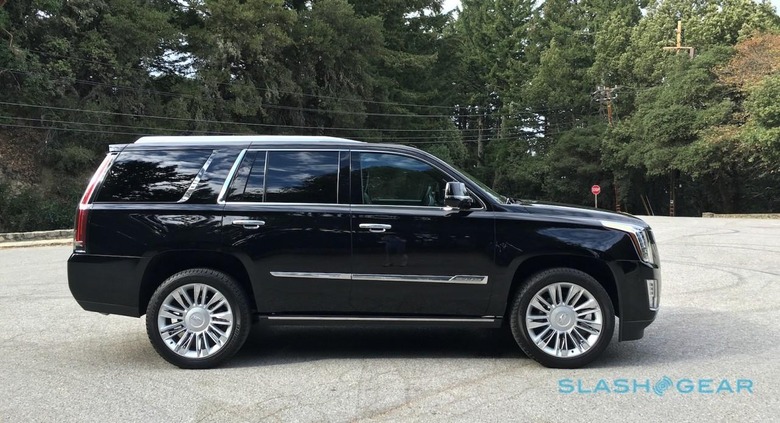 It's not entirely callous to polar bears and rainforests, mind. When all that power isn't required, the V8 silences half off its cylinders and silently switches into V4 mode; they reawaken as soon as you assert your right foot more than a quarter-inch or so, a process so seamless as to be effectively unnoticeable unless you're watching the icon on the economy display.
Ah, that economy display. Despite the best efforts of its gargantuan engine, the Escalade is rated for just 17 miles per gallon on the combined cycle (15 in the city, 21 on the highway). Over the course of around 500 miles of mixed highway cruising, back road surging, and urban posturing, I coaxed 18.3 mpg from it on average.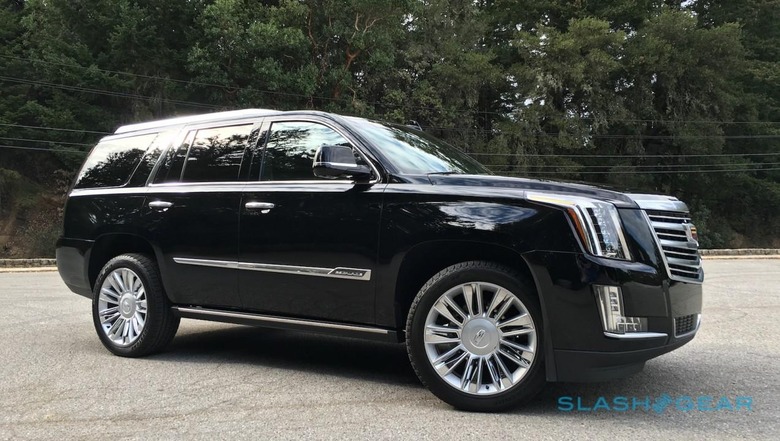 It's no lumbering dinosaur, either. In Tour mode, the Magnetic Ride Control suspension proved a little bouncy on less pristine roads when pushed, but could settle into a comfortable cruise without breaking a sweat. The eight-speed murmurs through its ratios with butler-like efficiency.
In fact, despite feeling a little intimidated by the size initially – I'm pretty sure I've lived in apartments smaller than the 2016 Escalade – the big SUV does everything it can to make things easy for you. The strongly-assisted though not vague steering and sizable side mirrors make piloting it a doddle, while the adaptive cruise control handled freeway traffic with no complaints.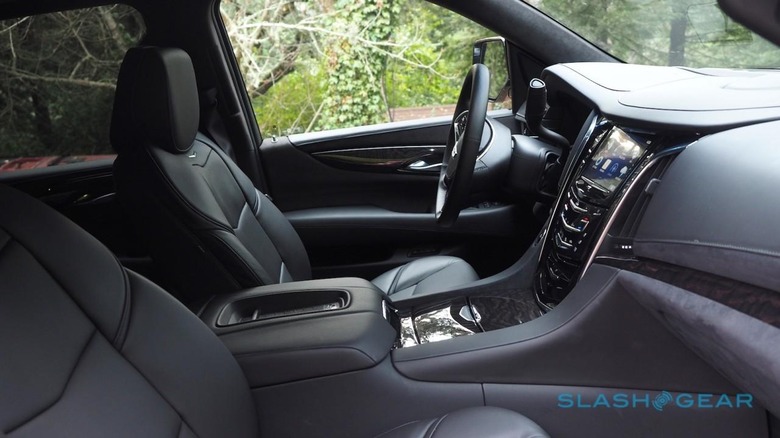 Power-adjustable pedals meant I wasn't left hunched over the wheel, while the huge 12.3-inch display in the driver binnacle is simple to understand and control. Even parking, which should have sent me into paroxysms of panic, was rendered straightforward with the 360-degree surround vision camera system.
Switch to Sport mode, meanwhile, and the suspension gets tauter and less wallowy. Normally the Escalade runs in rear-wheel-drive for economy's sake, but a flick of the dial down to the left of the driver changes into all-wheel-drive mode – you can do it on-the-fly while underway, indeed – for a noticeable increase in grip.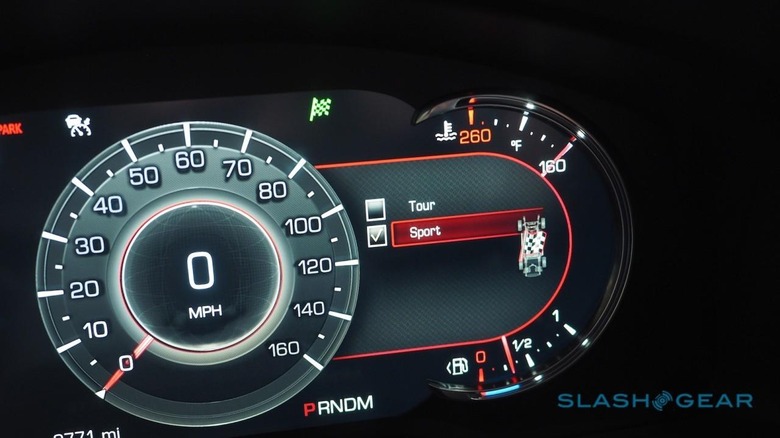 The driver of the Mercedes SLK who clearly expected to leave the distinctive LED glare of my daylight running lights far behind him as we wound through the turns of the Bay Area's excellent Skyline Boulevard found me surprisingly difficult to lose. Sure, I may have had to stomp on the – thankfully reliable – brakes in the corners sooner than he did, but with an healthy growl I'd close the distance again out on the straights.
My review car was the Escalade 4WD Platinum, finished in glistening black – a little too easily mistaken for a limo to the airport, perhaps; Cadillac does a tremendous metallic brown which is sufficiently distinctive, though the dark granite metallic would be my color of choice – with 22-inch 9-spoke double-finish wheels both mesmerizing and ostentatious.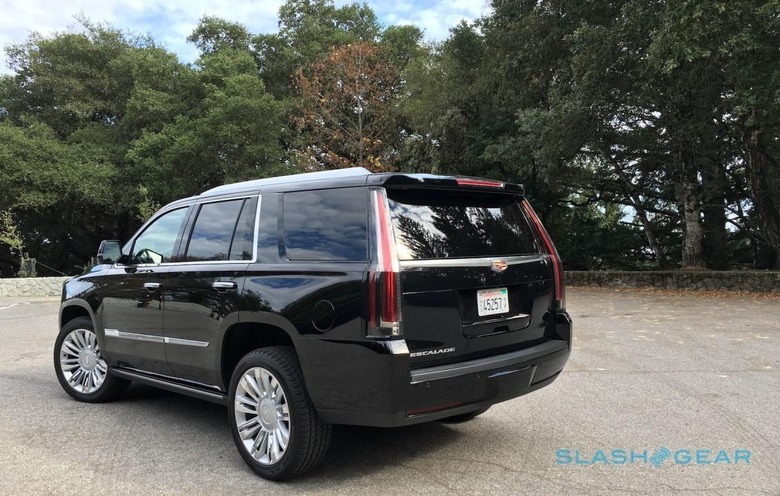 The standard kit list is immense, as it probably should be with a starting price of $91,950; in fact, only the motorized steps that whir down on each side when the doors are opened are extra ($1,750). With Cadillac's $995 destination, you're looking at a $94,695 SUV.
While your wallet's aching, your body won't be. The 18-way power adjusted, heated, vented, and massaging seats up front treated my buttocks with the sort of care and attention you'd normally need to locate an unlicensed masseuse for, and they – not to mention the rest of the dashboard – are finished in beautifully cut and sewn leather and Alcantara.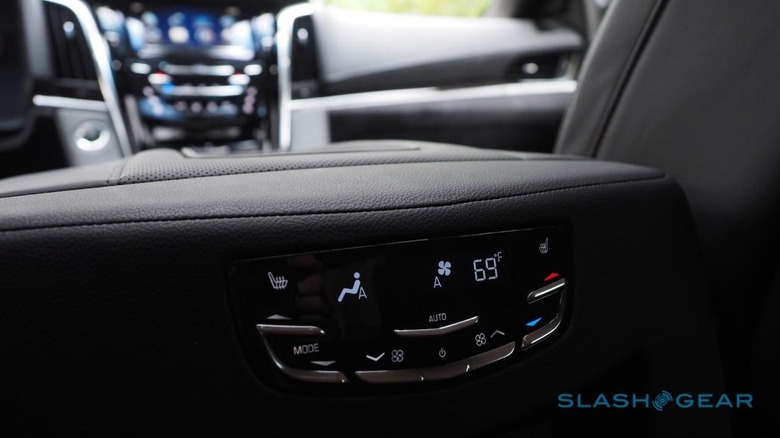 In fact, for all that critics might dismiss the Escalade as an overly-expensive and gussied-up Suburban, there's no denying the quality of interior fit and finish.
The Chevy doesn't give you features like a 16-speaker Bose audio system, three TVs in the rear with a gaggle of input options, or a refrigerated cool box under the front armrest to keep your Blue Bottle cold brew chilled, either. On top of that armrest there's a wireless charging pad for a compatible phone – I had a Galaxy Note 5 merrily rejuicing there – while CarPlay is supported on the 8-inch touchscreen atop the center stack.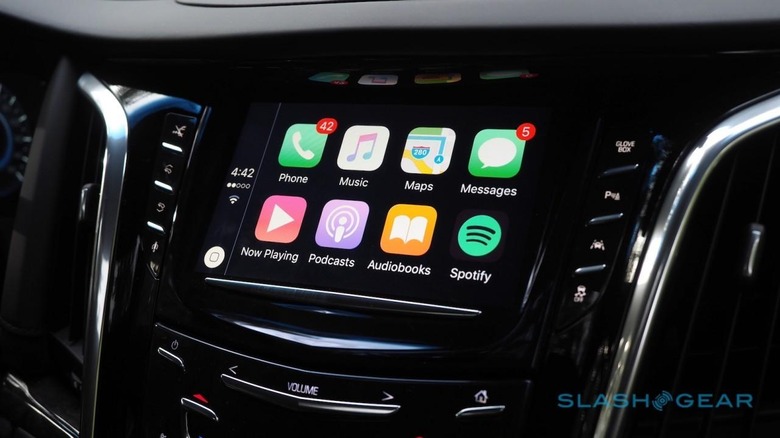 4G LTE with a seven device WiFi hotspot, a color head-up display that proved mighty useful for reminding me of speed limits, and a power tailgate with separately opening glass – both controllable from the key fob – round out the main niceties, but it'd take another thousand words or so to list them in their entirety.
Even with all the posturing in the world, the Escalade couldn't have survived this long if it was lacking in practicality. Waking in a cold sweat to mental pictures of arctic creatures floating on diminishing chunks of ice, I packed the trunk for a trip to the nearest recycling center.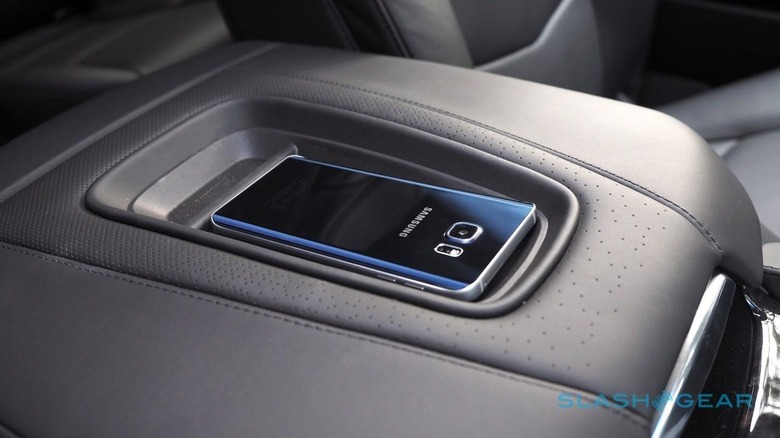 The third-row seating powers down and up again entirely automatically, when you stab at a couple of buttons in the back, for 51.6 cubic feet. Without them down there's surprisingly little space there: 15.2 cubic feet, enough for a row of slim cases, perhaps.
If you need more – and don't want to cough up for even larger Escalade ESV – the second-row seating can be flattened with a button press and then, when pushed again, flip up against the backs of the front seats. You have to unfurl them manually, mind, presumably to keep you at least semi-humble. It's worth it for the cavernous 94.2 cubit feet of space that dwarfed my amassed collection of IKEA packaging and empty plastic bottles.
I didn't call upon such talents, but Cadillac says the Escalade should be able to tow up to 8,300 pounds.
Like in most love affairs, there have been disagreements. The ride switch on the left side of the touchscreen is blocked from view by the shift lever (ironically you can still see the pedal adjustment buttons, which won't work when you're in Drive), and indeed the touch-sensitive buttons Cadillac persists with are still less than ergonomically ideal.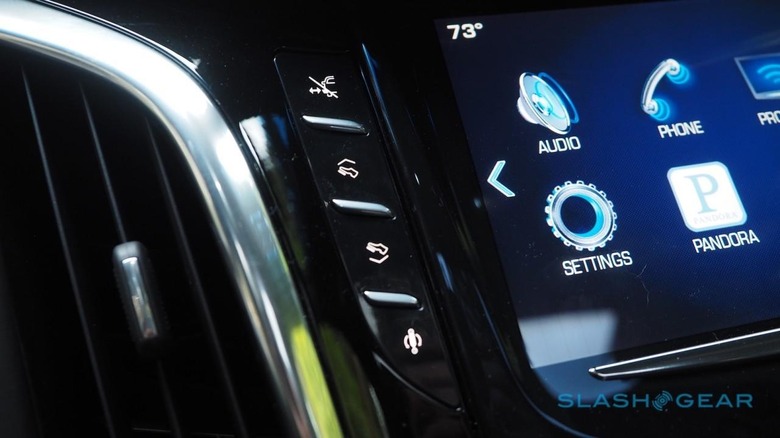 CUE is faster now, the on-screen keyboard noticeably more responsive rather than making you pause, laboriously, between each pecked letter, but even after a week of familiarization I still had to look where I was stabbing to make sure I was getting the right button.
Meanwhile, though Apple fans have CarPlay, Android Auto is nowhere to be found.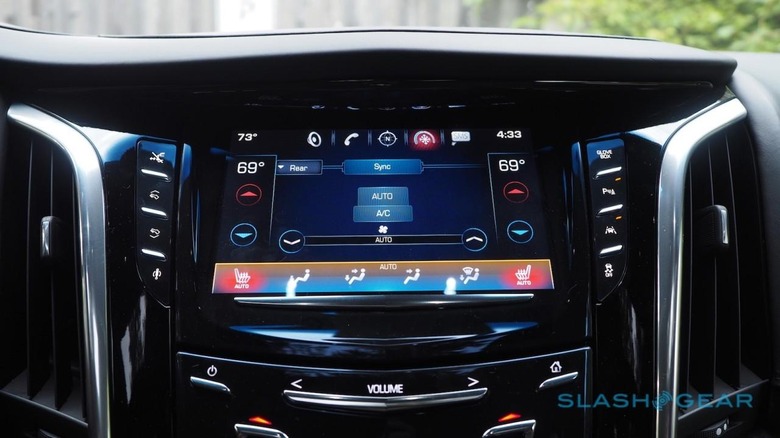 Few vehicles are as aggressively unapologetic as Cadillac's Escalade. I confess, I started out behind the wheel with a preconception of rap videos and bling over ability.
Were it my ninety-something thousand dollars, I'm still not sure the Cadillac dealership would be my first port of call. I love the near Art Deco styling and the surprising amount of on-road ability, but I don't need seating for seven and that 18mpg thirst would quickly get expensive. A Suburban might not do much better at the pump, but at half the price you'd have a lot left over in your account to cover its appetites.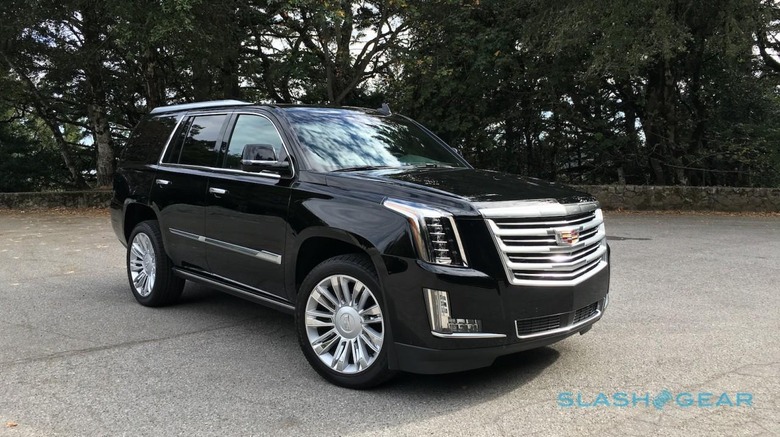 All the same, though, nobody really lusts after a Suburban. The 2016 Escalade isn't an SUV you choose with either your head or your heart; rather, it's a strange hunger in the depths of your stomach. You can probably thank years of badge exposure for no small amount of that odd appeal, but Cadillac has finally delivered the quality and refinement to sate those appetites.
[gallerybanner p="412638"]