The big Samsung Galaxy S6 best case round-up and review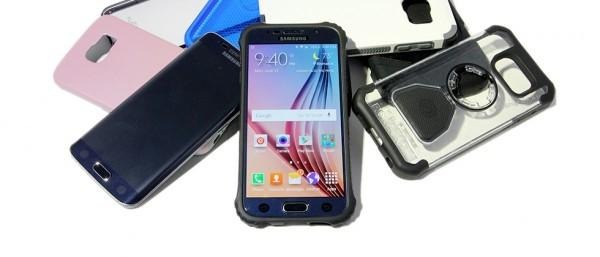 It's time for another war, this time between the best of the best accessories made for the Samsung Galaxy S6. If you're one of those users that wanted to get extra fancy and picked up the Galaxy S6 Edge, we've got a few tips for you as well. If you picked up a Galaxy S6 Active and still think you need extra protection, we're going to have to direct you back to our original review. For now, it's time for the big Samsung Galaxy S6 best case round-up and review.
NOTE: While some of these cases work OK with the Galaxy S6 Edge, we'd recommend holding out for a true Edge-friendly case. Thus far we've only seen screen protectors that are Edge-specific. Below you'll find the Moshi iGlaze to be your best bet if you want Edge protection, and I say that only because it's the only case in this collection whose buttons get close to the Edge's, which are set back further than the standard Galaxy S6.
For the Galaxy S6 Active, we dare you to find a case for it. It doesn't necessarily need a case, but still. Have a peek at our Galaxy S6 Active Review.
Moshi's iGlaze XT is the thinnest case in this round-up – maybe the thinnest case on the market. It comes with one of the only backside protective skin/wraps we've ever seen included with a case, and the case itself is entirely transparent.
This case is good for the lightest of protection – against accidental drops of coins into the pocket where your phone rests.

Moshi iGlaze in pink is tougher than the iGlaze XT. It's thicker – it's meant to be – and makes for a good way to change the main base tone of your device. This adds a bit of shock protection, but again, is mostly for looks.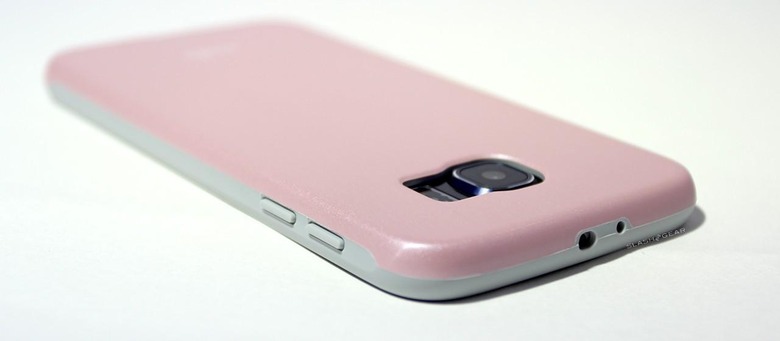 The Sense Cover mimics covers for smart devices in past years, adding some new functionality to your device with a magnetic front cover. This cover activates a window of information with the help of an app.
We had a bit of a time getting it to work at first, owing to the need for a bit of a sensitivity tweak but once it worked, it was pretty neat.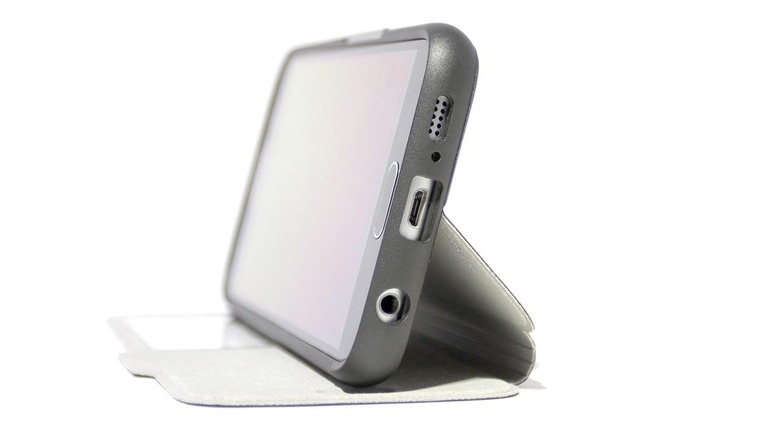 Tech21 made the most excellent case from our HTC One M8 battle. Back then we tested the Tech21 Impact Shell.
Now we're testing the Evo Check – in both blue and transparent. This case nearly beat out the rest of the contenders for the Galaxy S6. In fact, if it weren't for the winner, we'd be going with the blue here all day.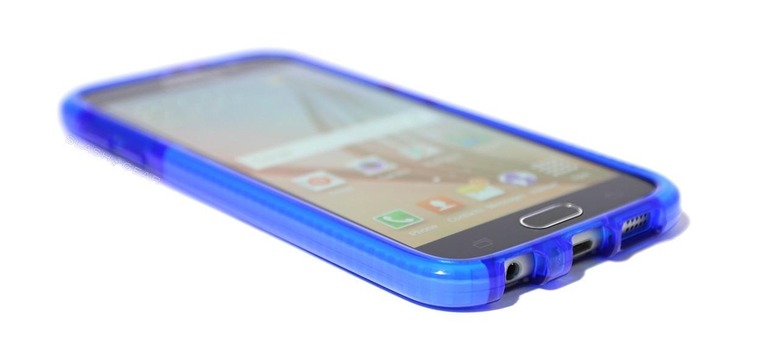 The Tech21 crew are the folks that throw phones across rooms to show how impact-resistant they are. They're still just as good as they were back in 2012.
The RokForm system is an excellent example of what a case company can do when they've got the patience to establish an ecosystem over a number of years. Here you've got a case that's good in and of itself – but when you take in the rest of the accessories that attach to it, it's extra boss.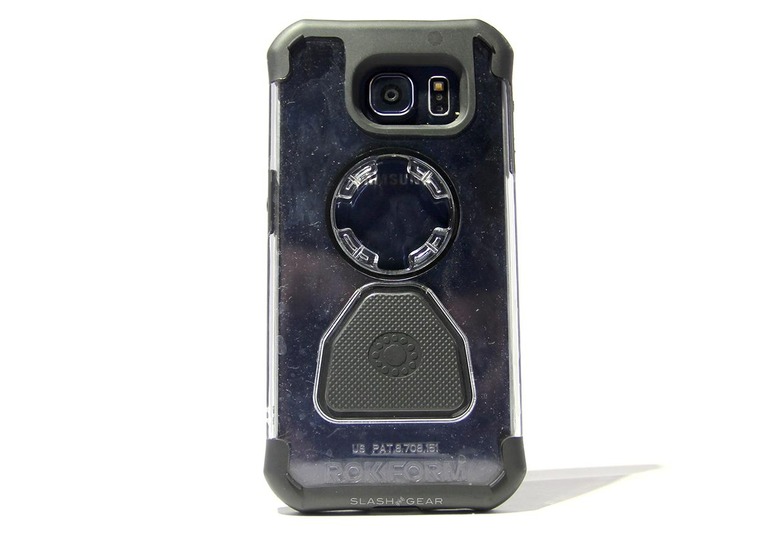 Dust can be a little bit of a problem with this RokForm case as it is held away from the device and there is a hole to accommodate the lock-in accessory line.
Despite the dust, RokForm creates the best overall accessories system for the Galaxy S6. If you want to attach your phone to everything from your dashboard to your belt, your bike, and your refrigerator, RokForm is the best choice without a doubt.
PureGear makes a Dualtek impact protection case that they suggest is both military tested and approved. It's certainly thick. Like most rugged cases, this case will completely disguise your Galaxy S6's looks and feel, but will certainly add enough protection that you needn't worry about drops. You might still want a frontside screen protector for those extra-big rocks.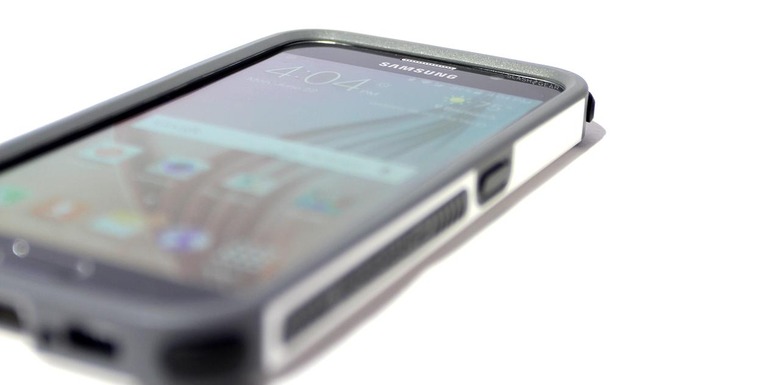 The PureGear Galaxy S6 Slim Shell case has several plastic pips on its back that allow it to sit up above the table, allowing you to avoid scratches on its surface.
It's clear on its back, which means you're not going to want to be especially anal-retentive about dust between your phone and the case, all revealed all at once.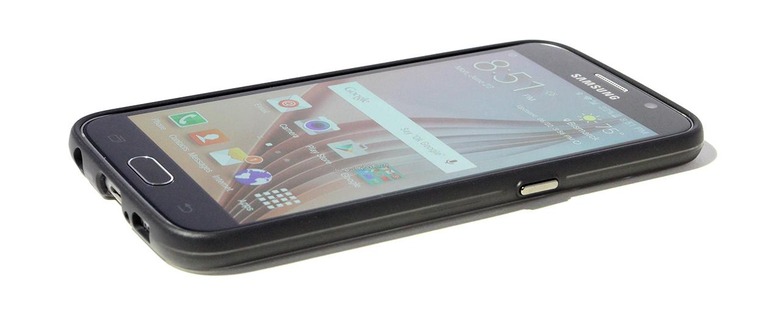 You could use the same solution we're using on the case we chose as winner this session – grabbing a skin for the back of your Galaxy S6 that masks all dust. Think SkinIt.
We tested the PureGear PureTEK Roll-On Kit for Galaxy S6 Edge and it worked like a charm. Applying the screen protector with this kit only gives you one shot, but once you've got the phone in its tray and the roller rolling, you'll scarcely miss your mark.
The protector itself is nice, if not a little rubbery – certainly good enough to protect from scuffs.
Invisible Shield's HDX for Galaxy S6 (below) is also a fine solution if you're not as worried about applying it right the first time. It's thin, it has "self-healing" abilities, and it's got a lifetime guarantee attached to it. It's thin enough to fit in a case around its edges, as well.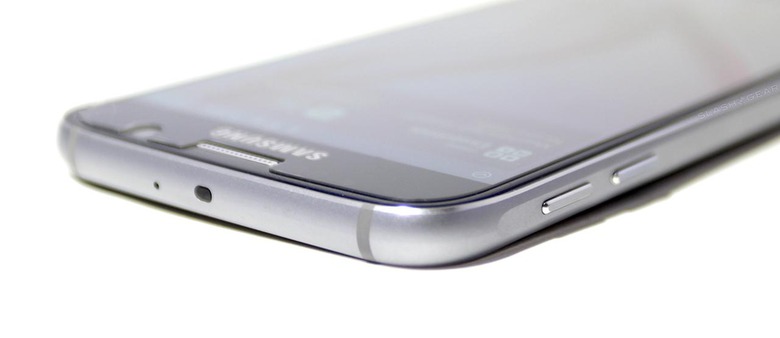 The two screen protectors we ended up seeing the most value in both came from Moshi. For the Galaxy S6, there's the iVisor Glass. This screen protector adds a layer of completely transparent "IonGlass" to the front of the Galaxy S6 and keeps the color with a couple of bands of blue, too.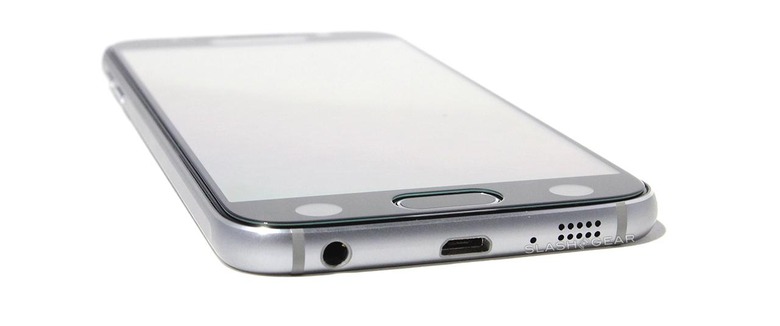 The iVisor Glass for Galaxy S6 is one of a wide variety of similar screen protectors from Moshi. For the Galaxy S6 Edge, we roll with the iVisor AG. This is a similar protector in that it has the same sort of blue bands around it, but it's made specifically for the curved glass of the Galaxy S6 Edge.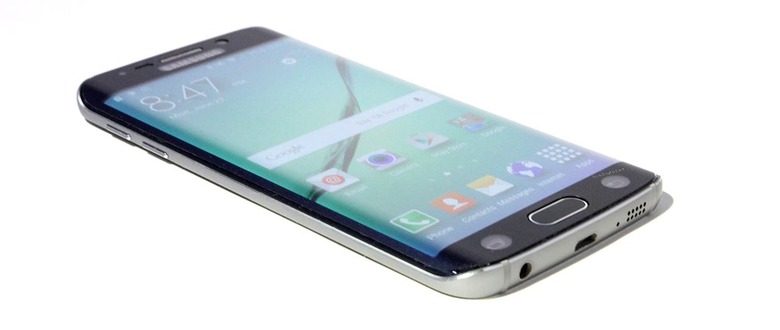 The iVisor AG also has anti-glare properties in it – this means you're not going to get a blast of sunlight in your eyeballs every time you take your device out to check the weather.
Most Hardcore
The Griffin Survivor All-Terrain is so hardcore we had to make a separate category for it. This case is massive. It's thick. It's not made to play well with skinny jeans.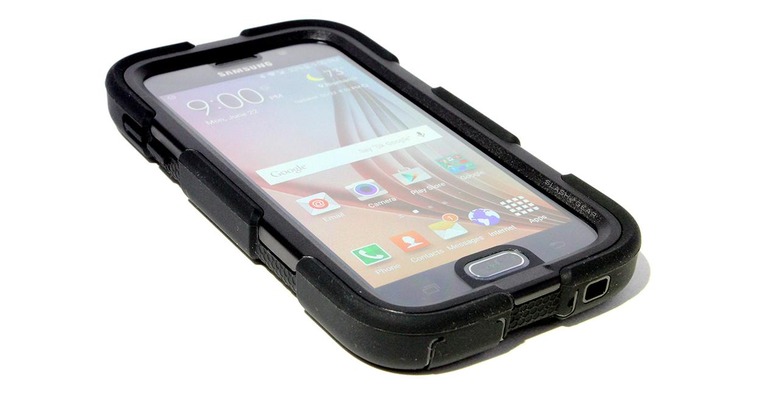 This case was granted military standard 810G for impact, water, and dust. You can accidentally drop your phone from two meters above the ground through a dust storm and a subsequent rain storm and recover it the next day – no problem.
NOTE: We're still waiting on the dust/rain storm to perform this test, but we remain confident in its abilities to be beefy.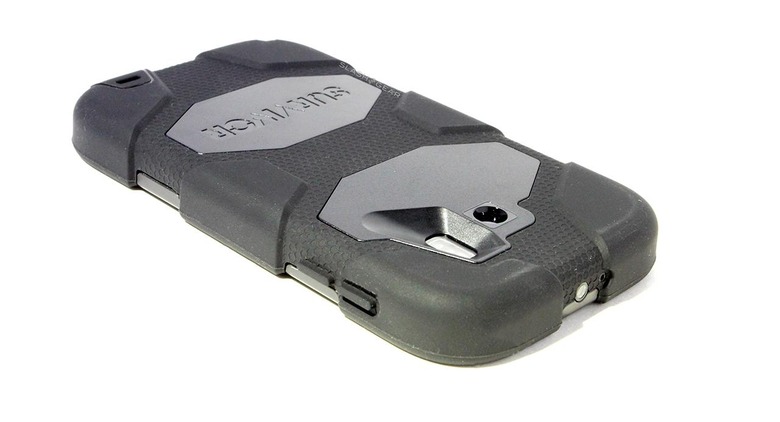 This case protects the Galaxy S6 like no other AND allows you to retain functionality. Your fingerprint scanner still works – as does the camera at the back, your microphones, and the IR-blaster up top.
If you have a Galaxy S6 that you absolutely, positively MUST keep in mint condition, the Griffin Survivor All-Terrain is the case you're going to want to seek out.
Best Overall
While it's not quite as beastly as its close relative, the Griffin Survivor Core is an excellent piece of protection for the Galaxy S6 without sacrificing style and friendly feel. Survivor Core also has a military standard rating of 810G, like the other Griffin case on our list, only here it's just for impact protection.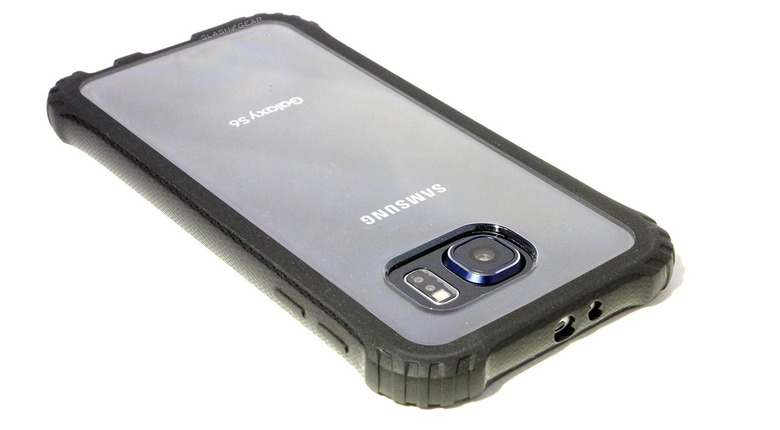 This device can be dropped from 2-meters (6.6 feet) above the ground without damage with this case on, and it retains use of all buttons, speakers, sensors, and camera. Its edge allows you to grip it in your pocket without the added nastiness of dust collection some similar more rubbery cases have. This one's just rubbery enough.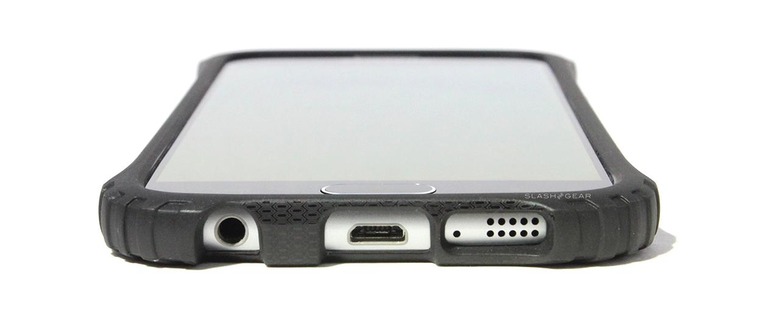 It's also still better looking than the Galaxy S6 Active. Not to say that the Active looks bad – it's just that the Survivor Core by Griffin looks better.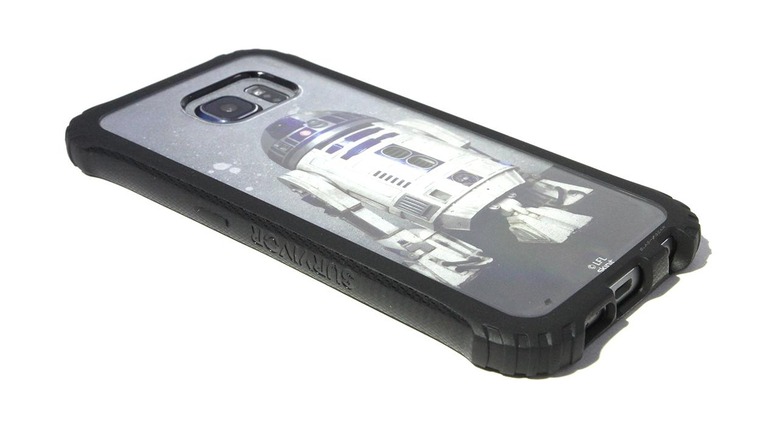 Above: While you might still have an itching to get rid of all signs of dust, a SkinIt skin should disguise all signs of such bits and pieces.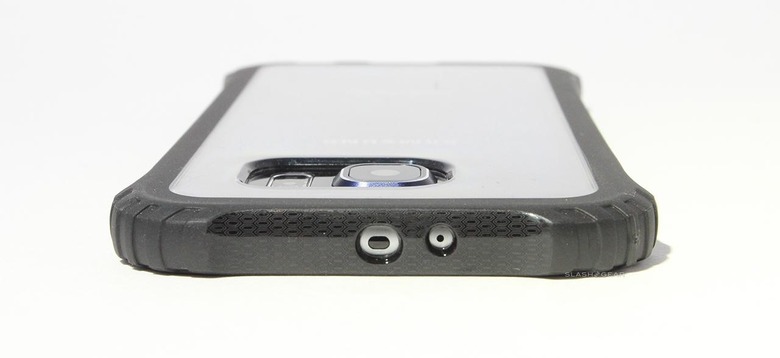 The Griffin Survivor Core case for Galaxy S6 plays nice with our screen protector of choice, as well. Pick the both of them up for high-end protection and a retention of top-tier looks.
If you've picked up a case and think it can contend with our case-of-choice – or any other entry on this list – by all means, let us know! We're always looking for more battle-ready contenders!