The big HTC One M8 best case round-up and review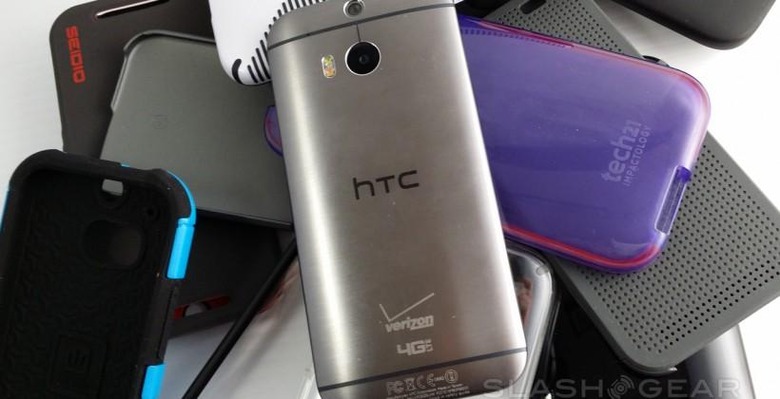 Consumers have picked up the HTC One (M8) in droves this Spring, creating a demand for cases the likes of which have not appeared for several generations in the HTC universe. Today we're having a peek at a whole bunch of cases from several of the finest brands on the market. What we'll be doing here is setting them up to battle in a bracket that'll bring out the greats and leave the slightly less-great cases in the dust.
Group 1
First up we've got a rather odd grouping of cases from three different companies. From Seido we've got their Surface case with a neat little kickstand around the back. While this kickstand is robust, it also only works for horizontal standing, and creates a rather sizable lump besides. The Trident AegisSeries case provides great protection, but is also extremely large – on the positive side, it is Military Tested (Mil-STD-810F) so you know you can't bust it.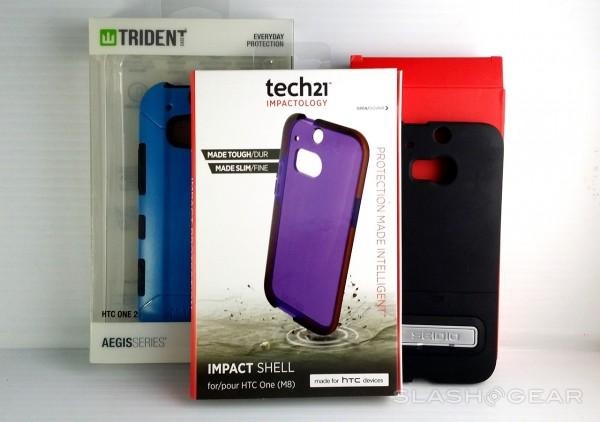 The winner of this group is Tech21's Impact Shell. We've used shells like these before – that bit of orange you see around the rim of this case is the same material as Silly Puddy. Have a peek at our extremely odd hands-on with the gunk from back in May of 2012 – it's still the same formula, and Tech21 still makes an excellent case in all respects.
Group 2
Besides the HTC One (M8)'s own Dot Case, the two cases you see here are amongst the finest flip-cases for the M8 on the market today. The Incipio Watson brings on a 2-in-1 solution, giving you the ability to take the device out and away from the flip bit when you – for whatever reason – don't want to keep the flip on.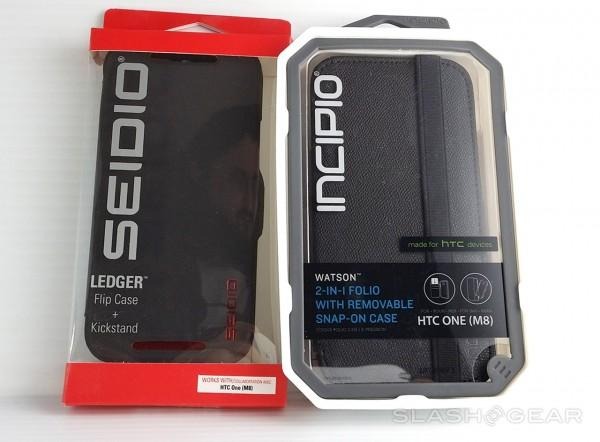 It's difficult to choose between that removal bit and the bonus you get with the Seidio Ledger, but we're a sucker for the kickstand. This case offers the same sort of kickstand you'll find in the other Seido case in this review battle, only here it's much more attuned to the business user – that's what flip cases are for, after all – right?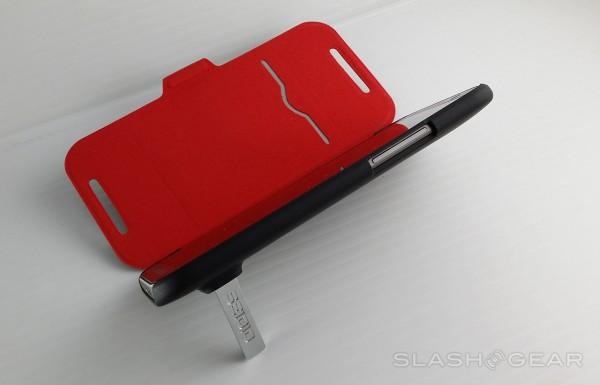 Group 3
Incipio makes several hardcore cases, each with extremely small detail besides their logo on their back. Both the DualPro in green and the NGP Flexible Impact Resistant Cases provide excellent support without appearing overly visually impactful.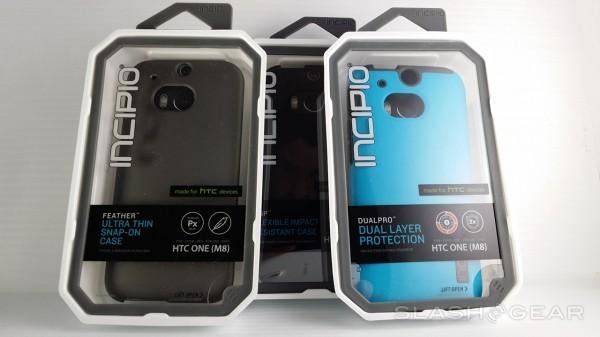 While not the most heart of the group, the Feather Ultra Thin Snap-on Case wins in this collection, offering basic resistance with an extremely subdued look. It's also nearly impossible to remove from the HTC One (M8), so it's not going to get kicked off on accident – that's for certain.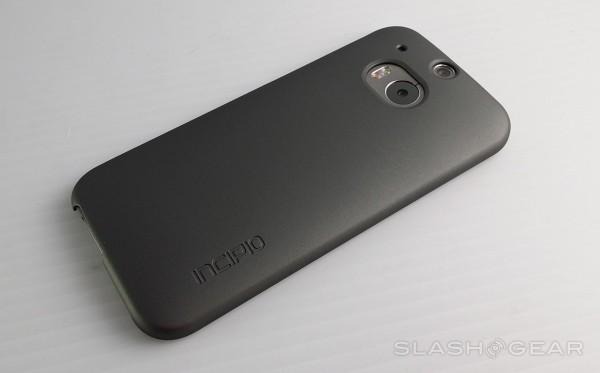 Group 4
Here we've got one massive set of SPECK cases. The whole lot is made for the HTC One (M8), of course, working with tried-and-true case designs from past generations of case for other devices. Here you'll see the ribbed CandyShell GRIP, the slightly more smooth CandyShell, and the GemShell.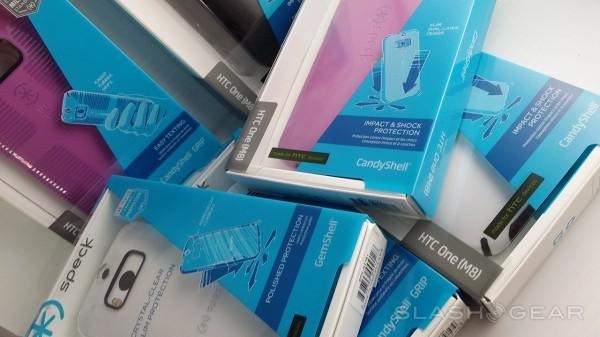 The GemShell comes in transparent while the CandyShell and CandyShell GRIP come in several colors. The whole lot is extremely robust and ready to take heavy duty drops. SPECK suggests that these cases meet or exceed Military Standards for drop-testing – we've never known them to allow a device to be damaged anywhere but with a rock direct to the display.
The winner of this SPECK battle has to be the GemShell. We enjoy this case so much, we've been using the HTC One (M7) version since it was released last year. Over time – if you're the type of person to keep your phone in your pocket 24/7 – you will see some off-coloring going on. The protection remains, of course – so the GemShell is still a winner.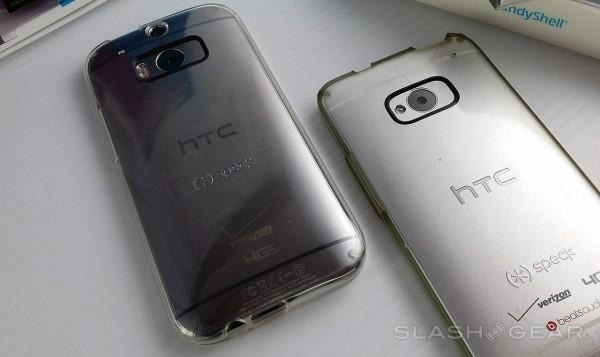 Group 5
Three Griffin cases and varying amounts of protection. With both the Survivor SLIM and the Survivor SKIN, Griffin attests to drop-testing from 6-feet in the air. We're not about to give a toss-test to the device with a silicone-only skin, we can attest to the power of the SLIM.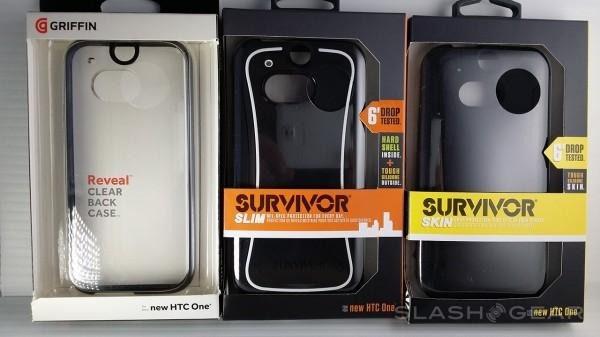 Both devices' silicone, unfortunately, are real dust-magnets. Thats' a deal breaker. The Griffin Reveal Clear Back Case is everything we want in a case – very similar to what we're seeing in the GemShell above – they're very, very similar vehicles for delivery.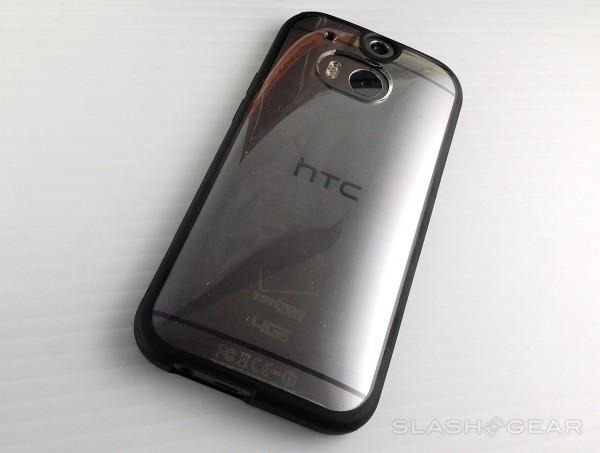 Group 6
We also have the official HTC One (M8) Dot Case. This case is a fine example of what a company can do to create an accessory that fits their device perfectly, going so far as to create a hardware connection that (thus far) doesn't work with any other case.
Above you're seeing the case on, tapped to reveal the time and weather, and a bit of a ding. Like most hard plastic cases, this one isn't impervious to pain. I dropped this case onto concrete, resulting in the case itself getting a bit of a scar and the phone receiving a tiny scratch of its own.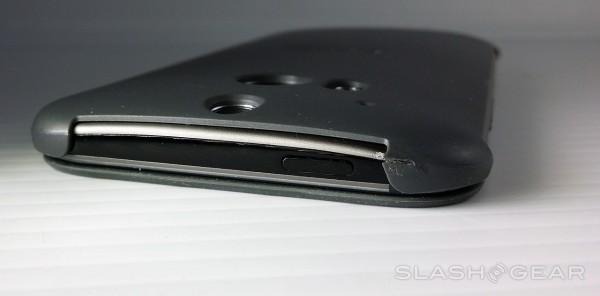 Winner
Tech21 Impactology – that's a name that makes you feel like you can whip your phone across a room and feel safe doing it. With a ring of protection proven to not just absorb shock, but to dissipate it as well, this case is – first and foremost – ready to protect your phone.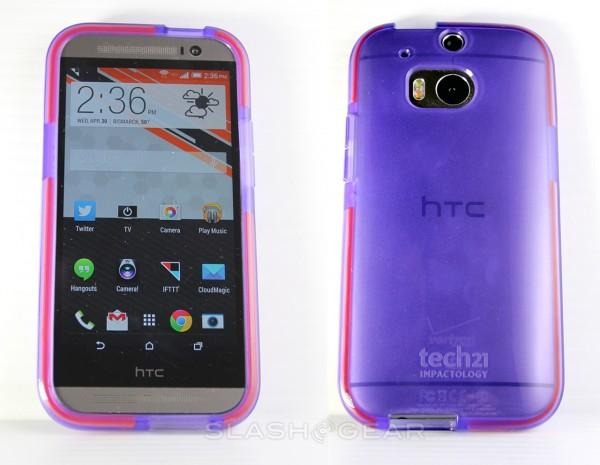 The rest of the case is a soft plastic that's comfortable to hold and handle. This purple is one of several colors they offer – the whole lot of which is relatively dust-resistant. It looks nice too – Tech21 isn't all about leaving a massive logo for you to have to sport. Instead it's quite small and nearly invisible.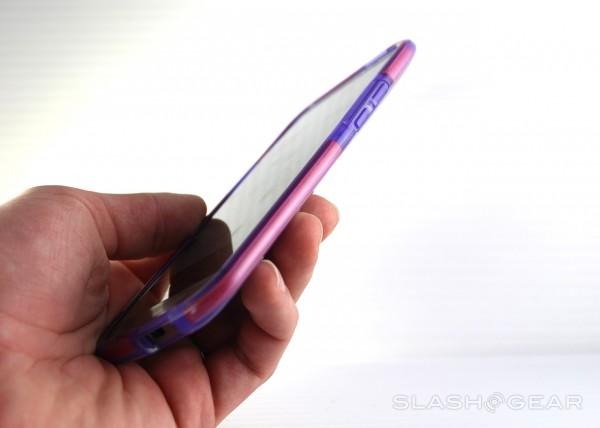 Everything ads up to our ideal case for this device. Now we've only got to find a front cover – ZAGG's Invisible Shield GLASS might just have to do the trick. We'll see in our next guide.