HTC One M8 Review (2014)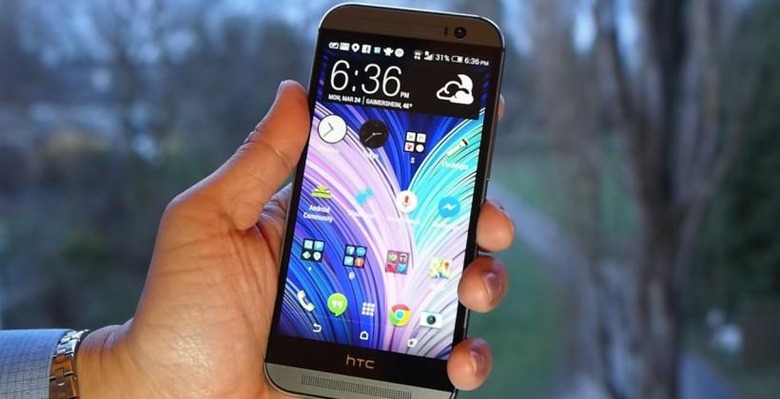 The new HTC One (M8) needs to succeed, and HTC is taking no chances. As well as an even sleeker design, innovative Duo camera, and clever software enhancements, HTC is drastically cutting the waiting time, putting the new One up for sale from today across all four major US carriers as well as in select international markets. It's clear HTC has learned from its mistakes with the original One, but does the new One M8 deliver enough to give the company the edge this time around? Read on for the full SlashGear review.
Design
This is the most handsome Android phone on the market today. HTC was rightly proud – and justly lauded – for the effort it went to with the original One (known internally as the M7) in 2013, taking a block of aluminum, milling out the raw chassis, injecting plastic sections for the antennas to work, and then milling it all over again so that plastic and metal were seamless.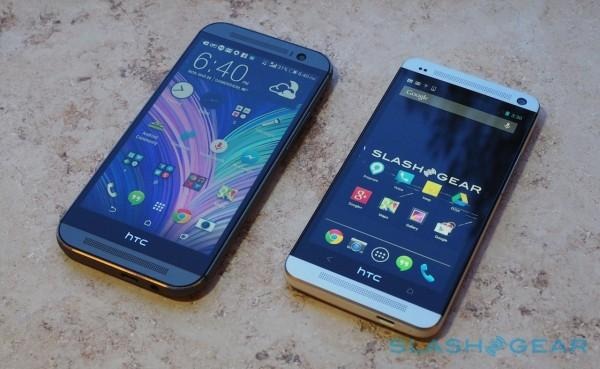 That same process has been reused for the new HTC One, also known by its product code of M8, but the 2014 handset benefits from HTC's engineering improvements in the meantime. Most noticeable is the extra metal: where the original phone was around 70-percent metal, the One M8 is now 90-percent. Gone is the narrow strip of plastic running around the edge, with the new One now curving smooth and pebble-like into its tapered edges.
A black plastic insert on the top edge is the biggest single piece of the material, not only accommodating the power/lock button but the IR blaster too. The headphone jack has been moved down to the bottom, next to a microUSB port, while the volume key rocker on the right edge is now thinner but stands proud to make it easier to locate with your finger.
HTC will have three color options from the start – gunmetal grey, glacial silver, and amber gold – but where the first One was simply anodized, the new One M8 has a brushed finish that catches the light nicely. It's a larger phone (thanks to the larger display) than before, at 146.36 x 70.6 x 9.35mm and 160g versus 137.4 x 68.2 x 9.3mm and 143g, but the softer edges leave it actually feeling better in the hand. A sheet of toughened Gorilla Glass 3 covers the display, and HTC has used its micro-drilled earpiece/speaker holes again.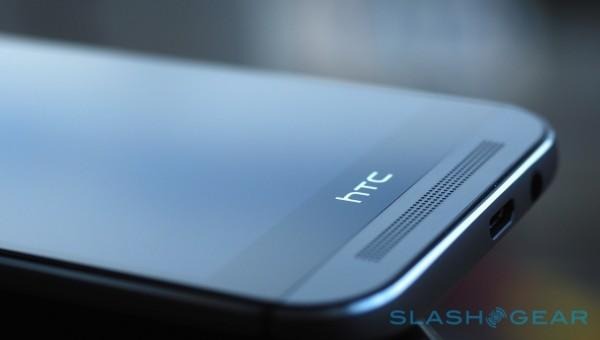 It's a phone you only really appreciate when you hold it in your hand. The quality of the construction and the attention to detail truly stand out, and we'd argue that HTC is now showing the same sort of consideration for design and manufacturing with the new One that we'd previously only really associated with Apple and the iPhone 5s. There's a heft and solidity that you just don't get with plastic-bodied devices; a tactility that leaves you wanting to play with it in your hands even when idle.
Hardware
Android is still a spec-race at the flagship end, and HTC hasn't stinted on the new One. Up front there's a 5-inch, 1080p Full HD display, slightly larger than the 4.7-inches of the outgoing model, but still delivering vivid colors, great contrast, and broad viewing angles. We'll admit to a little sadness that HTC opted to go bigger – there's still a vocal audience of smartphone users wanting top-tier specs without a massive display – but it was perhaps an inevitability as Samsung, LG, and others pushed their screens larger and larger.
HTC One M8 vs HTC One M7:
Inside, it's Qualcomm's Snapdragon 801 processor doing duty in quadcore form, with HTC offering a 2.3GHz version for the US and EMEA regions, while Asia/China gets a slightly faster 2.5GHz model. Both are paired with 2GB of DDR2 memory and either 16GB or 32GB of internal storage; unlike in the outgoing One, however, the M8 has a microSD slot, for up to the latest 128GB cards.
Connectivity includes HPSA+ and LTE, with various bands depending on which carrier model you select. Our review unit is actually a European device, so offers only HSPA+ maximum on US GSM networks like AT&T and T-Mobile USA, but would get onto LTE networks in Europe. Google will offer a Google Play Edition, too, with 700/850/AWS/1900 (B17/B5/B4/B2, carrier aggregation B4+17;B2+17), and roaming 2600/1800 (B7/B3) LTE support.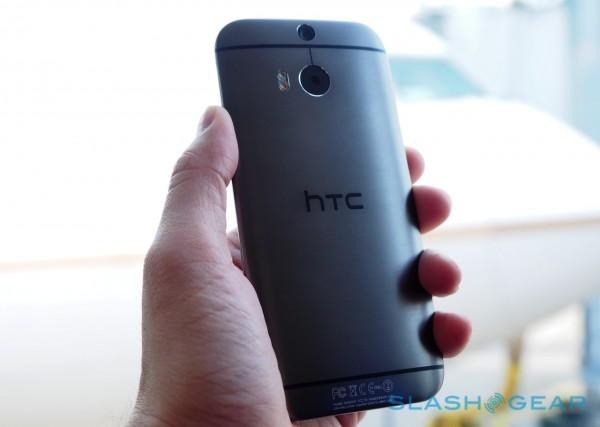 There's also WiFi a/b/g/n/ac (2.4/5GHz), Bluetooth 4.0 with aptX, NFC, an MHL-HDMI output, and GPS/GLONASS. HTC has packaged its sensor suite – gyroscope, accelerometer, proximity sensor, ambient light, and barometer – into a separately-managed bundle, which allows it to keep them running in low-power mode even when the phone is idle, tracking things like movement and steps taken.
HTC tried something new with the camera on the One, and the One M8 pushes that even further with a new Duo Camera system (which we'll go in-depth with later in the review). That sticks with UltraPixel technology – opting for bigger individual pixels for maximum light sensitivity – but adds a second sensor for factoring in depth data. It also gets a new, dual-color flash, and supports Full HD video recording with an HDR mode for stills and footage. Up front, there's a 5-megapixel camera with a wide-angle lens for fitting more people into your selfies.
Speaker performance was one of the surprise features of the original One, and the new One M8 doubles-down on that for this second-generation handset. HTC BoomSound still uses stereo front speakers for better projection of the audio, but this time around there's a new multi-band amplifier to increase both volume and quality, and now the headphone jack benefits from it as well.

Larger speaker chambers and new speakers themselves add up to a phone that's as much as 25-percent louder than before, but still promising minimal distortion or clipping thanks to real-time DSP. The result is one of the loudest, clearest handsets we can remember testing: easily sufficient for an impromptu conference call or, more likely perhaps, blasting out some music or sharing a YouTube video (though there's also DLNA wireless streaming and Miracast if you have a compatible TV).
As before, the battery is non-removable, but HTC has increased the size by 300 mAh to 2,600 mAh. However it also supports Quick Charge 2.0, a Qualcomm technology which promises to dramatically cut recharging time: if, that is, you have the right AC adapter. Unfortunately, not only does HTC not include such an adapter in the box with the M8 – instead you get a Quick Charge 1.0 compatible, 1.5A charger – it won't be offering the 2.0-compliant version until later in the year.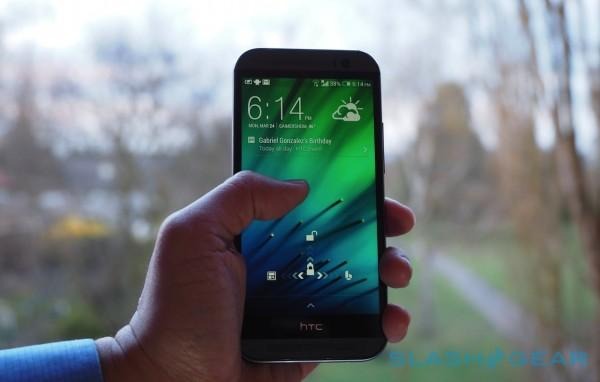 Software and Performance
Out of the box the One M8 runs Android 4.4 with HTC Sense 6, and the company plans on playing up the "Sixth Sense" pun. Sense has had a complete rebuild from the pixels up, paring back even more of the extraneous chrome, while the dedicated touch keys for Back and Home on the original One are replaced, finally, with on-screen alternatives. There's also consistent color-coding across different categories of functionality.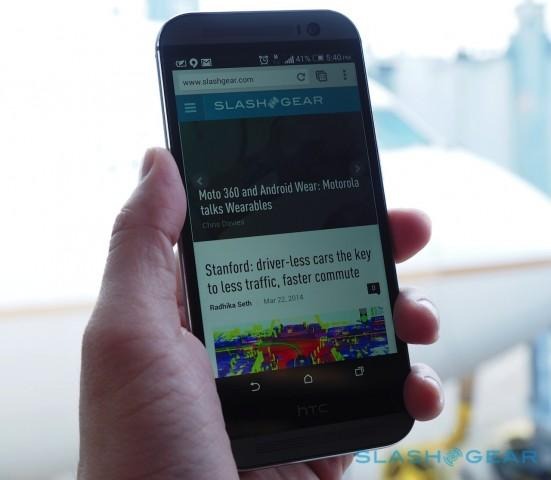 So, by default HTC BlinkFeed – also revised for Sense 6 – and other data-centric apps are coded green, while communication apps are blue, entertainment apps are orange, and black used for the settings. A new Theme option in the Personalize menu gives a choice of three other schemes, however, including fully monochrome, though there's no way to change the colors yourself or create your own theme at this stage.
BlinkFeed, the combined news and social reader HTC introduced with the original One, was questioned by many, though HTC's own research and feedback from carriers suggests that those who try it actually use it regularly, and are in fact less likely to return their phone to the store. For Sense 6, BlinkFeed now gets custom topic support, surfacing stories related to your favorite sports team, author, or any other keywords, and can suggest topics based on what you've Liked on Facebook.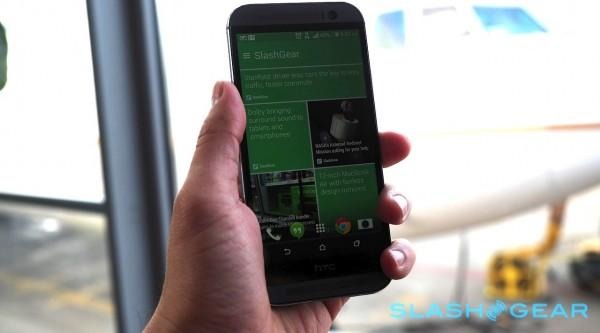 However, fitting in with HTC's emphasis on contextual awareness this time around, BlinkFeed also uses current location to add relevant tiles. For instance, thanks to a deal with FourSquare, it can make suggestions as to well-rated places to eat nearby if it's close to mealtime. That taps into the permanently-on sensor suite, just as does the new Fitbit integration which uses those sensors to track how many steps you've taken, distance traveled, and calories burned, pinging achievements into the BlinkFeed stream. HTC will offer an SDK for other apps that want to do similar.
Also making use of movement is Motion Launch. Pick the new One up and double-tap the display and it wakes up, for instance (we also found it would often do the same even if you double-tapped it while on your desk). Pick it up in landscape orientation and tap the volume button and the camera app loads – bypassing the lockscreen in the process, though only for photography purposes – while moving a ringing phone to your ear automatically answers it.
Other shortcuts use a combination of motion and gestures: lifting the phone with the screen off and swiping down pulls up voice dialing, for instance, while swiping up unlocks. A left swipe opens the widget panel, while a right swipe launches BlinkFeed. Sadly, as is often the case, the requirements of security can get in the way of such shortcuts: if your One is locked, you won't be able to use the widget or BlinkFeed access.
There's now a Do Not Disturb mode, silencing alerts either when manually turned on, or during preset times, and you can optionally allow alarms and timers to break the silence. HTC Sense TV has been updated to include official Facebook and Twitter content from whatever show or sports game you're watching, in addition to hashtagged content shared by other fans, though you'll have to go into the relevant social apps yourself if you want to respond.
The TV app also gets scores and statistics from ongoing games, with a "Watch Now" button to turn on the TV and switch automatically to the relevant channel, assuming you have access to it.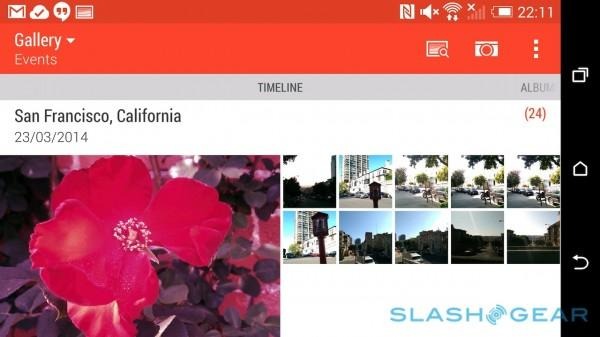 In the Gallery app, meanwhile, there's a Timeline view to show photos and video sorted by day and location, and a new Image Match visual search feature that pulls out similar pictures to the one you're currently looking at. They can then be organized into a new folder. As we've seen with other recent HTC devices, there's 50GB of Google Drive storage included for two years when you activate.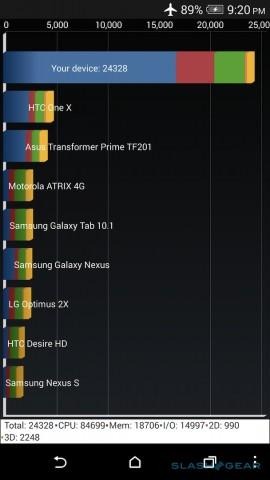 If the cloud storage is generous, then so is performance. The Snapdragon 801 is Qualcomm's latest, and we have no complaints about the speed at which the new One runs apps, games, and multitasks. Processor-intensive features like the Duo camera image manipulation are completed swiftly and lag-free.
HTC has been doing fairly well in recent months with pushing out timely Android updates, but the new One M8 introduces a different approach to the company's own core apps. Rather than distribute the Gallery, TV Sense app, BlinkFeed, and a new Zoe app (detailed in the Camera section of the review) as part of the One's firmware, they'll be updated through the Google Play market instead.
That means HTC will be able to more rapidly iterate and add new features, without having to wait for the carrier testing that usually slows things down.
Camera
With the smartphone market caught up in a megapixel race, HTC made a deliberate decision to go its own way in 2013 with the original One. The result was HTC UltraPixel, betting on the idea that 4-megapixel resolution would be sufficient if the individual pixels themselves were all considerably larger than those in rival handsets.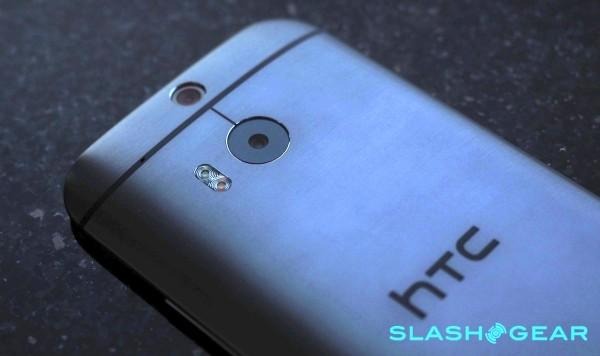 Bigger pixels means more light, which adds up to either better low-light performance or, in more regular conditions, being able to use faster shutter speeds and help minimize camera shake. It worked, certainly, though HTC now concedes that it may have focused too much on performing well in poor lighting and thus lagged somewhat on everyday use.
For the HTC One M8, the same UltraPixel sensor – a 1.3-inch BSI chip with 2.0 um pixel size and an f/2.0, 28mm lens – has been refined to suit all conditions, the company says. There's updated firmware for the HTC ImageChip 2 processing, which means HDR video recording is now supported as well as just HDR stills.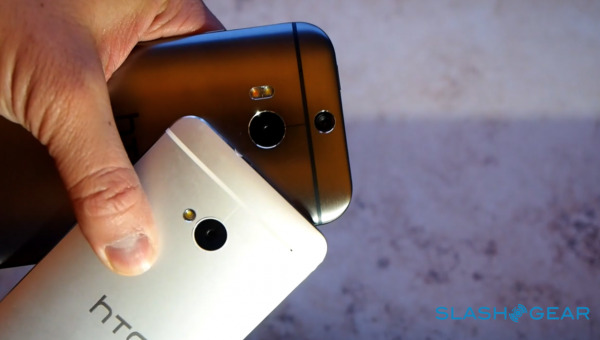 Most important, though, is the second camera on the back. Slightly smaller than the main sensor, it sits directly above it and captures depth information as you shoot each frame. That data can be used for selective refocusing – picking whether, say, the foreground subject is crisp while the background is blurred, or vice-versa – among other things, similar to what Lytro does with its standalone camera.
Nokia has tried post-capture refocusing with its recent Lumia handsets, but all in software; HTC's argument is that by adding in extra hardware you can do much more. However, the addition of Duo Camera does mean optical image-stabilization is sacrificed, since it's not compatible with a second sensor. Instead, HTC uses "Smart Stabilization", a software ISP in the ImageSense 2 chip, to combat camera shake.
Everything is controlled by a brand new camera app, which tries not only to simplify the interface but also offer more manual control for those who want it. By default you're in regular Camera mode with everything set to auto; however, a new mode-switcher menu offers a choice of Camera, Video, Zoe camera, Selfie (i.e. front-facing camera), Dual Capture (which overlays a moveable, resizable thumbnail from the front camera over the main scene), and Pan 360 "photosphere" modes.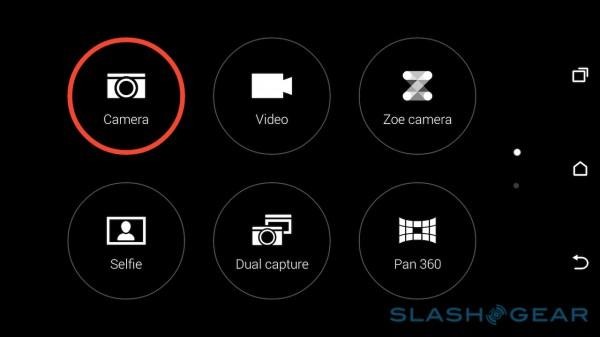 Within each mode, what settings are available run along the bottom edge of the display: for the regular Camera, for instance, you can adjust ISO, EV, white balance, and apply filters. It's then possible to save those settings as a new mode in the menu, to make jumping between different setups more straightforward.
Tap to focus and long-tap to lock AE and AF are supported, with the option of tap-to-capture and auto-smile-capture, as well as using the volume key as a shutter release. There's also a new dual-LED Smart Flash, with two lights – one cool, one warm – which are automatically mixed together in over 500 different combinations and at five different levels of brightness to suit the scene. We've seen Apple make use of a similar system to good effect on the iPhone 5s, and it does seem to result in more accurate skin-tones and fewer washed-out pictures.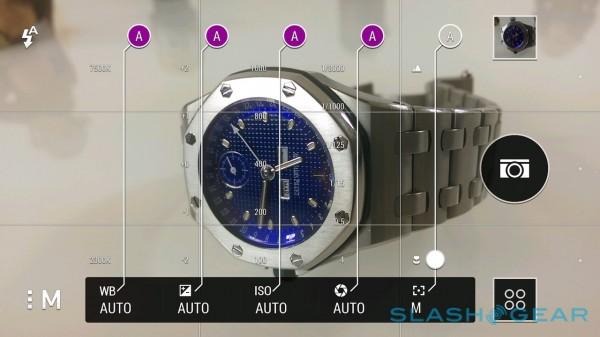 Actual image quality overall is still patchy and very much scene dependent. Strong colors come through well, but the phone struggles with mixed scenes of pronounced bright and dark areas, and the 4-megapixel resolution means things get grainy when you look at them full-sized off the phone and on your computer. There's a tendency for blow-out in bright conditions sometimes, too, though you can minimize it with judicious tinkering with the manual settings.
HTC's Zoe system – which captures both a rapid-fire series of twenty stills and a three second Full HD video simultaneously – now gets its own distinct mode in the menu, with a few tweaks along the way. Tapping the shutter button takes a single shot; holding it for up to three seconds takes a Zoe. Keep holding, meanwhile, and it automatically switches into normal 1080p video recording. As before, Zoe and regular images are automagically curated into thirty second "Highlight" reels, complete with user-customizable background music and filters.
In fact, Zoe mode would be the obvious default for most photographers, it it wasn't for the fact that the HTC One M8 only uses the Duo depth system in the standard Camera mode. If you've applied a filter, like HDR, or snapped the shot with a single tap in Zoe mode, the Duo camera is deactivated.
That's a shame, too, since there's plenty of fun to be had playing with the depth data, even if the results aren't quite perfect every time. Choose "Effects" from the Edit menu in the gallery and – as long as you're looking at a shot with depth data recorded – you get new options for UFocus, Foregrounder, Seasons, Dimension Plus, and Copy & Paste.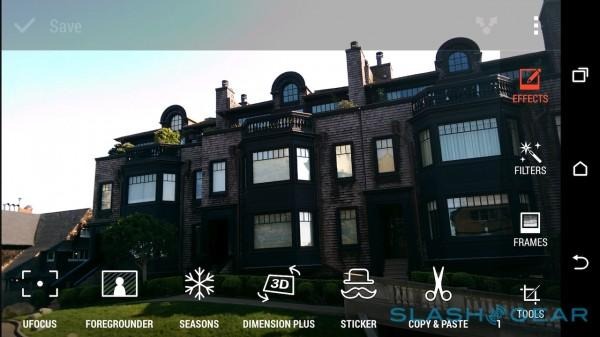 UFocus adds bokeh, or selective defocus, by only keeping wherever you tap in focus. The rest of the frame gets a dreamy blur that leaves lights twinkling and helps highlight your subject. Foregrounder does a similar thing but with four different effects instead of defocusing – you can have the background look like its been sketched, or show motion-blur, or cartoon-style exaggerated lines, or desaturate all the other colors in the frame.
Seasons adjusts the color temperature to match one of the four seasons, as well as overlaying animated leaves, snow, rose petals, or dandelion seeds; you can save the resulting picture as a still or as a short video. Copy & Paste, meanwhile, uses face-recognition to cut out faces from one frame and paste them into another.
Dimension Plus is arguably the oddest filter making use of depth, promising a pseudo-3D effect. As you pan and tilt the phone – or, alternatively, swipe around the frame – you can see around, above, and below what was captured. It's only a slight peek; we're not talking Minority Report-style full rotation of a 3D scene, but it does mean stills can be reframed and resaved after the point of capture.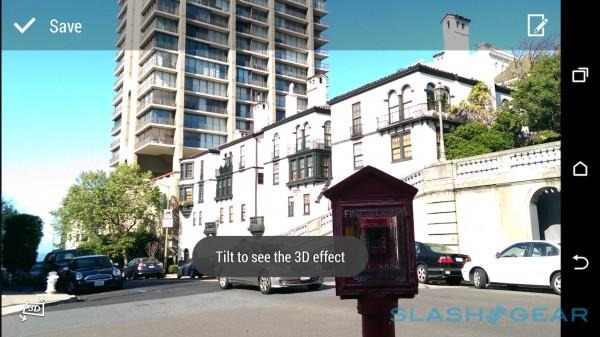 It's all ambitious stuff, though we found the results can be mixed. It works best when there's a distinct distance between whatever or whoever you want to be in focus and the rest of the scene, and when what you want to be, say, kept in focus is all about the same distance from the camera. Since there's no way to manually control the extent to which each point you tap is included in UFocus or Foregrounder: a group of people in front of a scene but not quite standing all at equal distance could end up only partially in focus.
Conversely, the One M8 can treat all things at the same distance the same, even if they're not part of your chosen subject. For instance, in the frame below, while we wanted the city to be focused, the Duo camera has decided the bush in front of it is at the same distance, and there's no way to exclude it manually.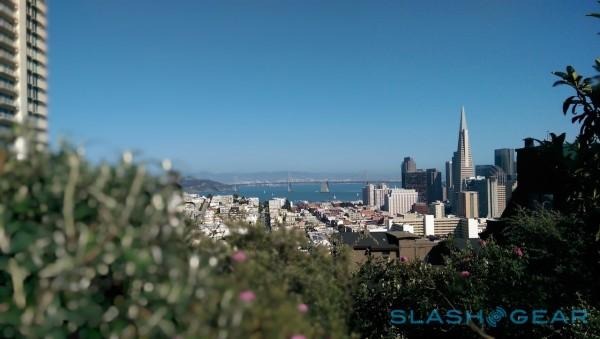 Similarly, HTC's selection algorithm can be too blunt for our liking. In the image below, we were aiming to keep the yellow flower and have rest of the scene blurred; however, rather than hugging the outlines, the new One simply keeps a bubble of focus that also includes some of the background.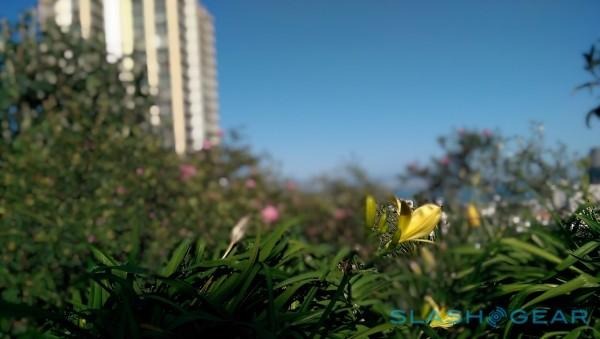 This imprecision is made all the more confusing since HTC does at least allow manual selection in one of its Duo effects. With Dimension Plus, you can optionally draw a line around the part of the frame you want to particularly emphasize, a refinement that none of the other effects benefits from.
When it gets it right, though, the Duo camera system is a great addition. Certainly it could feel gimmicky – we're not sure how often we'll actually use Seasons and Dimension Plus, and we'd like to see more granular control over the effects applied in Foregrounder – but there are plenty of apps that exist solely to add bokeh and we can see it proving popular among Instagram users and other social-sharers.
Each edited frame is saved separately (annoyingly you can't go back into it and re-edit, however; you have to find the original picture) and the depth data is included if you send the still, meaning other One M8 owners can re-focus and use the other effects too. HTC is also offering a set of Duo APIs – the same ones Google will use on the Google Play Edition version of the One to make sure the dual-camera still works – so that third-party developers can tap into it too.
HTC concedes that it's still early days for the Duo camera, but the One's software has been designed to accommodate more granular updates. The HTC Gallery app will be improved and released through the Google Play store, rather than as a more traditional firmware update, so we're hopeful things like manual selection and exclusion will be added over time.
That same process will also see a new Zoe App pushed out to the handset soon; right now, there's a stub in the app launcher, but it takes you to an empty listing in Google Play. Eventually, though, it will add collaboration to Zoe "Highlight" reels, so that those One owners invited to view the short clips shared online can edit and remix them: adding in new photos, for instance, or changing the music. Unlike Zoe Share v.1 there'll be no expiration date on uploaded videos, though HTC tells us there'll be caps for how many can be added (with exact details still to come).
Somewhat bizarrely, the new HTC One's front-facing camera is actually higher resolution than its main sensor, at 5-megapixels. It also gets an f/2.0 lens and BSI sensor, with a wide-angle 88-degree lens to fit more people in-frame at any one time. It'll record 1080p video, too, though you don't get any of the Zoe features or the refocusing magic of the main camera.
Phone and Battery
With HTC's work on trimming down antenna size and maximizing the metal used in construction, we were curious to see how the new One held up in keeping a signal. Full testing will have to wait until US-spec versions are available, though we had no issues with HSPA+ on AT&T on our unlocked European device. Callers reported hearing us clearly, with the noise-reduction system doing a good job cutting out background audio.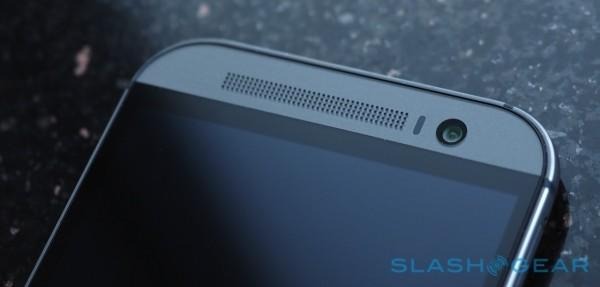 Similarly, when it comes to the battery we can't test the impact of Quick Charge 2.0 until the special charger is released later in 2014. Still, HTC claims a roughly 40-percent improvement in general runtime over the original One, or up to 20 hours of 3G talktime or 496 hours of 3G standby.
In practice, we were able to use the One M8 for more than eighteen hours of relatively heavy use and still have around 20-percent of battery remaining. There's comfortably enough for a full day of average use, through the night – even if you don't recharge – and then into a chunk of the next day, which is impressive stuff. We'll do more battery testing when we have US units to hand.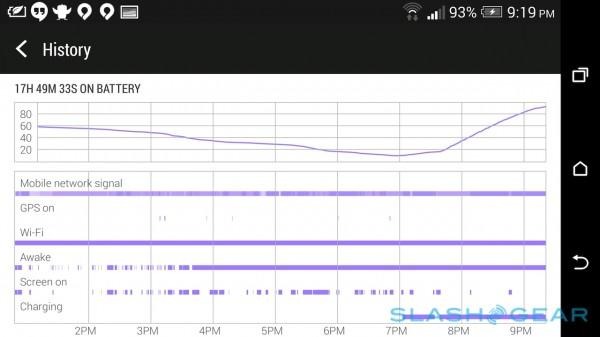 While HTC has offered Power Saving mode before, the new One debuts a new Extreme Power Saving mode alongside it. Switched on manually or by default when the battery reaches 20-, 10-, or 5-percent charge remaining, it limits access to five features – phone, messages, HTC's mail app (refreshed manually), calendar, and calculator – to stretch out as much runtime as possible.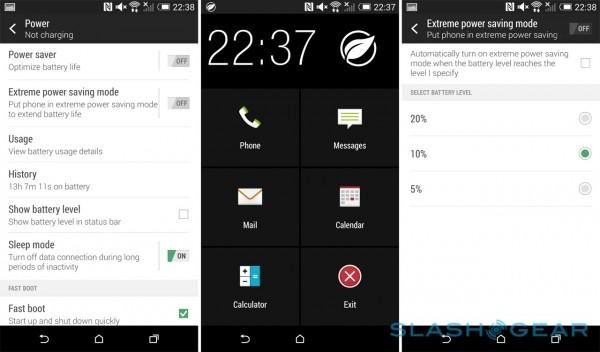 That means, HTC boasts, that the new One could feasibly run for two weeks on a full charge in Extreme Power Saving mode, though you'd effectively be using a feature-phone with no camera for that period. If you've got 5-percent battery remaining, you could supposedly still get 15hrs from it, however, which is far more useful if you're stuck away from somewhere you can charge but still need the bare essentials.
Unfortunately there's no way to choose which apps are available in Extreme Power Saving mode: you can't have Google's Gmail client, for instance, so your email account will have to be set up in HTC's app if you want to access it.
HTC Dot View Case
Flip cases with windows are fashionable these days, allowing partial use of the display while still keeping the phone protected. HTC has gone a somewhat unusual route with its official case for the new One: the HTC Dot View Case protects the front, back, and edges of the smartphone in various different plastic and rubber colors, but is also perforated with dozens of holes at the front.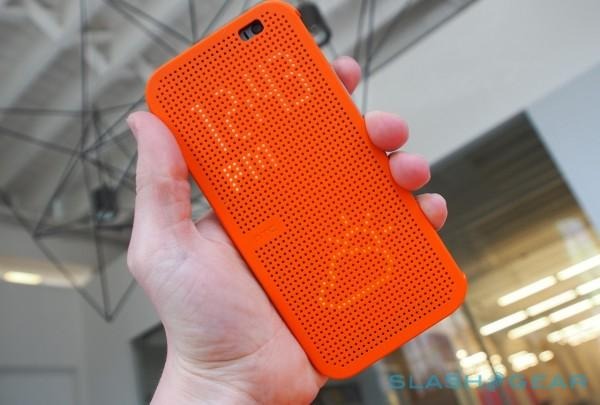 Those holes show a series of dot-matrix status and notification graphics, with the new One using magnets to switch into a retro-graphics mode for big incoming-call, SMS, email, calendar, timer, and other icons. Each shines through the case without requiring it be opened, and you can respond to alerts by touching or swiping the front too. The Dot View Case will be $49.99.
There's also an HTC Flip Case which offers the same protection only without the dot-matrix graphics, and a Double Dip case which comes with interchangeable top and bottom caps to mix up the color scheme.
Wrap-Up
HTC could've played it safe with the new One. Followed the crowd; put in a fast chip and a big display, and taken the easy route. Whether that would've actually done the firm any good is a question we can't – and needn't – answer, since instead the One M8 tries to push the boundaries of what we've come to expect from a smartphone.
Not everything works. The Duo camera system shows incredible potential, but HTC's software still has rough edges around how the depth information is actually used, and the quality of some of the images reminds us that UltraPixel isn't without its compromises; the Extreme Power Saving mode gives some impressive numbers, but lacks the flexibility to be tailored to what each user might want to do with their device.
Nonetheless, the new One M8 is beautifully design and constructed, is fast and has a great display, uses one of the best manufacturer-customized interfaces we've seen in recent time, and delivers all that without demanding compromise on battery life. That HTC has learned from its past missteps and will have it on shelves the same day as it's announced is testament to just how seriously the company is taking its position in the smartphone segment today.
What remains is the really difficult stuff. Competing with the monstrous advertising budgets of Samsung and Apple. Delivering the sort of timely software changes the One M8 opens the door to. Convincing would-be users that Android isn't synonymous with Galaxy. That's a journey that will take time, but the 2014 One M8 is an excellent place to start.
Vincent Nguyen contributed to this review