Texas Instruments Blaze video demo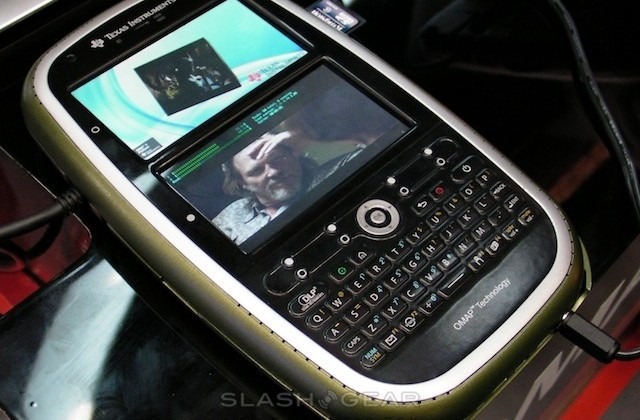 Back when we gave you a sneak preview of Texas Instruments' OMAP4 developers device – since named the Blaze – what we really wanted to show you was video demo of its strutting its tri-display Full HD potential.  Unfortunately they weren't quite ready to go public with that, so we've had to wait until MWC 2010 this week.  While the next-gen chipset battle is nowhere near finished yet, it's certainly an exciting time for mobile devices; after the cut, the Blaze gets a video demo – including custom dual-screen Android – and TI tell us why not all ARM Cortex A8 cores are created equal.
Texas Instruments had to create a special build of Android to support the Blaze's dual displays, and they've been careful not to break app compatibility in the process.  Apps directly downloaded from the Android Market will simply run in the top touchscreen, with the bottom used more as a launcher.  However TI are working with developers to show them how to better take advantage of the multiple displays on offer, whether that merely be choosing which screen the software shows up on, to offsetting controls and other features across multiple panels.  Theoretically – on a non-QWERTY device – you could have an on-screen keyboard on one touchscreen and the app UI on the other.  Best news is, TI are feeding back their code to Google for potential inclusion in future Android releases.
We asked TI what differentiated OMAP4 from rival platforms, such as NVIDIA's Tegra, and understandably they seemed confident their offering goes the extra mile.  In their own words, not all ARM cores are created equal, and something that might seem identical on paper might perform considerably differently in a real device.  TI reckon OMAP4 has better power management and performance than Tegra, as well as enhancements in graphics processing.  They're also pushing their interlinked communications modules – such as the WiLink 7.0 – and highlighting their Neon companion cores which reduce main processor load by allowing devices to offset graphics crunching, such as Android's open-source Skia graphics engine.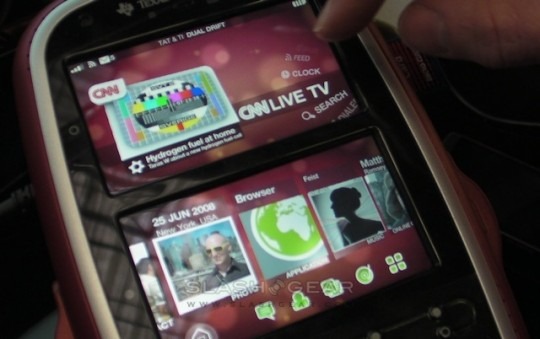 There's also, of course, the ability to encode not only 1080p HD video, but 3D video.  OMAP4 is capable of simultaneously recording 720p HD quality footage from stereoscopic video cameras, and in fact TI say they're "uniquely positioned" to offer dual-channel 3D.  While the Blaze's main camera is on the back, up front there are two other cameras which can be used together to encode 3D streams; meanwhile, the OMAP4 is also capable of driving 3D displays when they become more widespread.  On a full charge of a regular 1,000 to 1,200 mAh smartphone battery, you could play in excess of 10hrs 1080p HD video.
As for availability of the Blaze unit itself, it's currently sampling to some TI partners and will see broader availability midway through 2010.  Pricing is not yet confirmed, though to put it into context the company's previous OMAP development device ran to around $1,000; Blaze will likely be a little more than that, thanks to the dual touchscreens and pico-projector.  The OMAP4 chipset, meanwhile, is also sampling right now, and should turn up in smartphones within the next year.
TI say they're also in talks with PMP, PND, ebook, tablet and other consumer electronics vendors, though of course they're mentioning no names.  Expect a variety of form-factors, however, potentially including dual-display clamshells and smartbooks.
Texas Instruments Blaze OMAP4 demo:
[vms 6617f20abbf2ffd806f6]