TI WiLink 7.0 packs WiFi-N, Bluetooth 3.0, FM & GPS onto single chip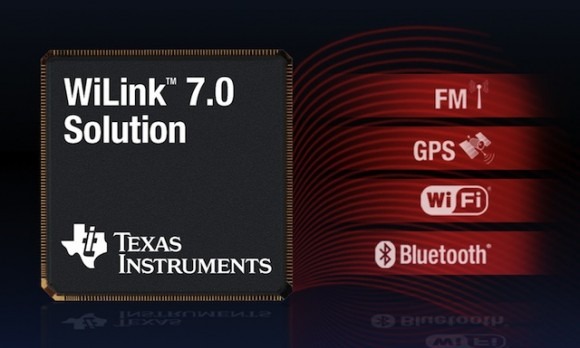 While we focused more on Texas Instruments' eye-catching OMAP4 development device when we visited the company a few weeks ago, we also had a chance to talk to their wireless chipset team.  TI's combo chipsets – which pack various mixtures of WiFi, Bluetooth, FM and GPS onto a single component – get a new sibling today, in the shape of the WiLink 7.0, an integrated chip that combines all four of those wireless technologies.
The TI WiLink 7.0 squeezes WiFi a/b/g/n, FM transmit/receive, Bluetooth 3.0 and GPS onto a chip that's 50-percent smaller than current alternatives and – perhaps more importantly – uses 30-percent less power.  That adds up to smaller, longer lasting mobile devices, and devices that have better use of their wireless connectivity.  As TI explained to us, when you're using separate components there's a limit to the amount of interconnectivity between them; if you combine them into one chip, meanwhile, things like power-management and intelligent usage profiles become possible.
We'll have to wait a while to see the first commercial products using the Texas Instruments WiLink 7.0, however; while the chip is sampling now to OEMs, products aren't expected until the end of the year.
Press Release:
Texas Instruments delivers industry's first quad-radio single chip

TI raises the bar with WiLink™ 7.0 solution, integrating WLAN, GPS, Bluetooth® and FM transmit/receive technologies on a true single-chip

DALLAS (February 9, 2010) – Demonstrating its leadership in the wireless connectivity market, Texas Instruments Incorporated (TI) (NYSE: TXN) today unveiled its WiLink™ 7.0 single-chip solution, the industry's first offering to integrate WLAN 802.11n, GPS, FM transmit/receive and Bluetooth® technologies. Integrating these capabilities on a true single chip, the 65-nanomenter WiLink 7.0 solution reduces costs by 30 percent, reduces size by 50 percent and delivers superior coexistence performance as compared to today's existing solutions. Built on seven generations of proven technologies and legacy software, this single-chip solution further extends TI's heritage of bringing technologies previously seen in high-end devices to the broad mobile market. The WiLink 7.0 solution will be showcased during Mobile World Congress 2010 in the TI booth (8A84, Hall 8). For more information, visit www.ti.com/wilink7pr.

"TI's announcement that its Bluetooth/FM/GPS/WLAN combination IC is sampling to major OEMs marks the first of its kind, demonstrating the strong future for combination ICs that enable device manufacturers to offer multiple radios without sacrificing performance, space requirements or profit margins," said Lisa Arrowsmith, analyst, IMS Research. "IMS Research forecasts that by 2013, more than 4.5 billion combination ICs featuring a variety of radios will have been shipped."

Key feature Benefits

————————————————————————

Unique — Hardware mechanisms cancel out board- and

coexistence chip-level RF interference at the source to

capabilities simplify design process

– Enhanced WiFi/Bluetooth/Bluetooth Low Energy

inter-core communication prioritizes packet

scheduling, supports more connections in parallel

————————————————————————

High-performance

GPS core — Best-in-class 3GPP test performance

– Multi-path resolution engine coupled with

advanced algorithms reduces interference impact

for more accurate positioning in urban canyons

– On-chip position engine simplifies

integration with device host processor

– Supports reduced power consumption during

tracking

– Host-independent location buffering and geo-

fencing features further reduce host loading and

power consumption

————————————————————————

Powerful

Bluetooth core — Best-in-class RF performance

– Dedicated audio processor system-on-chip

– Supports latest Bluetooth low-energy and

Bluetooth 3.0 specifications

– Extensible to support additional protocols

————————————————————————

Robust Wi-Fi core — Supports the soon-to be ratified WiFi Direct™

and Soft AP mode capabilities, extensible to

support additional protocols

– Supports 802.11 a/b/g/n capabilities

————————————————————————

FM core — Increased output power for FM transmit combined

with highly sensitive FM receive delivers cleaner

FM experience

– Supports internal antenna

————————————————————————

"As the first company to put the power of GPS, WLAN, Bluetooth and FM technologies on a single chip, we are excited to have solved some of the market's most complex coexistence challenges," said Haviv Ilan, vice president and general manager, wireless connectivity solutions, TI. "This type of innovation builds on our strong heritage in the wireless market and commitment to spearhead next-generation advancements. With its ability to support simultaneous use of all four radios, the WiLink 7.0 solution will truly revolutionize the way people interact with their devices and connect to the larger world."

Availability

The WiLink 7.0 solution is sampling to major OEMs today. Devices using the WiLink 7.0 solution are expected to enter the market by the end of 2010.