Tesla's Model 3 March Reveal Could Feature A Second New Car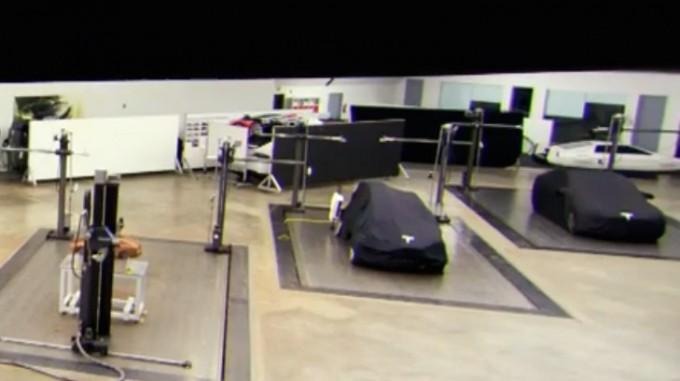 Tesla's Model 3 is almost upon us, but according to the rumor mill it could be bringing an unexpected friend to its March 2016 reveal. A second new car, potentially the Model Y crossover that Tesla CEO Elon Musk teased briefly as the smaller counterpart to the Model X SUV, is said to be lining up ready to debut alongside the more affordable Model 3.
Musk has repeatedly promised that Tesla will take the wraps off the Model 3 in March this year, though the car itself isn't due to turn up in showrooms for some time after that. Nonetheless, it has EV fans excited, not least because of its estimated pre-rebate and tax break price of $35,000.
Now, though, there's even more intrigue at the idea of a second new car based on the same platform. EV rumor site Electrek points to its own second-hand source about such a car, as well as a teaser image Elon Musk shared while in Hong Kong this week.

Though the veiled cars are simply copies of the current Model S and Model X, the fact that there are two of them does suggest Tesla has more than a single vehicle to show us, and sooner rather than later.
It certainly fits with earlier chatter. Tesla execs have already said that the Model 3 platform is to be used for multiple vehicles, with chief technical officer JB Straubel suggesting back in mid-2015 that it would be used for both a sedan and a crossover.
A subsequent tease of what looked to be a double-design on a single platform added weight to the rumors of a more traditional sedan and a larger crossover being developed alongside each other.
Whether that means both cars will be revealed at the same time in March remains to be seen – even if that was once the plan, there's no telling if both cars will be ready. Tesla could arguably get more milage out of simply showing off the Model 3, and saving the surprise of its Model Y crossover cousin until later in the year.
Nonetheless, the biggest question will be quite how close to production-ready the Model 3 will be, and indeed whether the car we see in a couple of months time will be functional or more of a design model.
SOURCE Electrek