This could be Tesla's Model 3 double-sided mockup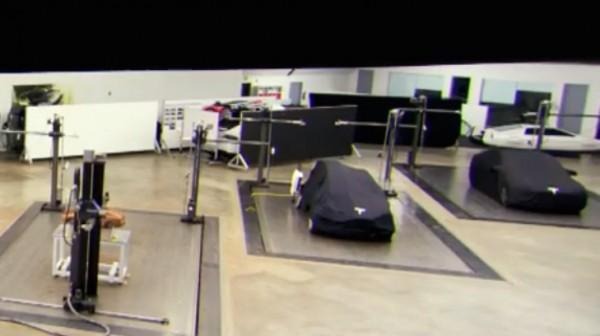 Tesla may be promising its "affordable" Model 3 in just over two years, but we're still in the dark as to what it looks like. A mysterious sheet-clad model in Tesla's own design studio might give us the best hints so far, however, with Australian news show 60 Minutes catching the oddly-shaped car in the corner while ostensibly talking about the Model X SUV due to arrive in just a few months.
Spotted and freeze-framed by "hockeythug" of the Tesla Motors Club forums, the focus of the image is clearly meant to be the partially-clad Model X on the left, with no mention made of the entirely-hidden cars on the far right.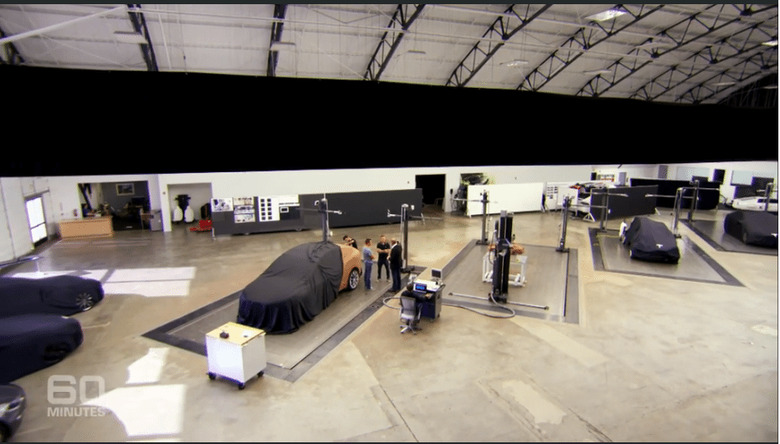 Tesla has promised to reveal what the Model 3 looks like in March 2016, but the oddity on the left in this cluster might well be an early preview.
Although the lumpy form under the close-fitting sheet might not look much like a car, there's some prior evidence to suggest that Tesla's mock-up is indeed asymmetrical. In a feature on the company, Tim Urban described the double-sided clay car as shown to him by Tesla's own chief designer.
[Tesla chief designer Franz] Von Holzhausen showed me a full-size clay car that was simultaneously testing two different possible designs for the upcoming Model 3 by making the two halves of the model different. He explained how precise everything about car design is and how "a difference of a quarter millimeter can spread itself across the entire car."
One half would appear to be more upright, a somewhat traditional hatchback shape perhaps, whereas the other half looks to be sleeker, more akin to a smaller version of the existing Tesla Model S.
Next to it, meanwhile, is what some are speculating could be a refreshed Model S, though it might just be the existing car only with a protective sheet left in place.
Whatever they are, they're sharing design studio space with some Hollywood history. The Lotus submarine from James Bond movie The Spy Who Loved Me – which Elon Musk bought at auction for $866k in late 2013 – is also apparently a resident.
Musk had previously said he intended to give the iconic Bond car a Tesla-style EV makeover. Exactly where that project is up to is unclear, though the transforming submarine-car did show up as an Easter egg in a recent Tesla software update for the Model S.
VIA Autoblog
SOURCE Tesla Motors Club; 60 Minutes
MORE Wait But Why