Tesla is "furious" at claims by a high-level Hyundai executive that the Supercharger network was paid for by the US government through grants and loans, accusing the Korean firm in turn of wanting unfair subsidies. Hyundai's US product planning chief Michael O'Brien had argued that it was unfair that Tesla's recharging station network had been funded using cash "from grants and loans from the government," while it was expected to cough up for its own fuel-cell hydrogen network. Unsurprisingly, Tesla wasn't impressed.
Describing himself as "furious" at the idea that public money was spent on Superchargers, Tesla VP of business development Diarmuid O'Connell insisted that all of the charging sites had been paid for by Tesla itself.
In contrast, he pointed out to Green Car Reports, Hyundai is one of a number of foreign car brands which lack a manufacturing presence in California but which, he alleged "expect the state's taxpayers to spend up to $200 million" to develop a hydrogen network. That's required if Hyundai hopes to make a significant splash with its future fuel-cell based vehicles.
Late in 2013, Hyundai said it planned to release a hydrogen-powered Tucson in spring 2014. Expected to be able to drive up to 300 miles on a single tank of fuel, the SUV will recharge its hydrogen supplies in ten minutes, Hyundai promised.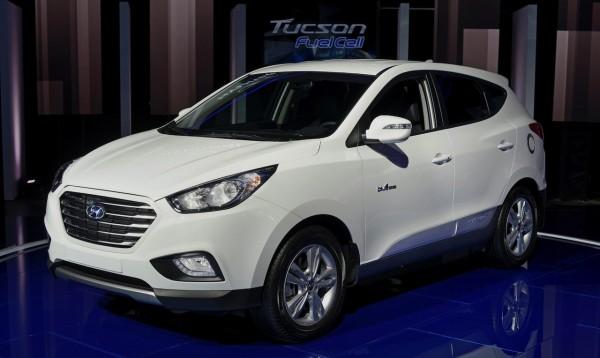 One possibility is that O'Brien was arguing that the US Department of Energy's loan of $465m to Tesla was a contributing factor to it being able to afford the Supercharger network. That loan was repaid five years ahead of schedule by the car startup, back in 2013.
Hyundai isn't alone in trying to push fuel-cell technology, and in fact has been working with a number of companies like Honda, Toyota, and Nissan on hydrogen power. Although relatively small-scale trials are in operation in several countries, they're generally limited by the paucity of fueling infrastructure.
Meanwhile, Tesla continues to insist that all-electric is the way forward. Even if drivers aren't near a Supercharger station, they can still top up their EV using a 240V public charging station, or even a 110V domestic power supply, though the latter will take some time to replenish the batteries.
Tesla confirmed yesterday that its new, more affordable car would be called the Model 3; it's believed to be due in 2017, and be priced at around $35,000, though final details are yet to be official.
SOURCE Green Car Reports