Hyundai to launch hydrogen fuel cell Tucson EV in Spring 2014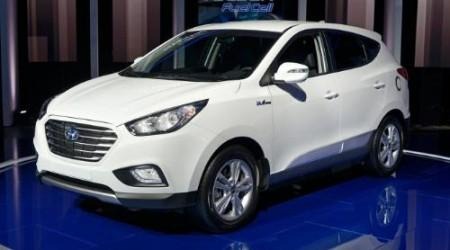 One of the technologies that several automakers have been working on as an alternative to traditional fossil-fueled vehicles is fuel cell technology. Hydrogen fuel cells are able to produce electricity to drive electric vehicles without producing emissions other than water. Hyundai has announced that it will be offering a hydrogen fuel cell version of the Tucson SUV in the spring of 2014.Hyundai is doing something very interesting with the fuel cell vehicle. The car will hit the market at $499 per month, for a 36-month lease, with $2999 down. The monthly lease payment also includes unlimited free hydrogen refueling and At Your Service Valet maintenance.
To begin with, the fuel cell Tucson will only be offered in the LA/Orange County region. The special service plan that goes along with the fuel cell vehicle means that owners don't have to go to the dealership for service, the dealer will pick the car up, provide a loaner, and return the owners car back after service.
The driving range of the Hyundai fuel cell vehicle is up to 300 miles. The car can be refueled in less than 10 minutes. Hyundai says that the fuel cell vehicle will see a minimal reduction in daily utility compared to gasoline versions. The fuel cell Tucson will begin production in February 2014. It's unclear exactly where buyers of the vehicle will have to go to fill up with hydrogen at no cost.
SOURCE: Hyundai