T-Mobile Sensation 4G Officially Announced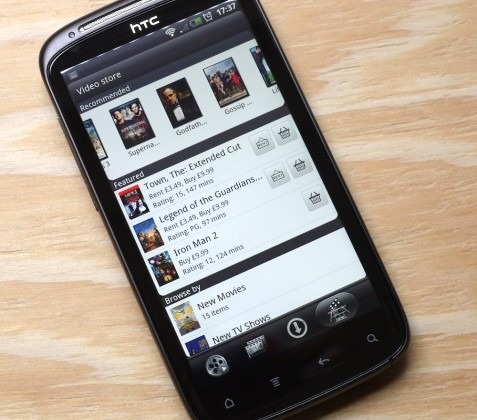 The fine folks at T-Mobile have sent out a press release regarding the new king of HTC devices, the HTC Sensation 4G. This device has been released in the UK for some weeks now, flying over the pond to hit the USA directly in the T-Mobile. The HTC Sensation on T-Mobile will of course be rolling out on T-Mobile's 4G network and will be out, as they're saying, "by June 15th," which means very possibly a bit sooner. This date is a bit further down the line than the original June 8th suggestion we last laid eyes on.
On the other hand, a release date and a hands-on date and a presentation date (aka a date for press release) aren't always the same thing. That June 8th date might still prove to hold strong. That said, let's have another look at what we're dealing with by first listing a few specs: Android 2.3 Gingerbread is what this handset will be packing, that running on a 4.3-inch qHD display. The big gun on this device isn't the display nor the operating system version though, of course, it's the processor : the T-Mobile Sensation 4G will be blasting out the gate with a 1.2GHz dual-core Qualcomm® Snapdragon™ processor. How would such a thing add up against its competitors? We just happen to have that test for you: HTC Sensation vs Samsung Galaxy S II.
Another note to be aware of: this device may also be available at Target starting June 12th, and the price appears very much to be at $199 (certainly with a 2-year contract in tow.) For more of an idea of what you'll be dealing with on this particular smartphone, check out our full review
How similar to the Euro version of the Sensation will this T-Mobile version be? Pretty darn close we'd expect. This stateside version on big magenta will contain several featured apps: HTC Watch for movie rentals, HTC Listen for the same situation but with music, T-Mobile TV for free and pay content in live-tv format, Qik for video chat, and everyone's favorite radio app Slacker Radio. And of course you should note that there's one more date to be aware of: the same as Target, this press release notes that Wal-Mart may have an availability of June 12 as well. How about that?
Another note: you should be asking yourself the following question: will this device have an unlocked bootloader like the rest of the future HTC device lineup?
Check out the full press release here:
T-Mobile USA, Inc. today announced the upcoming availability of the HTC Sensation 4G. Expected to be available by June 15, and exclusively from T-Mobile, the HTC Sensation 4G is T-Mobile's most powerful smartphone, delivering the latest Android™ 2.3 (Gingerbread) operating system with the hallmark HTC Sense™ experience and lightning-fast speeds with a 1.2GHz dual-core Qualcomm® Snapdragon™ processor paired with access to America's Largest 4G Network.

T-Mobile's high-speed 4G network continues to expand and is now available in 184 markets, reaching more than 200 million people nationwide. With the HTC Sensation 4G, T-Mobile customers in these areas can take advantage of 4G speeds as they download and watch premium entertainment on the device's 4.3-inch qHD display virtually anytime, anywhere, without waiting.

"The HTC Sensation 4G's already powerful performance is elevated by T-Mobile's high-speed 4G network, offering customers quick download speeds, seamless Web browsing, and easy access to their favorite movies," said Andrew Sherrard, senior vice president, marketing,

T-Mobile USA. "The sophisticated and innovative design of the HTC Sensation 4G complements its rich entertainment features, making it a must-have for high-end smartphone fans."

Designed and manufactured by HTC, the Sensation 4G features a premium design with rounded edges, aluminum unibody construction and T-Mobile's first 4.3-inch qHD touch-screen display. The HTC Sensation 4G delivers a quality on-the-go entertainment experience with easy access to top movie titles, TV programs, music and more via the following preloaded applications:

HTC Watch™: A library of the latest, premium movies and TV shows available for rent or purchase using innovative progressive download technology

HTC Listen™: A VIP pass to a library of millions of songs with the freedom to transfer purchases to another device or computer

T-Mobile® TV: A free selection of live and on-demand TV including news, sports and kids programming, plus full episodes of popular shows

T-Mobile Video Chat powered by Qik™: Video conversations with friends and family through T-Mobile's network and over Wi-Fi

Slacker Radio: Free, personalized radio with over 150 genre stations and the ability to create your own stations

"The HTC Sensation 4G defines the perfect balance of power and design. Its dual-core processor and qHD screen place it firmly in the superphone class, but its sleek machined aluminum housing and contoured display give it an in-hand feel unlike any superphone that has come before it," said Jason Mackenzie, president of HTC Americas. "HTC's history of working with T-Mobile to bring innovative new services to market continues with the HTC Sensation 4G, the first device anywhere to offer HTC Listen, an innovative new mobile music service."

The HTC Sensation 4G comes equipped with the latest HTC Sense™ experience which includes new features and enhancements such as a customizable lock screen, allowing customers to quickly jump to their favorite features and applications with the same gesture typically used to unlock the phone. The HTC Sensation 4G also offers access to more than 200,000 applications available on Android Market™ and integration with popular Google services such as Gmail™, Google Maps™ with Places and Navigation, YouTube®, and more.

For capturing and sharing memories in real time, the HTC Sensation 4G features an 8-megapixel rear-facing camera with dual LED flash, digital zoom and auto-focus, as well as a front-facing camera and 1080p HD video recorder. With DLNA compatibility, HTC Sensation 4G customers can wirelessly connect to a compatible HDTV or other DLNA device for streaming full HD video content.

The HTC Sensation 4G includes smartphone essentials such as easy access to personal and work e-mail, including support for Microsoft Exchange e-mail, contacts and calendar, social networking, and instant messaging. The HTC Sensation 4G also features Trace™ for easy text input, visual voicemail, a pre-installed 8GB microSD card, built-in 3.5mm headphone jack, Adobe® Flash® Player support and a music player.

Availability

The HTC Sensation 4G is expected to be available by June 15 exclusively to T-Mobile customers nationwide at T-Mobile retail stores, online at http://www.t-mobile.com and through select national retailers and dealers. The HTC Sensation 4G is also expected to be available as early as June 12 at select Wal-Mart locations.

Customers can visit http://htc.t-mobile.com/sensation for more information.

T-Mobile's 4G network has expanded to 14 additional markets including Bloomington, Ind; Bremerton and Mount Vernon, Wash.; Flagstaff, Ariz.; Santa Fe, N.M.; Madera, Oxnard, Riverside and Santa Cruz, Calif.; Manchester, N.H.; Reading and York, Penn.; and Springfield and Worcester, Mass.

For more details on where T-Mobile's 4G network is currently available, please visit http://newsroom.t-mobile.com/articles/4g-fact-sheet