SYNC by 50 Wireless Speaker blasts past headphones with Bluetooth 4.0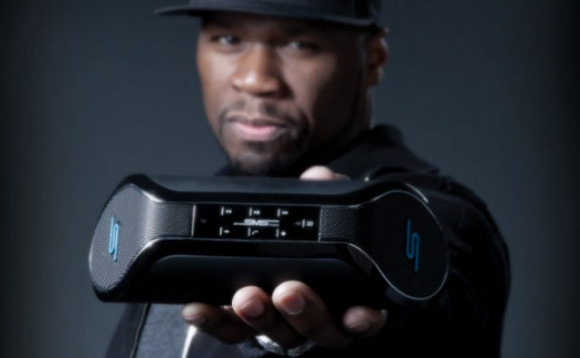 It would appear that even SMS Audio has decided to lay claim to the Bluetooth speaker universe as essentially every headphone company has done over the past couple of years. This machine continues the naming conventions started with 50 Cent's entry into the earphone market with the title SYNC by 50 Wireless Speaker. This device works with Bluetooth 4.0 aptX technology and will be kicking out the tunes this week.
This wireless speaker comes in one color: black. Like its predecessors in headphones and earbud gadgets, blue highlights accent the sharpness of it all, and the whole package will be working with the same branding as the rest of 50's SMS gear. This blaster works with 50mm drivers and what the company notes is "omni-directional 3D sound."

While you'll likely be working with Bluetooth for wireless projection of sound from your smartphone, tablet, or computer most of the time, you'll also be able to connect with a standard 3.5mm audio jack. This device is powered up with a wall plug attached with microUSB.
SYNC by 50 Wireless Speakers will be popping up for $199.95 this week likely wherever similar products are sold. You'll find no lack of similar devices on the market today, of course, with machines like Jawbone's JAMBOX leading the way (as seen below) and what may be SMS Audio's most obvious competitor in Beats by Dre's Beats Pill sizing up as one of the more unique looking units. That device also costs right around $200, depending on where you look. Don't forget the Jabra Solemate, too!