Beats Audio unveils new Pill portable speaker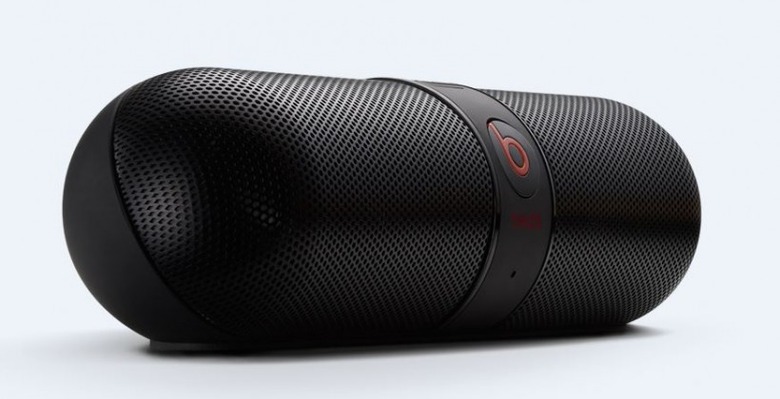 In need of a wireless, portable speaker? Beats Audio has you covered, today revealing a new tiny speaker with a weird little name. Say hello to the Beats Pill, which you can see pictured below. One glance at the image and you can tell where Beats Audio got the name, but that still doesn't make it sound any less strange. In any case, the Pill is a wireless speaker, so you know what that means: Bluetooth, baby.
Beats says that the Pill is compatible with any Bluetooth-enabled device, and it sports a range of 30 feet, which means you can get pretty far away without your music cutting out. Beats promises "soaring highs and deep, booming bass," with the Pill, even though you wouldn't expect that kind of range from a portable speaker. Not digging the black color scheme? You're in luck, because the Pill also comes in red and white.

The Pill comes packed with a USB 2.0 cable for charging and data, a 1.5-meter audio cable with 3.5mm jacks on both ends, an AC adapter for those times that you don't need to go wireless, and a carry case that comes complete with a carabiner so you can attach it a bag easily. The whole unit comes in at 0.34kg in weight, with a height of 45.72mm and a length of 190.5mm. In other words, taking the Pill on the go shouldn't be a problem at all.

The Pill also features an internal microphone, so you can use it to make calls (so long as your phone is connected through Bluetooth, of course). That will undoubtedly be a handy feature for some folks, but that dual-functionality naturally comes with a price. The Pill will set you back $200, so be prepared to plop down some cash if you want to take this guy home with you. Still, despite the relatively hefty price tag, we can't help but find the Pill endearing. What about you?