Switching between Android 4.0 ICS and iPhone 4S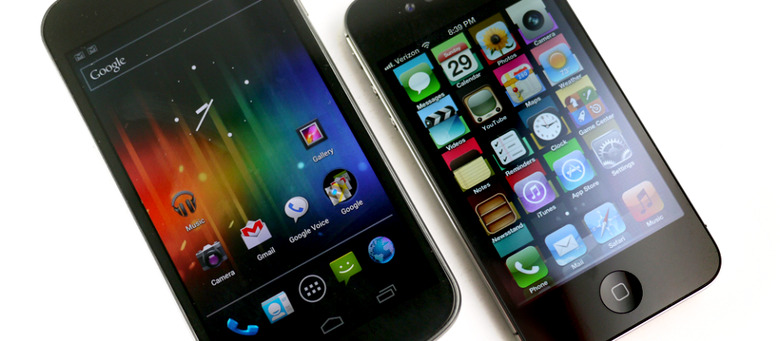 When you switch from an Android phone over to the iPhone or vice versa, there are a few adjustments you'll have to make. The difference between the two, no matter which versions of the software you're dealing with, are much smaller than the difference between either and any other software. Windows Phone, Symbian, any number of lesser cell phones are much more difficult to switch to or from when the alternative is switching to Android or iPhone from the other. This article is but one of several in a series written by your humble narrator called "I'm switching to iPhone 4S for a week," this series having the alternate title "iPhone 4S Up Close and Personal."
The software on the two devices we're looking at here is the most updated version from either software group, Android 4.0 Ice Cream Sandwich from Google, and iOS 5 from Apple. The devices we're looking at are the iPhone 4S from Apple and the Galaxy Nexus from Samsung. The iPhone 4S is the same as each iPhone before it in that Apple uses it as a hero device for its software, while the Galaxy Nexus is a special case for Google because they do not currently produce their own hardware, this one produced with Samsung to be the hero for Google's software. In this way these two devices are the best examples for Apple and Google's Android for this feature story.
[vms 87cf1ac1f1163470e479]
Applications
Both Android and iOS are built with a basic user interface which includes a grid of icons, each icon connected to an app. All Android devices you're going to purchase from a carrier here in the United States and the iPhone are connected to app stores where apps can be purchased or download free. If you switch from Android to iOS or back the other way around, you will need to download a whole new set of applications. This is true of any switching between devices, but if you stick with one software, like switching from Android to Android, you wont have to re-purchase applications like you would when switching from iOS to Android and back again.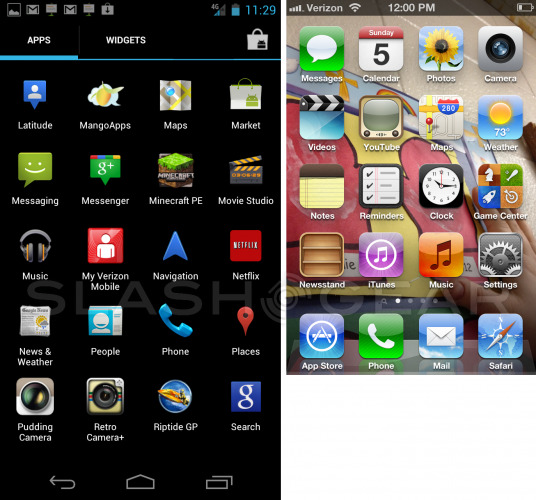 Android on the left, iOS on the right
Multi-tasking
The question of multi-tasking is one we've been writing about and hearing about for years, ever since the birth of this mobile environment in smartphones. The newest versions of Android and iOS both have a very basic but fairly effective means of switching back and forth between apps. For the iPhone you'll be double-tapping on your home button and a row of applications will appear at the bottom of your display – each of these are able to be opened or, if you hold down on one of them, closed entirely. A similar situation happens with Android 4.0 when you tap the "Recent Apps" icon, this being the double rectangle on the far right – the applications pop up here with a preview and an icon, each able to be opened, closed entirely, or have its App Info accessed.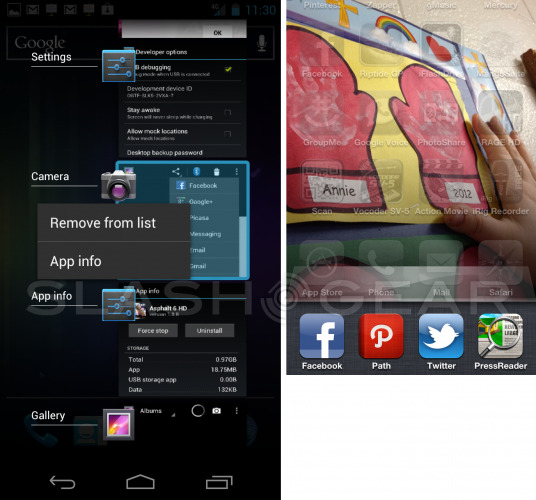 Pull-down Menu
Both Android and iOS now have a pull-down menu that can be accessed by sliding your finger down from the top of the display. Both have status updates from applications and are organized a bit differently from on another, and Apple's version has a couple of widget-like selections at the moment not unlike what Android has on its several home-screens. Both menus's individual updates can be tapped to access and can also be closed with a simple action: an x-out or a push to the left.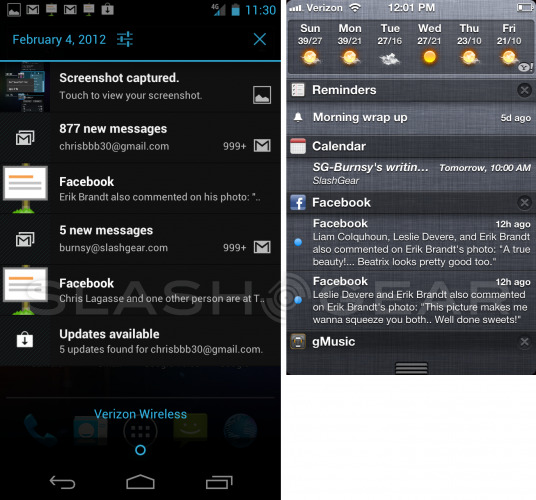 Home Screens
Android has two layers to its containment of applications, while Apple's iOS has one. Android has a set of home-screens where you can add apps as well as a wide variety of widgets, widgets being anything from a simple picture frame to a stock-ticker like you're seeing in the pull-down menu on iOS. Android also has an App Drawer where applications are placed in a basic grid and can be pulled up and out to Android's home screens. Apple's iOS has home screens which are essentially the same as Android's App Drawer. Both operating systems have the ability to pack several apps in one app's grid spot in a "drawer" for a simplified way of organizing, both having this feature on home screens.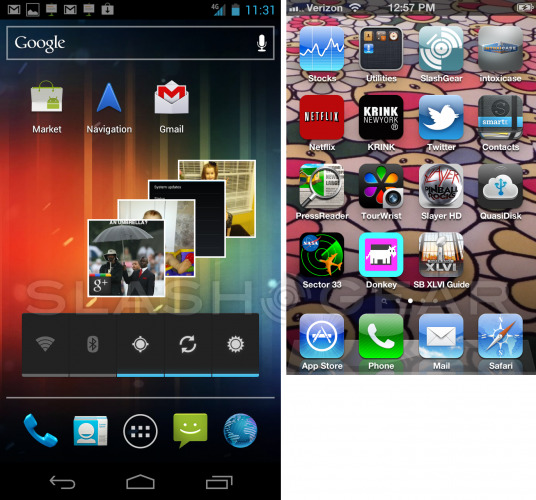 Taking Photos and Video
The photo-taking experience on Android and iOS is basically the same. You've got a viewfinder that's nearly the whole display large, you've got one button that takes the photo or the video, and there's are at least a few options on both interfaces. The camera on iOS 5 has options for your flash or lamp (for video), tap to focus, and have a single button to flip between front and back cameras.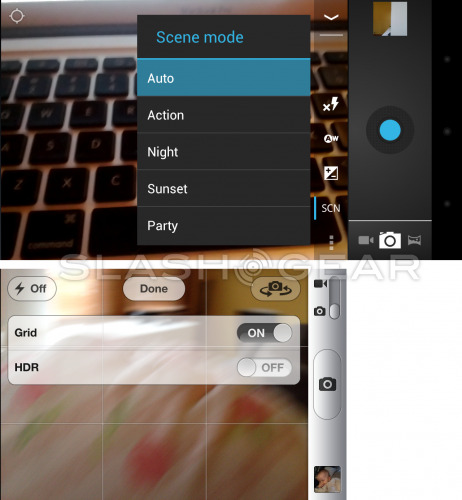 Android on top, iOS on bottom
Android has the same set of options but also has a selection of special effects here on the Galaxy Nexus, including a panoramic mode for long photos. As far as the devices we're looking at here, the iPhone 4S has the better ability to take fabulous photos as its 8 megapixels strong over the Galaxy Nexus' 5 megapixels. Both devices claim to have the fastest shutter speed in the west, but the iPhone 4S has a much better shot-to-keeper ratio from what you humble narrator has experienced.
Sharing Photos and Video
The iPhone is limited in its capability to share a photo or a video directly from the gallery – if you open a photo and want to share it, you can email it, tweet it, text message it, assign it to a contact, make it your wallpaper, or print it. With Android, you can do all of these things plus more – Android connects your gallery to any and all applications that are able to share images. For iOS you've got to go into each of those applications outside the gallery to share. This simple difference will drive you nuts when switching from Android to iOS if you're a big sharing sort of person.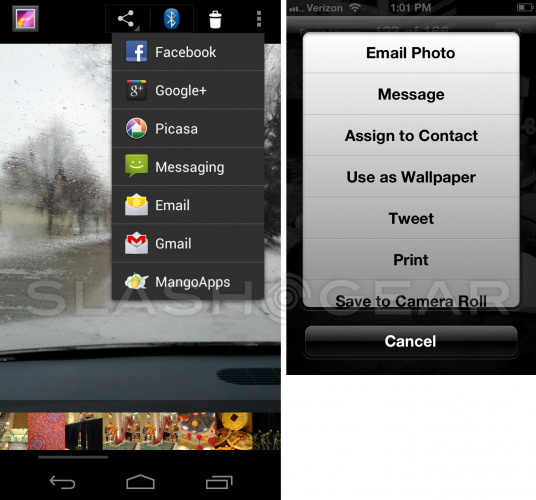 Settings
Bot operating systems have a basic Settings menu, both of them able to work with items like Wifi, screen brightness, and settings for your main account – or multiple accounts with Android. With the Android version here specifically on the Nexus device you've got a set of developer options you wont get with any other Android device. Both operating systems have access to individual app settings, but only iOS has the ability to access GPS settings for each individual app. When switching back and forth between operating systems, you'll definitely have to do a bit of searching before you find each of the bits you're used to working with, but it's all there for the most part between the two.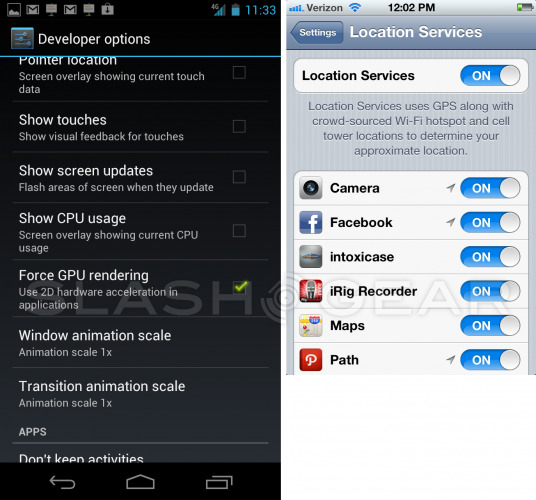 Ecosystems
There are massive followings surrounding both the iPhone and Android devices, with the Android Community being both a developer and a hacker group and Apple's being just one gigantic set of people of all types. When you need support for an iPhone, you're going to want to head to an Apple store. When you want support for an Android device, you'll be encouraged to go to your carrier. Both choices have a big online support community comprised of users from around the world that want to help out their fellow compatriots with problems big and small.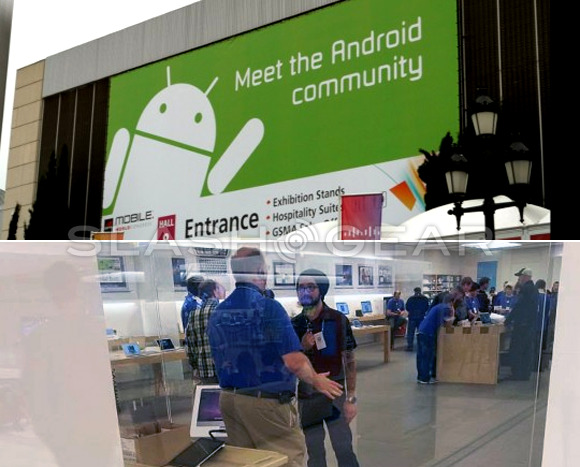 Wrap-Up
A few years ago I'd have said that the iPhone had a much more massive and impressive developer base for applications than Android, and you know I'd have been right. At this time both groups have an ever-expanding world-sized set of developers working for them. You absolutely cannot judge one device over the other based on this simple factor, nor should you choose one over the other trying to compare them based on one specification. The whole package is what you're going to want to see here.
I'm going to continue using the iPhone 4S as one of two daily devices. I'm in a unique place here as a tech writer and reviewer of devices where I don't have to drop hundreds of dollars down a month to have service and new devices, and as it's my job to stay updated on the trends of the day, I'll also need to keep an Android on hand. I'll continue to watch and review the other operating systems as well, but at the moment it's not quite as important for me to carry one along at all times. The app, case, skin, and service reviews and hands-on for the iPhone 4S will continue into the future right here on SlashGear courtesy of yours truly.