Surface Book vs MacBook Pro: Microsoft calls out Apple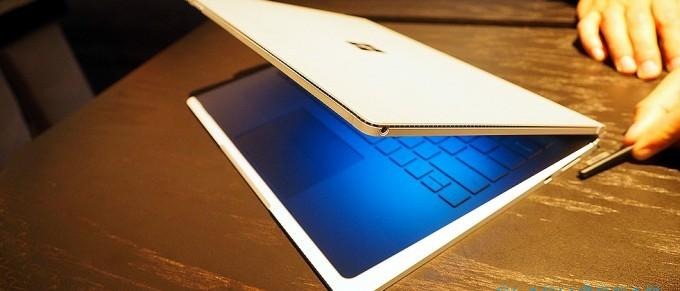 This morning as Microsoft prepared to reveal several new Surface devices, they couldn't help but call out their competitors first. "We have competitors, you may have noticed," said Microsoft's Panos Panay, referring to the Surface and other competitor tablets launched with keyboards, "they're chasing it, it's pretty cool." Panay went on to suggest that Microsoft's options were to "double down and bring the thunder" or to "reinvent the category again." Microsoft appeared to choose the former as they played Thunderstruck by AC/DC while presenting the new Surface Pro 4.
The next call-out to Apple made by Panay was in the newest version of the Surface Pen – this time about Apple's Pencil. "It's kinda funny, there's a pencil out there without an eraser," said Panay.
This pen attaches to the side of the Surface Pro 4 magnetically. "You guys wanted pen storage," said Panay, "we created it for you." While this could just be a reference to previous iterations of the Surface, we can't help but be reminded that the Samsung Galaxy Note series has pen storage as well.

After suggesting that the Surface Pro 4 was 30-percent faster than the Surface Pro 4, Panay went on to say that "the MacBook Air is a great product."
"Let's just compare [Surface Pro 4 to MacBook Air] to give you a sense," said Panay, "I'm not going to compare it to any pad – they're not in the same class."
"MacBook Air is a great product," said Panay again, also noting that the Pro 4 is 50-percent faster than the MacBook Air as he did so, "Surface Pro is the best product."
To drive home the point that Apple's iPad Pro has a keyboard, and is therefor quite comparable to the convergence of the tablet and notebook in devices like the Microsoft Surface, Panay revealed an image of a toaster refrigerator hybrid during his demo.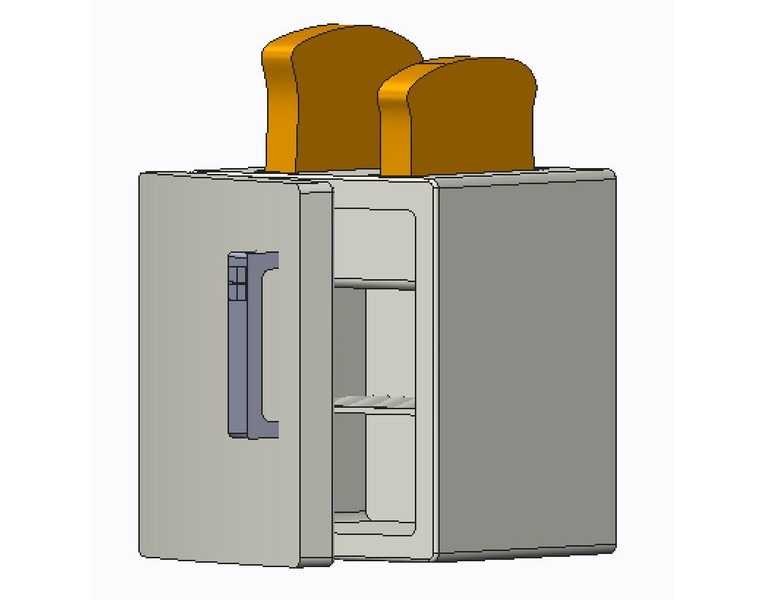 The image you see above is that refrigerator toaster – it comes from Terry Myerson and was used in the Surface Pro 4 presentation.
See our Surface Pro 4 hands-on.
This is a direct reference to an Apple earnings call back in April of 2012 in which Sanford Bernstein analyst Toni Sacconaghi asked Tim Cook whether Apple would create a tablet-laptop hybrid in the future.
"Anything can be forced to converge. But products are about trade-offs," said Apple CEO Tim Cook, "and you begin to make trade-offs to the point where what you have left doesn't please anyone. The compromise of convergence —we're not going to that party. Others might from a defensive point, particularly, but we're going to play in both."
"You can converge a toaster and a refrigerator, but those things are probably not going to be pleasing to the user."
As the presentation at Microsoft's event turned to the Surface Book, comparisons were made to the MacBook Pro.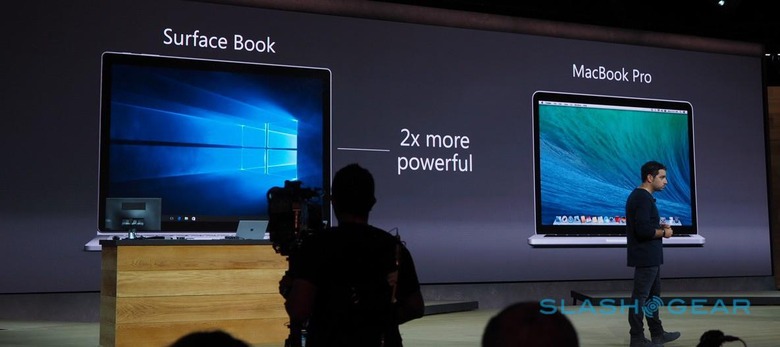 NOTE: While the comparisons made onstage at the Microsoft event between the Surface Book and the MacBook Pro appeared to be focusing on an older, 2012 edition of the MacBook Pro, we're using the newest versions, that is the late 2013 editions and so forth. The most recently updated versions as of the publishing of this article.
Display
The Surface Book comes with one display size – 13.5-inches. That display has a resolution of 3000 x 2000 (267 PPI) and has 10-point multitouch capabilities. The MacBook Pro comes in 13.3-inch and 15.4-inch sizes with 2560 x 1600 (227 PPI) and 2880 x 1800 (220 PPI) resolutions respectively.

The Surface Book's display also works with the Surface Pen, providing what Microsoft suggests are 1024 levels of pressure sensitivity. Apple opts to keep all stylus business with its iPad and iPhone lineup exclusively.
Processing Power / Storage
The Surface Book's most modest build has a Skylake (6th Gen) Intel Core i5 processor, and models can ramp up to Skylake (6th Gen) Intel Core i7. The base model has non-GPU Intel HD graphics, while the top version has an unnamed NVIDIA GPU.
See our Surface Book hands-on.
If you're comparing the Surface Book to the MacBook Pro 13-inch model, you've got Haswell-generation (5th gen) Intel Core i5 processor, while ramping up to a 15-inch MacBook Pro will kick you up to a Haswell (5th gen) Intel Core i7 processor. The 13-inch MacBook Pro works with Intel Iris Graphics 6100, while the 15-inch works with Intel Iris Pro Graphics and the option of an AMD Radeon R9 GPU.
NOTE: Apple is expected to release revamped MacBook Pro lineup soon with Skylake (6th Gen) processors inside. Apple's schedule is not public yet, but it's quite possible the next generation will be out – or at least revealed – by the end of the year.
Options for the Surface Book's storage include SSD at 128, 256, or 512GB. MacBook Pro 13-inch storage comes in 128, 256, and 512GB as well, but using PCIe-based flash storage. MacBook Pro 15-inch comes with 256 and 512GB storage sizes, also with flash storage technology.
Battery
It's difficult to compare battery life without our own comprehensive tests, but we can say what Microsoft and Apple are suggesting. Microsoft suggests that the battery in the Surface Book will run "up to 12 hours of video playback."
Apple says that the MacBook Pro 13-inch will run "up to 12 hours iTunes movie playback", while the 15-inch MacBook Pro will run "up to 9 hours iTunes movie playback."
Ports and Added Extras
The Surface Book has two cameras, one 5-megapixel camera up front, one back-facing 8-megapixel camera with autofocus and the ability to record 1080p video. The front-facing camera on the MacBook Pro (all models) is capable of 720p video, and camera output is 1080 x 720 – therefor approximately 0.7776-megapixels – and there is no back-facing camera on the device.
The MacBook Pro lineup uses MagSafe 2 power ports and cords (that's magnetic), and work with 2x Thunderbolt 2 ports, and 1x full-sized HDMI.
The Surface Book has its own magnetic power port and cord, and works with 1x Mini DisplayPort port.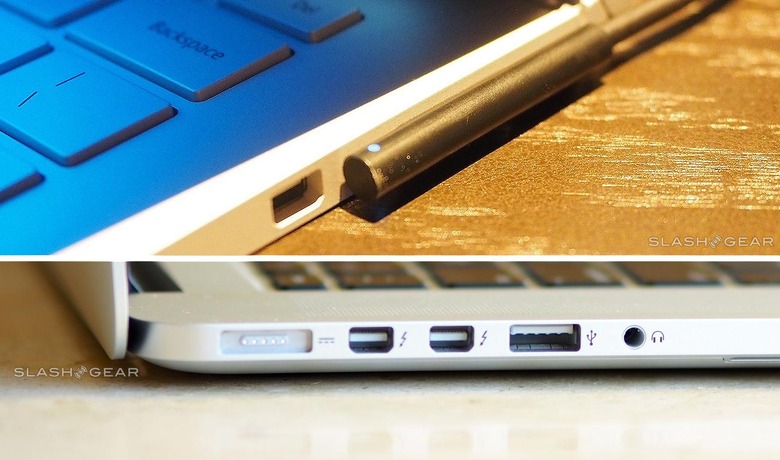 Both device families have 2x USB 3.0 ports, 2x microphone, a headset jack, and a full-size SD card reader. While the MacBook Pro has an SDXC card reader, we have yet to see exact specifications on the Surface Book.
Perhaps the biggest point of distinction for the Surface Book is its ability to detach from its keyboard dock and either flip around and fold down or act independent, as a tablet on its own.
Above you'll see the detachment/re-attachment mechanism and process for using the Surface Book's unique hybrid setup.
Weight and Price
The Surface Book weighs in at approximately 1.6lbs (728g). The MacBook Pro 13-inch weighs 3.48 pounds (1.58 kg), while the 15-inch weighs 4.49 pounds (2.04 kg).
The Surface Book ranges in price from $1499 to $2699 and will be available starting on the 26th of October, 2015. The 13-inch MacBook Pro ranges in price from $1299 to $1799, while the 15-inch MacBook Pro ranges in price from $1999 to $2499, and all models are available immediately.
Wrap-up
The MacBook Pro is due for a reboot and Microsoft's Surface Book is the first "notebook" the company has ever created. Will this battle come down to a question of hardware abilities or processing power? Or will users choose based on operating system and software ecosystem alone?
Let us know which device you'd choose right this minute.
[polldaddy poll=9113979]