Samsung Galaxy Note 5 Review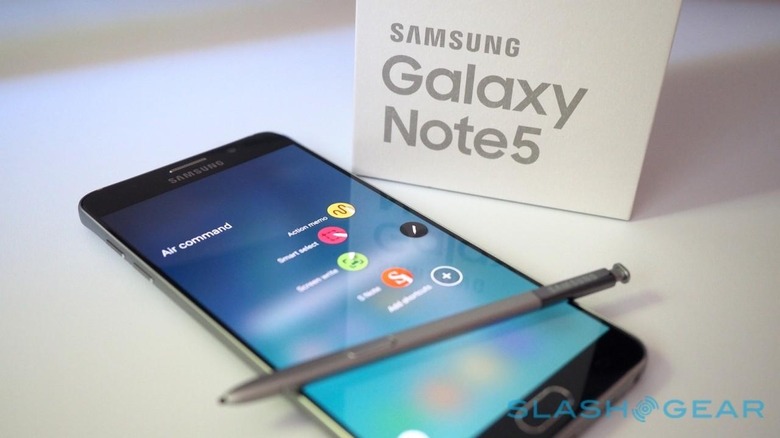 Big, clever, and finally beautiful: the Samsung Galaxy Note 5 has come of age. Heir to the phablet empire Samsung itself created, the Note 5 takes the esteemed features of its predecessor and clads them in a premium package worthy of the equally high-end price tag. There'll be tears on the S Pen, mind, as in doing so Samsung has jettisoned some of the key advantages that owners of prior Notes were most vocal about. Question is, has the mainstreaming of the Galaxy Note 5 come at too great a cost?
Design
It took five generations for the Note to go from ugly duckling to beautiful swan, but the wait has been worth it. The familial resemblance between the Note 5 and the Samsung Galaxy S6 is striking; side-by-side, it's clear that these are two phones cut from the same bolt of cloth.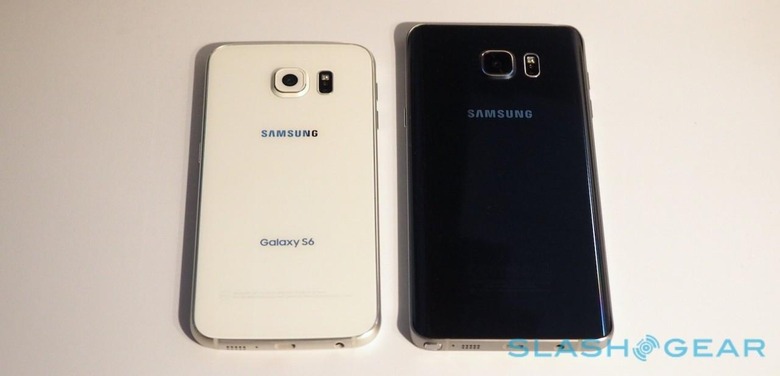 It's a high-quality fabric, too. The Note 4 did at least flirt with some more premium-feeling materials, but Samsung has finally ousted the unconvincing plastic in favor of metal and glass.
The frame is a beautifully beveled, brushed metal, with glinting slivers of buttons for volume and power. Now glass, the back panel tapers to the edges – a little like the Galaxy S6 edge+, but upside-down – helping disguise some of the phone's sheer size.
Is it a little derivative in places? Sure. Does it look like an iPhone from some angles, or an HTC One M9 from others? I suppose it does. I don't much care, however; it's handsome and feels great in the hand.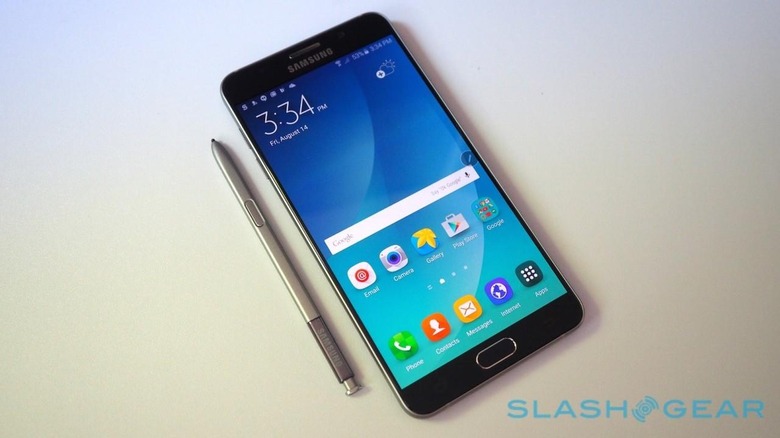 There's a downside, mind, though how important it is to you will depend on the value you place on aesthetics. The Note 4 may have been relatively drab in its looks, but you felt like it could take a drop. Even with Gorilla Glass 4 front and back, I'm not so confident about saying the same for the Note 5.
Oh, I'm sure Samsung has drop-test statistics to back up its decisions, and I didn't find the Note 5 to be too slippery in my grip – unlike some glass-bodied devices – but it feels a little more "show horse" than "workhorse" and that was enough to make me fear that its pristine lines might be more readily marred.
Hardware and Specifications
Glance through the Note 5's spec sheet and it all feels strangely familiar. Samsung has carried over several of the key features from the Galaxy S6 launched earlier this year, though the phablet is obviously bigger than its more mainstream cousin.
So, you get Samsung's own Exynos 7420 chipset, a 64-bit, 14nm octacore – four 2.1GHz cores for everyday tasks, and four 1.5GHz cores for low-power use – but here matched up to 4GB of LPDDR4 memory. That's not only fast RAM but plenty of it, too, giving Android 5.1 Lollipop plenty to work with.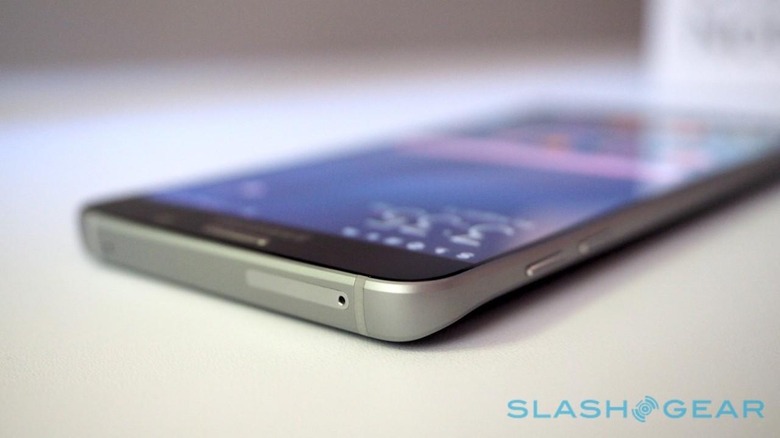 The display is a 5.7-inch Super AMOLED panel running at 2560 x 1440 resolution, and it's an absolute gem. For a start, the bezels are slimmer than ever before – Samsung has trimmed the Note 5 down to 153.2 x 76.1 x 7.6 mm and 171 grams, which means it's smaller and lighter than its predecessor – which is particularly noticeable at the sides, but it's also color-rich, with great viewing angles and sufficient brightness for outdoor use.
Connectivity ticks the boxes you'd expect, too. There's Cat.9 LTE – for, theoretically, 450 Mbps downloads if your network could support it – together with WiFi a/b/g/n/ac (2.4/5GHz) that packs 2x2 MIMO antennas for up to 620 Mbps downloads. Samsung also throws in Bluetooth 4.2 LE, ANT+, and a USB 2.0 port.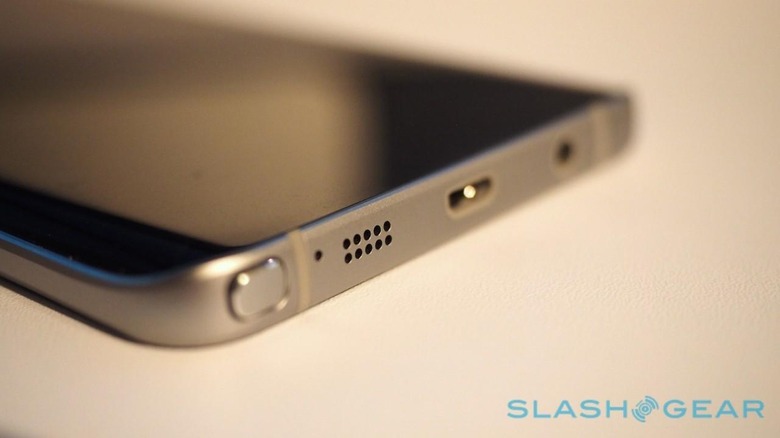 Sadly, just as Samsung backtracked with its abandonment of USB 3.0 in favor of USB 2.0 in the switchover from Galaxy S5 to S6, so its physical port on the Note 5 is underwhelming. Perhaps USB-C was too much to hope for at this relatively early stage in the connector's life, but the decision to omit MHL for hooking up the phablet to a projector or TV is a pain.
Built into the home button is a fingerprint sensor which, as with that of the Galaxy S6, doesn't require a swipe in order to read your finger. It'll be particularly useful once Samsung Pay goes live.
They left out what?!
It doesn't generally take much to whip smartphone enthusiasts into paroxysms of breathless rage, but Samsung left nothing to chance when it came to tipping long-time Note fans off the deep end. Gone is the removable battery. Gone is the microSD card (and, rubbing salt in the wound, internal storage tops out at just 64GB).
They're the natural casualties of a more consumer-friendly design, not to mention some sensible performance decisions around the speed of removable memory. It's not like the Note 5 isn't the first phone to drop expandable storage and user-accessible batteries, either.

I suspect the decision would've been less contentious had Samsung not emphasized its commitment to people swapping batteries and memory cards in the past. Meanwhile, I'm not particularly concerned with the absence of either, being happy with both the cloud for content and fast charging options rather than worrying about carrying a second battery.
Still, it's something "power users" are going to have to force themselves to stomach if they want the rest of the upgraded hardware. Meanwhile, those who were in the habit of using their Note 4 as a universal remote will be disappointed to find that the IR blaster has also been omitted this time around.
S Pen and TouchWiz
Samsung has a not-undeserved reputation for taking pure Android and hosing it down with undue customization in the name of TouchWiz. The gradual increase in restraint over recent smartphones has been continued on the Note 5, however, and while the cutesy colors and redesigned icons are here, the majority of the tweaks and tinkering have been buried in menus and options screens.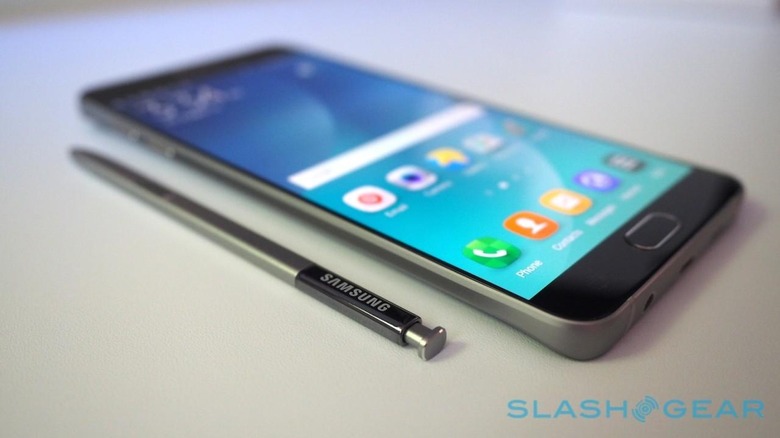 I praised the Note 4 last year for its focus on usable improvements to the S Pen, and the stylus experience has been further refined for 2015. That starts out with a new pen itself, still a slender, roughly 4.5-inch long stick, but now with a new docking mechanism that includes a "clicking" tip like a retractable ballpoint.
I'm not entirely sure that the new design does in fact make whipping the S Pen from its silo more straightforward, as Samsung claims, but if you're a finger-fidgeter in meetings as I am then you'll probably find it a highly tactile distraction. Unfortunately it's also a missed opportunity: while you still get the side button for contextual menus and such, clicking the top doesn't work as a handy camera trigger for selfies or an advance button for presentations.

Under the hood, Samsung is claiming a number of performance improvements in the digital inking experience. I'm not sure my penmanship is of a level that I can tell the difference, but it's a moot point really: using the Note 5's stylus is a smooth, slick joy. It comes down to a combination of zero lag, great precision, and intuitive pressure sensitivity, paired with a nib texture that really does feel like pen on paper.
You can get to that experience faster, too. As soon as you snap out the S Pen, the screen wakes – though stays black – and is ready to accept notes or sketches. It's great for capturing impromptu thoughts, rather than having to unlock the phone, load the notes app, and then start writing. Oddly, Samsung leaves it off by default, but it really should be the first thing new Note 5 owners enable.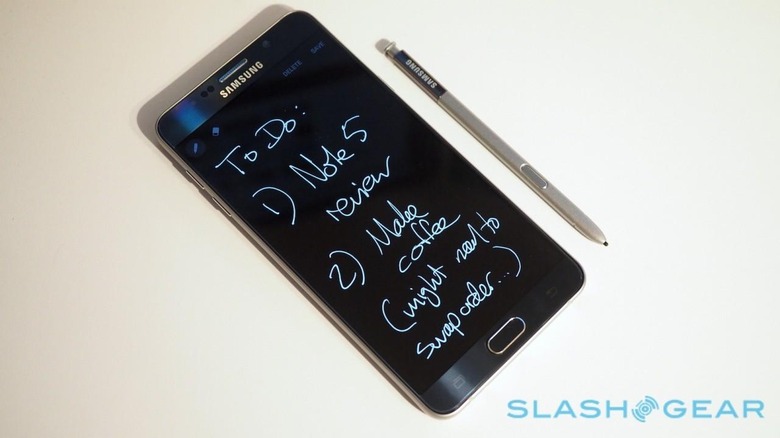 Another highly usable improvement is support for inking in PDFs. If you've ever found yourself printing a form, signing it, then scanning it – or, worse still, trying to figure out how to bring the fax machine back to life – you'll know why this is so useful. Sure enough, while I was in the midst of reviewing the Note 5, I needed to sign an agreement, something I was able to do without going anywhere near real paper.
Screen captures are still handled via the Air Command menu, the arc of shortcuts that appear when you slide out the S Pen. They're now customizable: along with "action memo", "smart select", and "screen write", which are shown by default, there's room for your choice of up to three other apps.
Tap "screen write" from the Air Command menu and after the screengrab is captured, there's a new "scroll capture" option at the bottom. That pans the screen down, adding to the screenshot as it goes; eventually, you're left with a single, long image, rather than a gallery full of individual pages.
SideSync
The Note 5 may have a big display, but your laptop or desktop is undoubtedly larger, and that's where SideSync comes in. Samsung's remote control app has been refreshed alongside the new phablet but the core premise is the same: control what's going on with your phone from a mirror of its display on your computer screen.
Wired or wireless connections are supported, and you can now have the Note 5 automatically reconnect when you load the SideSync app on your computer. It's not just PCs having all the fun, either: Samsung will have a Mac client soon, along with one for Android tablets.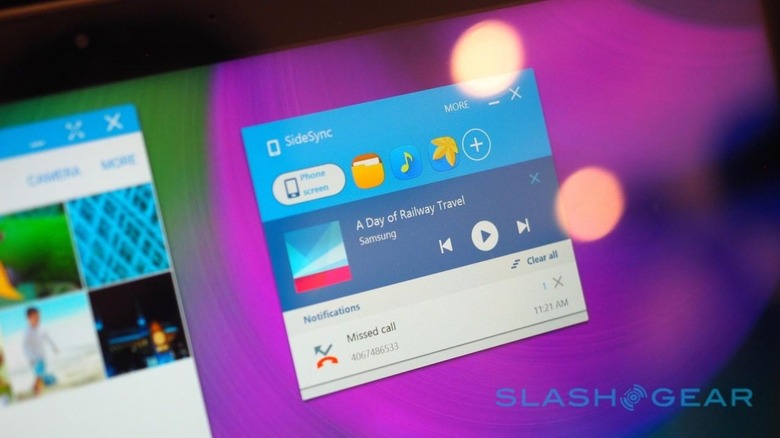 Whatever platform or connection you're using, the process is the same. A window on your desktop shows just what the Note 5's screen would be showing, and can be interacted with your trackpad or mouse. Incoming calls or messages are flagged up with a notification box, and can be replied to or answered from your PC.
It's perhaps most useful for managing content, though. Rather than plugging in via USB and suffering the indignities of the Android File Transfer app, SideSync allows you to effectively drag and drop media and documents between your computer and the Note 5, as if they were the same.
So, you can select multiple photos and videos you've taken with your phone, and then drag them straight into a folder on your laptop. SideSync does all the background handshaking itself and, though I had swifter results transferring videos when I hooked up via USB, in general it proved relatively stable.
Samsung Pay
One of the Note 5's headline features isn't ready for primetime yet, though Samsung Pay is very nearly upon us. Like Android Pay and Apple Pay, it's Samsung's play for the mobile payments market. However, unlike both Google and Apple's systems, Samsung Pay has a compatibility trick up its metaphorical sleeve.
Sure, Samsung Pay transactions can be carried out with the new breed of NFC-enabled registers. Swipe up from the lock screen or home screen on the Note 5, swipe left and right between the graphic representations of the credit, debit, store, and loyalty cards in your wallet, and then tap your fingertip against the home button to authenticate the purchase.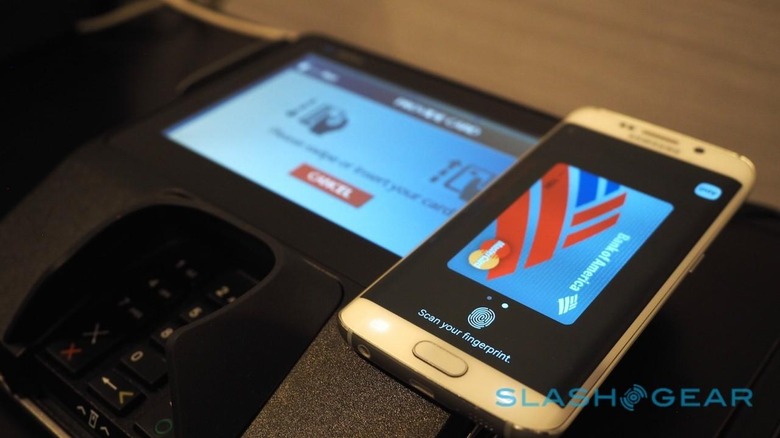 Not all registers support NFC, however, and while a big jolt in numbers is expected later this year – when responsibility for card fraud lands on the shoulders of whoever is the weakest point in the financial chain – there are still millions of old-school systems which neither Apple Pay nor Android Pay will play nicely with.
To address that, Samsung acquired a company with the skills to fake a traditional card in digital form. Dubbed Magnetic Secure Transmission (MST), it uses a tiny inductive loop to create the magnetic pulses that an old-fashioned card would generate when swiped through a reader. You simply hold your Note 5 around three inches or less from the terminal, and to the register it's as though you physically swiped.
There's a valid argument that Samsung is looking to the past with MST – since NFC-ready retailers are only going to increase in number – but there's no denying that in the here-and-now there are plenty of places where it's not entirely clear whether you can use your fancy digital wallet or not. With Samsung Pay, that's not an issue.
That's the theory, anyway. Samsung Pay isn't going to go live in the US until September, and though I've tried it with test systems, I've not yet been able to go out into the wild and experience it for real. We'll be sure to return to the payments system when Samsung lights it up.
Camera
Photography on the Note 5 has some excellent provenance, with the phablet borrowing the same fantastic 16-megapixel sensor as the Galaxy S6. As there, it's paired with an LED flash and optical image stabilization, while a 5-megapixel front-facing camera does selfie duty.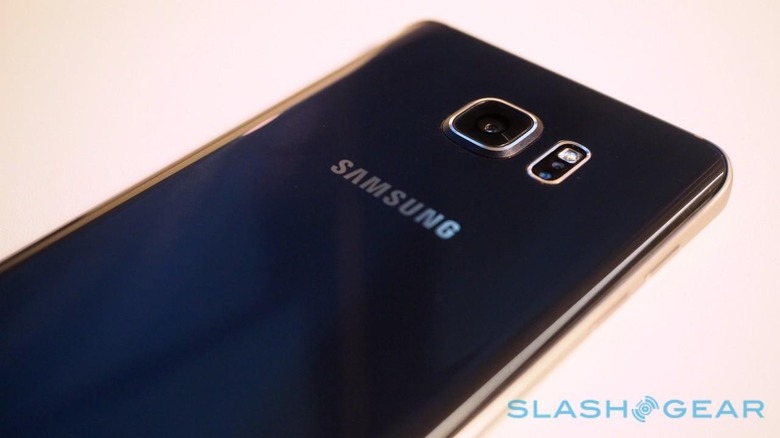 Though Samsung's camera app has no shortage of options and features – real-time visual effects, panoramas, and a "Pro" mode with manual control over ISO, white balance, and more, along with the option to save in RAW format – the name of the game is really speed. Double-click the home button and you're in the camera near-instantaneously. Tapping anywhere on the preview sets the focus, and captures themselves are super-swift.
Leaving the Note 5 to its own devices generally pays off, too. As with the Galaxy S6, there's a slight tendency to vamp up the colors at times, but for the most part the images are accurate, bright, and crisp. Low-light is the enemy of all phone cameras, but Samsung does a solid job there, too, and the Auto HDR isn't so aggressive as to necessitate its deactivation.
There's plenty to play with if you're bored with the basics. Video Collage, for instance, allows you to piece together four simultaneously-playing 6-second clips, Brady Bunch style, with optional background music, while Selective Focus attempts to spot a foreground figure and then artificially blurs the rest of the frame.
YouTube Live Broadcast, meanwhile, is Samsung and YouTube's take on Periscope and Meerkat. Sign in with your YouTube credentials and you can stream directly to the video sharing site, albeit with a 30-second buffer. You'll need a decent connection to do it without judder or skips, however.
Those streams also top out at 1080p, whereas videos recorded normally on the Note 5 can be captured at up to 4K resolution.
Phone and Battery
Samsung had provided me with an unlocked, international Note 5 and a T-Mobile USA SIM card, and I had no issues with either voice calls or LTE data. As with any phablet, at times you can feel a little ridiculous holding it to your ear – like you're getting affectionate with a shiny Ryvita cracker – but earpiece quality proved strong, and my test callers reported no problems hearing me.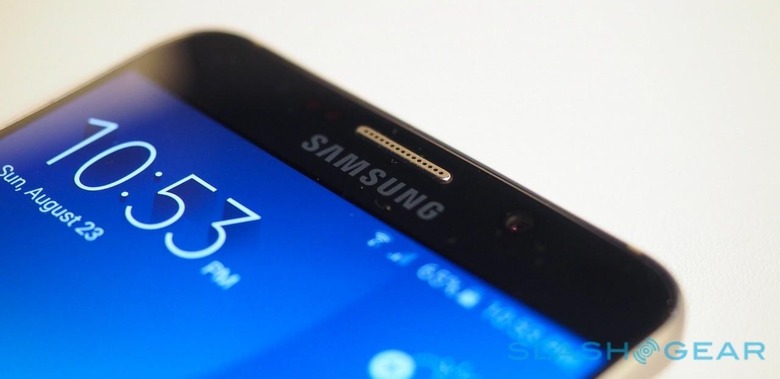 Elsewhere, Samsung has made improvements to how audio is handled. There's support for upscaling music to Ultra High Quality 24-bit/192 kHz, while a homegrown UHQ-BT codec delivers 24-bit/96 kHz to compatible Samsung Level speakers and headphones. Unfortunately Samsung didn't have those for me to actually test the wireless improvements.
Then there's wireless charging. As with the Galaxy S6, the Note 5 supports not one but two standards – Qi and Powermat – meaning that whether you drop the phablet on a Starbucks mat or an Ikea one, it'll juice up just the same.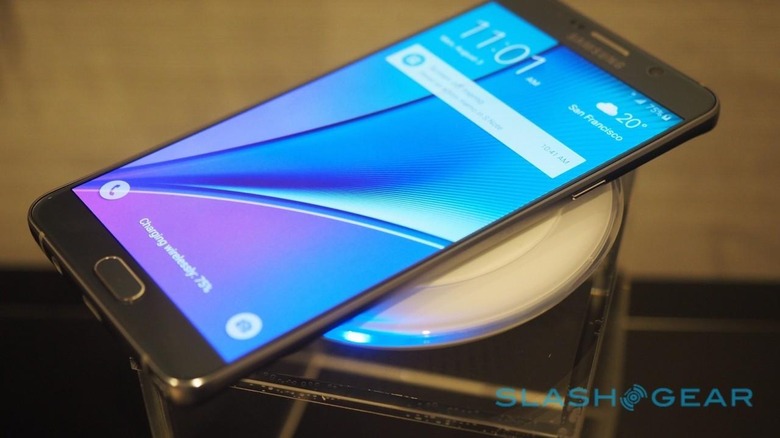 Barring the wireless charging community getting its act together and settling on a single standard, Samsung's implementation is about as good as it gets. Even then, the Note 5 hasn't stopped there: you also get wireless fast charging which, with a compatible pad, makes for a 1.4x improvement in speed.
I only had Samsung's regular Qi wireless charger to test with the Note 5, however, but as I found with the Galaxy S6, it really does make keeping the battery topped up during the day more straightforward. Rather than having to remember to plug in the USB cord, you simply drop the phone on the circular plate and let it get on with things.
If you're unconvinced with wireless, there's also fast charging with compatible 2A USB adapters.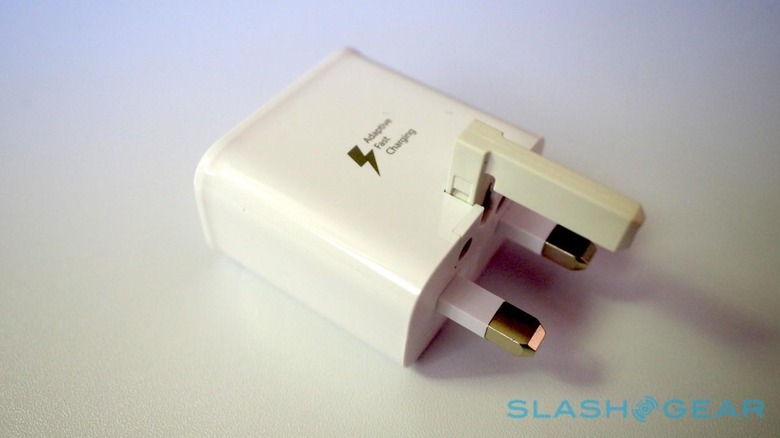 The million dollar question, mind, is just how much topping-up will you need to do, what with that 3,000 mAh battery? The answer might surprise you: despite the vast, bright screen and all those features, i found the Note 5 eminently capable of lasting a whole day.
That's not with coddling, either. I ran through my usual usage, like push email, web browsing, some photography, navigation in Google Maps, Spotify media streaming, instant messaging, and a couple of brief test calls, and finished up the day with power to spare.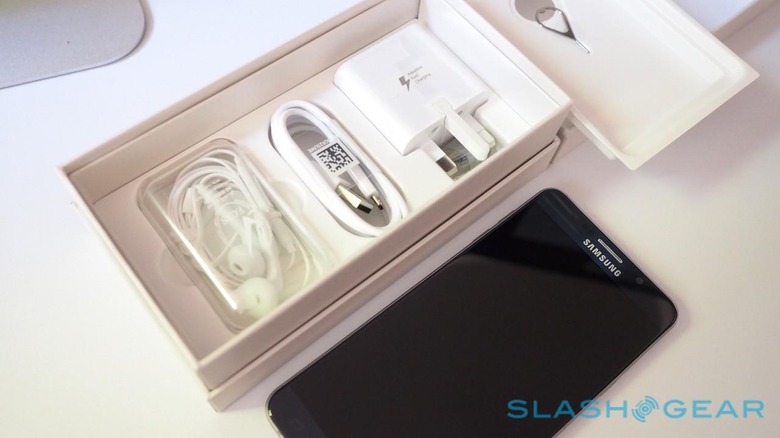 If you're caught short, Samsung's Power Saving Mode is included too. That throttles down the processor speed, cuts screen brightness and frame rate, trims the amount of time before the display shuts off, and makes other minor cuts in power use.
In particularly dire situations there's even Ultra Power Saving Mode, which turns your fancy phablet into little more than a feature phone. Grayscale graphics, along with access to only a limited number of apps, and with background data, Bluetooth, and WiFi switched off, it promises more than double the normal runtime, but only you can decide whether the compromises are worth the gains.
Wrap-Up
If you'll forgive the business metaphor, the Note 4 was the phablet equivalent of a machine-washable suit. Convenient and serviceable, yes, but hardly ranking high when it came to aesthetics. The Note 5, in contrast, has a new designer jacket, but that sleek cut isn't going to suit everyone.
Giving the Note 5 its slinky Gorilla Glass chassis has ousted the removable battery and memory card slot so prized by a certain type of phablet owner. I'm sorry for their loss, but I can't quite bring myself to grieve too strongly, mind: the surfeit of charging options is market-leading, while the long-overdue retirement of plastic finally leaves the Note feeling like a premium device.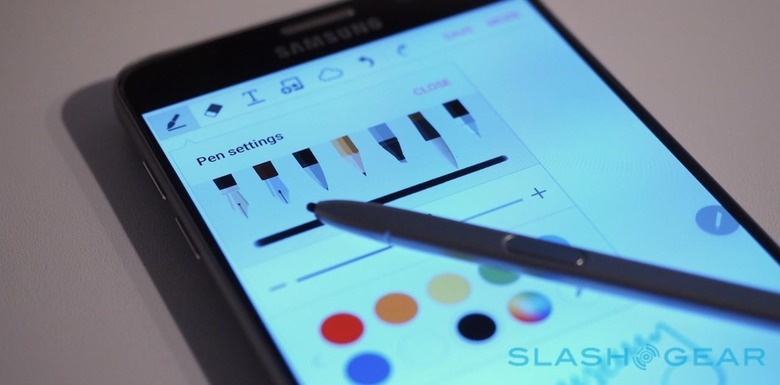 You'll pay handsomely for it, too. In the US, bought at full retail price from a carrier, you're looking at around $700 for the 32GB Note 5, or around $800 for the 64GB model. Opt to spread the cost, meanwhile, and you should expect to hand over around $30 or $35 per month for two years, for the 32GB or 64GB devices respectively.
Now, that's not unusual for a device in the phablet class – I'd expect Apple's replacement to the iPhone 6 Plus to come in at around that point too, when it's announced in September – but it does mean you have to really, really want the S Pen to warrant the expense.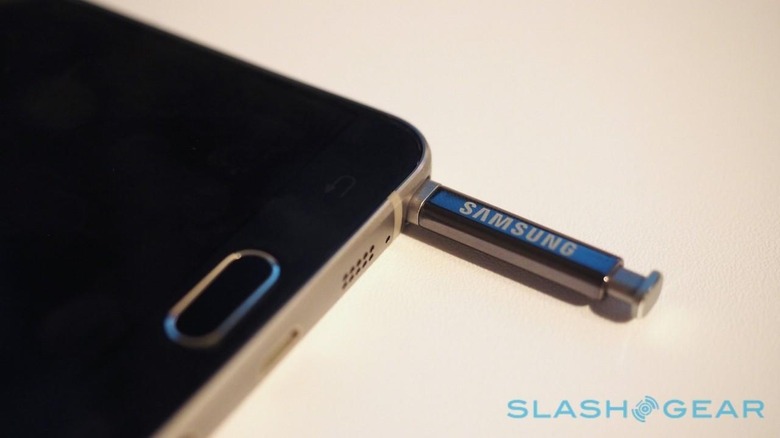 Good news is, if you're of the stylus mindset then the S Pen delivers more on the Note 5 than in any prior generation. The tweaks are, in and of themselves, fairly small, but they add up to a much more usable experience that – with features like PDF annotation – address legitimate and common complaints among power users. The great camera, solid battery life, and incredible display only gild the Note 5's core talents.