Samsung Pay launches September with a magnetic wildcard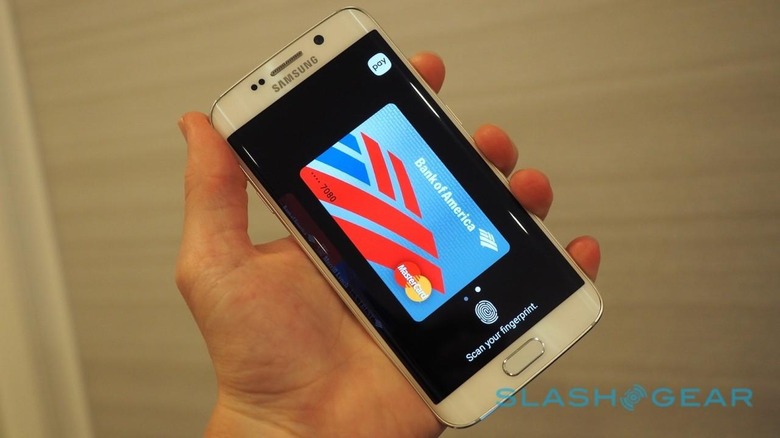 We may receive a commission on purchases made from links.
Samsung Pay, the company's mobile payments response to Apple Pay and Android Pay, launches in the US this September, the company announced today. A feature of select Samsung smartphones, including the Galaxy Note 5 and Galaxy S6 edge+, the system allows users to load their credit and debit cards to their smartphone and make cashless payments. Though it's not the first mobile payment system to reach the market, Samsung is confident that it has a wildcard advantage that alternatives from Apple, Google, and others can't match.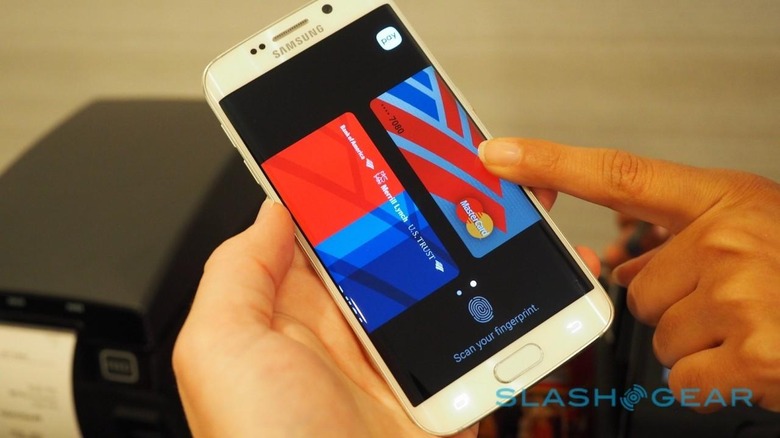 Samsung Pay is certainly as straightforward to use as you'd hope. Swiping up from the lockscreen or the homescreen opens your virtual wallet; swiping side to side navigates between each payment option.
The cards themselves match the design of those in your wallet, but Samsung doesn't include the actual card numbers for security purposes. Once you've picked the card, tapping the fingerprint scanner or punching in your PIN code authenticates it, so you can hold it near the point-of-sale terminal and make the transaction.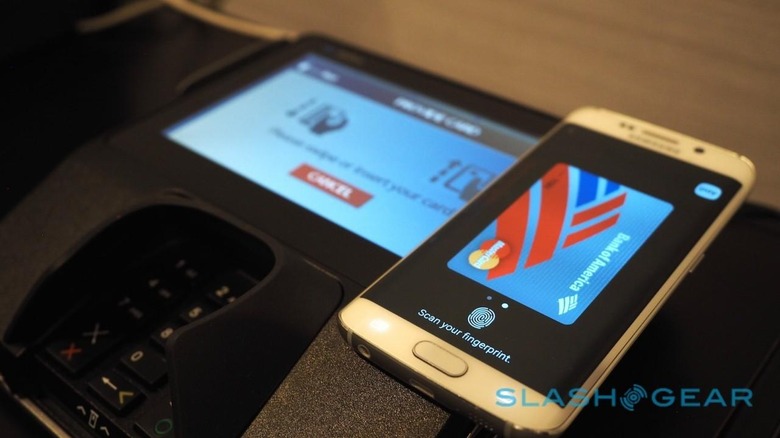 That's where Samsung Pay's differentiating factor comes in. Like most of the other mobile payment systems we've seen in recent years, it supports NFC with a compatible register. However, for the many that are yet to be upgraded with the short-range wireless technology, Samsung Pay can also pretend to be a physical credit card.
It's called Magnetic Secure Transmission (MST) and it basically means the smartphone creates the same burp of electronic chatter that a magnetic swipe card would create when you slide it through the slot of a card reader.
For the terminal, Samsung says, MST is effectively invisible: it just looks like a regular card is being used. However, you get the same privacy and security features as with NFC payments: real-time hacking and rooting prevention through Samsung's KNOX system, encrypted and tokenized payment information, and a secure area on the ARM processor to keep all that tokenized data separate.
While US availability isn't expected until September 28, trials of Samsung Pay have already been running in South Korea, and the service will launch there on August 20. Select participating bank partners dispatched customers out to use Samsung Pay without any in-depth training beforehand, only to see 40-percent of transactions switch to the mobile system.
Now, it's too limited a test to draw any major conclusions – Samsung isn't saying how many people were involved, and the trial only lasted two weeks – but the company is hopeful about its impact and is planning US beta tests in mid-August.
Exactly which banks and retailers will support Samsung Pay hasn't been confirmed yet, though there'll be compatibility with not only credit and debit cards but store-branded credit cards, membership cards, and gift cards. There's more on the technology in our Note 5 and S6 edge+ hands-on.
UPDATE: Samsung suggests that the Galaxy S6 and Galaxy S6 Edge will also have access to Samsung Pay with a software upgrade later this year.
MORE Samsung