MacBook Pro 15-inch with Retina Review (late 2013)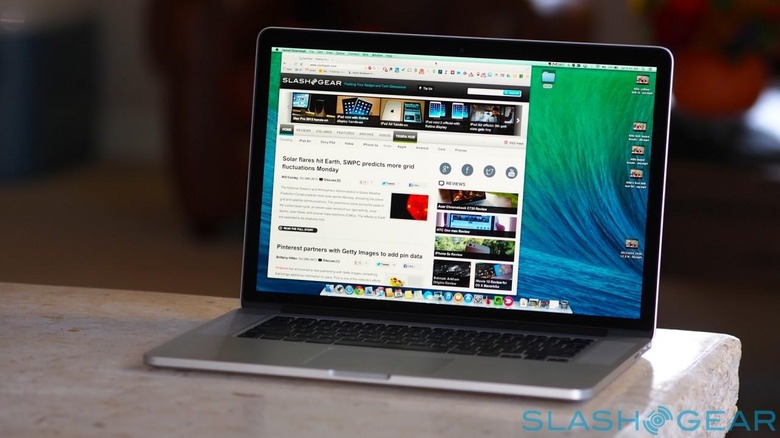 Back in June 2012 we described the original 15-inch MacBook Pro with Retina display as "the gold standard" for high-end notebooks; now, Apple is back with its refreshed version, swapping in Intel's latest Haswell processors and graphics, but keeping the high-resolution display. Unlike the 13-inch MacBook Pro with Retina, the 15-inch model doesn't slim down any, but then again the meatiest Pro has never really been about portability alone. Instead, it aims to be the powerhouse desktop-replacement that you can bring with you, and with a $200 cut to the sticker price it sounds all the more appealing. Has the 2013 refresh kept the most serious Pro at the top of its game? Read on for the full SlashGear review.
Hardware and Design
Take a glance – or even a more cursory look – at the 2013 MacBook Pro with Retina display and you'll struggle to find any differences between it and the 2012 model it replaces. That's because Apple has left well alone, on the 15-inch version at least; the 13-inch drops to 3.46 pounds, whereas the larger model stays at 4.46 pounds and 14.13 x 9.73 x 0.71 inches.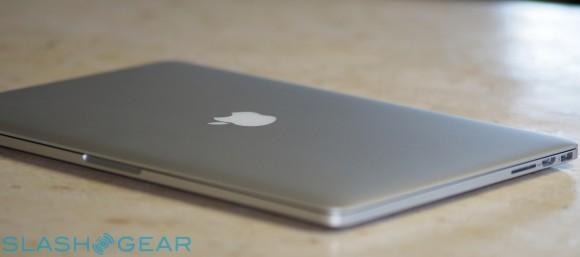 Rather than the wedge shape of the MacBook Air, the Pro is more like a condensed version of the older MacBooks, and it has a reasonable degree of heft to it, too. It's a dense, sturdy thing, Apple's brushed aluminum still feeling more premium to the touch than most of its Windows 8 rivals can manage, while the backlit keyboard and broad glass trackpad are comfortable for extended periods of use. Either side are the stereo speakers, which can be cranked up to impressive levels of loudness despite the absence of a separate subwoofer.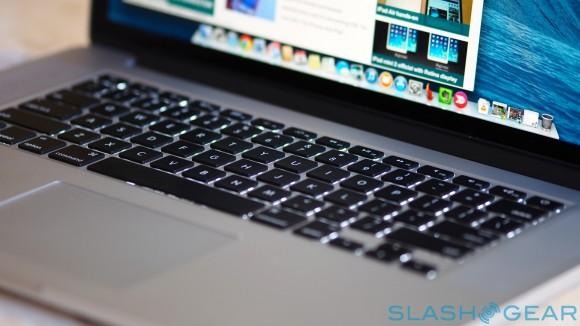 Running along the left side are the MagSafe 2 port, two Thunderbolt 2 ports, a USB 3.0 port, headphone port, and dual microphones. On the right, there's a second USB 3.0 port, an HDMI output, and an SDXC card slot (backward compatible with SD/SDHC cards). Wireless connectivity includes WiFi a/b/g/n/ac and Bluetooth 4.0.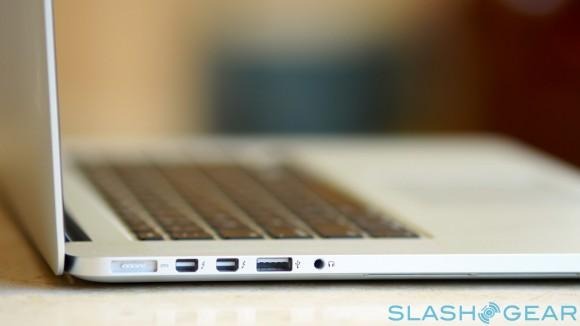 Apple's switch to Thunderbolt 2 means the new MacBook Pro can handle up to 20 Gbps connections with compatible peripherals, twice the speed of the original Thunderbolt specification. That should make a difference for high-data-rate applications like video editing, though Thunderbolt peripherals as still a relatively rare breed, and those supporting Thunderbolt 2 even more so. Things will likely change when the new Mac Pro 2013 arrives later in the year, which should kick-start the accessories market for the port.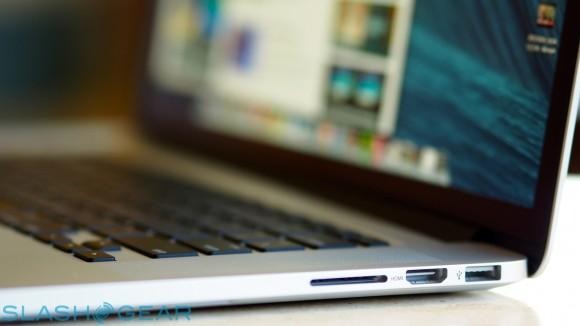 Of course, the MacBook Pro with Retina display's crowning glory is its display, a pixel-dense 2880 x 1800 resolution that adds up to 220ppi and means, as with the Retina-enabled iPad and iPhone models, that at typical viewing distances the average eyes can't make out individual dots making up the image.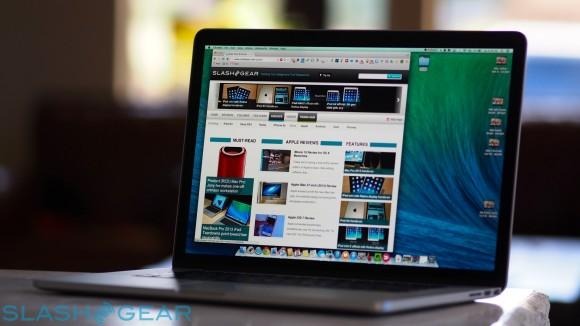 In the default, Retina mode, the Pro actually replicates the resolution experience of a 1440 x 900 screen, only devoting four physical pixels to each pixel on the screen. That makes everything significantly smoother, though if you prefer you can switch to up to 1920 x 1200 resolution to fit more on-screen at any one time, even if some of the detail gets very small.
High-resolution panels have begun to show up on other notebooks since Apple's original Retina model was released, but the 2013 MacBook Pro's display is still incredibly impressive, with broad viewing angles, strong and even backlighting, and none of the yellowing that some notebook displays can tend toward. Above it is a 720p FaceTime HD webcam.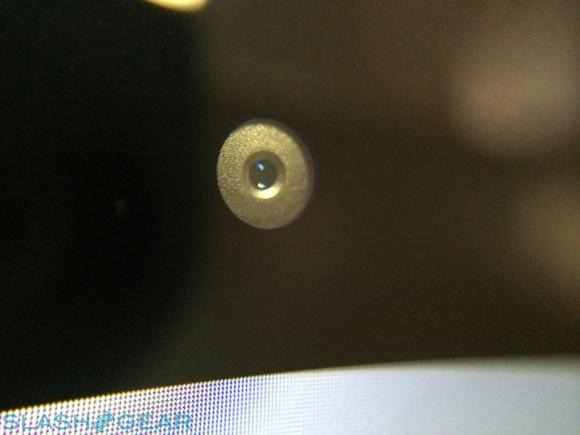 If the exterior changes are minor, then it's under the hood that things have been mixed up. For 2013 that means Intel's 4th-gen Haswell processors, with the 15-inch MacBook Pro with Retina getting Core i7 CPUs as standard (the 13-inch picks from the Core i5 range). The $1,999 entry-level model has a 2.0GHz quadcore, paired with 8GB of 1600MHz DDR3L memory (up to 16GB supported), while $2,599 gets you a 2.3GHz quadcore and 16GB of memory. Up to a 2.6GHz Core i7 is optional.
Storage starts at 256GB of flash on the entry-level 15-inch machine (with 512GB or 1TB optional) while the more expensive version gets 512GB as standard and 1TB as an option.
The most interesting change for this generation is in graphics. Whereas the old MacBook Pro with Retina display had NVIDIA discrete graphics across the board, now only the higher-spec version gets a standalone GPU. Instead, Apple has decided that Intel's Iris Pro integrated graphics, part of Haswell, are sufficient for most purposes, not to mention coming with a useful reduction in power consumption.
Performance
Is it a surprise that the MacBook Pro with Retina is fast? No. Our review unit has the 2.3GHz Core i7 quadcore, with 16GB of memory and 512GB of flash, along with NVIDIA GeForce GT 730M graphics with 2GB of dedicated GDDR5 memory. Specifications like those outclass the average desktop, not just notebooks, and it goes without saying that apps run slick and smooth on the powerhouse Mac.
We started with Geekbench 3, a synthetic test of processor and memory performance, with the new Pro scoring 12,785 overall. The last-gen model – which we re-tested with Geekbench 3, the most recent release – scored 11,298, in comparison. In Xbench, while the 2012 model scored 490.43 overall, the 2013 MacBook Pro with Retina came in at 541.33.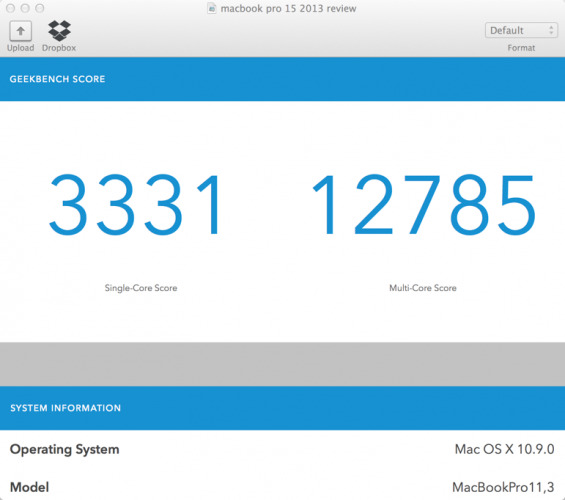 In Cinebench, which benchmarks both processor and graphics performance with a mixture of 3D rendering and OpenGL tests, the new Pro scored 493 cb in the processor testing, and 53.04 fps in the GPU testing. Interestingly, in comparison the previous MacBook Pro with Retina scored 520 in the CPU category and 47.44 fps in the GPU category.
The most significant change is in storage performance, however. Apple's switch to faster, PCIe flash memory has seen a huge step up in throughput rates: where the 2012 Pro managed 306.6 MB/s write speeds and 448.0 MB/s read speeds in Blackmagic's Disk Speed test, the 2013 version comfortably extended its lead with write speeds of up to 708.1 MB/s and read speeds of 731.4 MB/s.
As you would expect, then, the numbers add up to superlative real-world performance. The Pro boots in seconds; resumes almost instantaneously. Apps load without delay, and even our most ardent attempts at multitasking load – including dozens of tabs in the browser, multimedia playback, and video exporting in the background – failed to slow it down. Hook up two external displays and you can comfortably drive them at up to 2560 x 1600 without any ill-effect on the MacBook Pro itself.
Battery
Apple rates the 2013 MacBook Pro with Retina's battery to be good for up to 8hrs of web browsing over WiFi, up to 8hrs of iTunes movie playback, or up to 30 days of standby. As before, the 95Whr li-poly battery pack itself is non-user-accessible, though the introduction of Haswell means Apple promises an extra hour of runtime over the 2012 model.
We ran a number of different battery tests in order to simulate mixed average usage, finding that as you might expect the new MacBook Pro's longevity is very much dependent on how much you tax the processor and graphics. In a basic test of browsing over WiFi with the screen at mid-brightness, we saw an impressive 9 hours and 14 minutes of runtime before the Pro shut down.
Opt for more mixed use, and the runtimes are trimmed somewhat. With a video continuously running looped in iTunes, and roughly ninety minutes of browsing over WiFi and various other OS X apps, the Pro ran for just over six hours before the meter was down to 2-percent. Switching instead to just video playback, we saw 7 hours 18 minutes from the Mac.
Considering the nature of the hardware, that's a more than admirable showing from Apple's notebook. Of course, if you want to do video processing or gaming while running on battery, the MacBook Pro with Retina will crunch through a full charge with the alacrity you'd predict from a mobile workstation. Figure on a few hours of earnest Final Cut Pro processing before you'll be reaching for the charger.
Wrap-up
Mac users have never had it so good. The MacBook Air's Haswell update earlier this year gave the ultraportable the longevity it deserved, with twelve hours of runtime enough to satisfy even the most demanding road-warrior. At the time, only the thought of what Haswell could do for the MacBook Pro gave us pause for flexing our credit cards.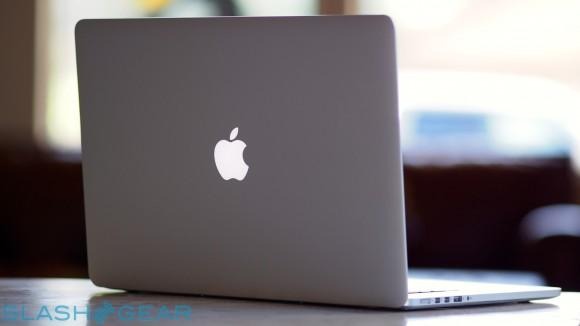 Now the Pro has had its own shot at Haswell, and if anything the waters are all the more muddied. The Air is still the mobility machine, perfectly poised to balance the processing demands of the average traveler with the sort of battery life they need. This 2013 upgrade to the 15-inch MacBook Pro with Retina display refines Apple's powerhouse even more, however.
What you sacrifice in battery life compared to the Air, you make up for in raw processing grunt and that glorious display. The 15-inch Pro may not quite be as portable as its 13-inch brethren, but it's still sufficiently slim and light to drop into a bag and carry day to day, and the upshot is a machine that's as at home whiling away the hours on an intercontinental flight with you as it is storming through media processing and gaming. That's enough to keep it our pick of Apple's MacBook range, and while the everyman OS X user would likely be satisfied by the MacBook Air, the combination of flexibility, power, and battery life makes the 2013 MacBook Pro with Retina display our top choice for demanding mobile professionals.