MacBook Air 13-inch Review (mid-2013)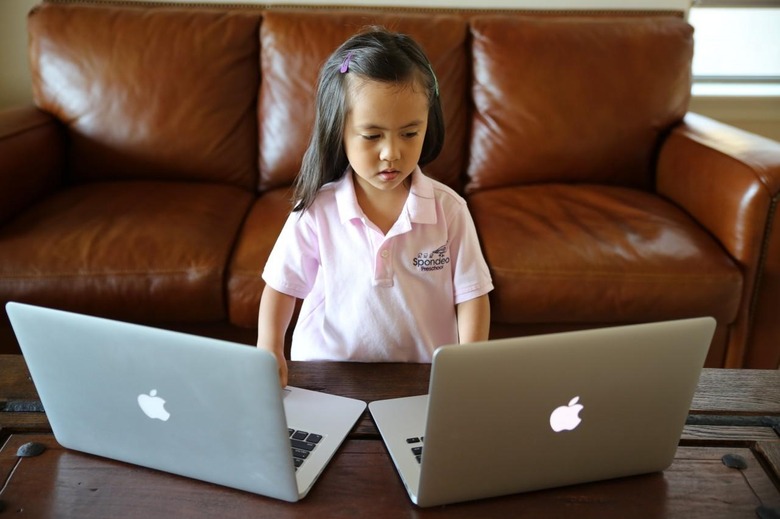 Apple's value-proposition for the 2013 MacBook Air is simple: the same sleek ultraportable notebook as before, but lasting much longer. A switch to Intel's latest Haswell processor architecture and a slightly larger battery takes runtime up to twelve hours versus the seven hour estimate of its predecessor, while a new type of flash storage promises even quicker boot times, resume, and file access. Is this the MacBook to own? Read on for our full review.
Design
Beauty, with Apple's MacBook Air line, has always been more than skin deep, but it's internal changes only with this generation of the notebook. From the outside it's business as usual, which means a sturdy, lightweight aluminum clamshell with a tapering profile. Our 13-inch review unit looks pretty much identical to the model that launched three years back, and we can't argue with that decision too much.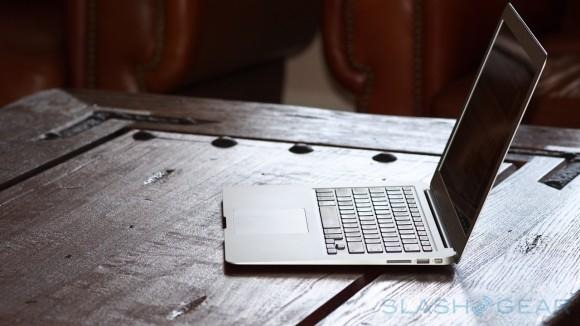 As before, then, the hinge feels sturdy but not too stiff to open with one hand, and there's no flex or wiggle in the unibody construction. The keyboard remains one of our favorites to use, backlit without any undue bounce from the keytray. As per the chance in the previous-gen model, the new Air uses the MagSafe 2 connector, which has proved a little easier to detach than its differently-shaped first-gen plug.
Power is on the left edge, along with a USB 3.0 port and the headphones jack. The right gets a Thunderbolt port (first-gen, not Thunderbolt 2 as on the upcoming Mac Pro), another USB 3.0, and an SDXC memory card reader. Two microphones are now standard, which OS X uses for background noise cancellation. It's worth remembering that the 11-inch MacBook Air doesn't get the memory slot.
Hardware
Inside is where the real update has happened. Apple has switched to Intel's 4th-gen Core processor series, complete with HD 5000 graphics, but there have been some architectural changes too, specifically in the PCIe connection for the solid-state storage. Flash-based memory has always had an edge over traditional hard-drives, but Apple promises even better I/O performance thanks to the fatter pipe in this generation.
Our review unit has the same 1.3GHz Core i5 dualcore as is standard across both the 11- and 13-inch MacBook Air now. It has 3MB of shared L3 cache and supports Turbo Boost up to 2.6GHz; Apple offers a 1.7GHz Core i7 dualcore as an option, with 4MB of shared L3 cache and up to 3.3GHz Turbo Boost. There's also 4GB of 1600MHz LPDDR3 memory as standard – with 8GB as an option – and 128GB of flash storage. Unlike in previous years, there's no 64GB option on the 11-inch Air, and both versions can be configured to 256GB (as with our review unit) or 512GB.
[sgbenchmark id=210 show=system]
Fitting all that into a notebook of the Air's dimensions demands a few compromises, and as before the biggest is the absence of user-upgradable components. If you think you'll want more flash, or more memory, or the faster processor, then you need to go for it from the outset, since there's no upgrade option down the line. To be fair, that's not unusual among ultraportables, but it's worth considering when first ordering.
The other big change is in the wireless connectivity, with the 2013 Air the first Mac to support 802.11ac WiFi. Used with a compatible router – such as Apple's new AirPort Extreme, which we're still waiting on testing – it promises up to three-times the speed of WiFi 802.11n models, as well as more range thanks to clever targeting called Beam Forming. It's of course backward compatible with older wireless routers, and you still get Bluetooth 4.0. If you want to use a wired ethernet connection you'll need an adapter, too, with Apple's Thunderbolt to Gigabit Ethernet cable a $29 option.
One thing that goes unchanged is the display, Apple sticking with the 1440 x 900 LED-backlit LCD familiar from the previous generation. It's still a great panel, with broad viewing angles, even brightness, and accurate colors, but it suffers in comparison with the 13-inch MacBook Pro with Retina display. There, the 2560 x 1600 panel makes for a difference that's night and day. In Retina mode, where the Pro notebook mimics a lower-resolution screen, the boost in smoothness is clearly visible, and we like being able to switch into the higher effective resolution for those times when we want to fit more on-screen.
Performance
With Haswell at its heart, Apple says the new MacBook Air should be roughly the same at general processing as before, but far more power-frugal. Graphics performance, meanwhile, is said to have received up to a 40-percent boost thanks to the new HD 5000 graphics, while the PCe and new flash storage are apparently good for up to a 45-percent increase in speed.
Taken together, the result is a notebook that feels much more responsive. The good impression begins from the very off, with the Air now booting in 11 seconds on average in our testing, versus 17 seconds on the last-gen model despite it having a processor that, at 1.8GHz, should on paper be faster. The same turn of speed is visible – and perhaps even more useful – in resume times, with the system now ready almost as soon as you open the lid.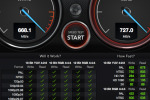 It's all down to the faster memory, and that pays dividends in transferring files, too. Using the BlackMagic benchmark for speed testing, the new MacBook Air recorded an impressive 727.0MB/s read rate, while write speeds managed 668.1MB/s. In contrast, last year's model managed around half that, with a 438.1MB/s read rate and 223.9MB/s write. Switching to Geekbench, which tests processor performance, the new Air came in broadly in-line with the old model. The new Air scored 6782, while the old model scored 6743.
Raw numbers only tell part of the story, of course. In general use, the new MacBook Air feels faster and responsive than the model before it. Apps load more readily, there's less lag when waiting for big files to load, and we had no problems switching between several applications. Still, the other thing promised from Haswell is better battery life.
MacBook Air 2013
[sgbenchmark id=210 show=score]
MacBook Air 2012
[sgbenchmark id=161 show=score]
MacBook Air 2011
[sgbenchmark id=137 show=score]
Battery
Apple makes some impressive claims for the new Air: up to 12 hours of web browsing over WiFi, or up to ten hours of 720p HD video playback, both with brightness set to 75-percent. Up to a month of standby is supported, too. When OS X Mavericks arrives later this year, meanwhile, we could see even more improvements, with Apple teasing intelligent low-power states for background applications that prevent unnecessary processor and drive use.
Today, though, Apple's estimates are accurate, though very much dependent on what you're doing with your Air. In a test of video playback, we actually exceeded Apple's own predictions, albeit only by a few minutes. However, it's worth noting that you'll need to be using iTunes for playback to see the main benefits; playing looping video in other apps, and we ran down the Air a couple of hours quicker.
With a mixture of browsing, text entry, and other everyday tasks, the MacBook Air took us through a full workday with no hiccups, and no need for us to strain our eyes by notching down the display brightness to uncomfortable levels. There's something undeniably liberating about being able to effectively ignore the battery gage.
Value
Apple has cut the price of the 2013 MacBook Air, with the entry-level 13-inch model now $100 less than last year. $1,099 gets you the 1.3GHz processor, 4GB of memory, and 128GB of storage; you'll pay $200 more to double that to 256GB, while 8GB of memory is an extra $100. The faster Core i7 processor – which we're yet to test – is an extra $150.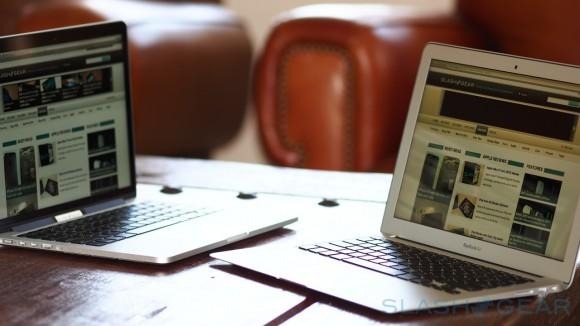 Still, we'd argue it's still worth looking at the 13-inch MacBook Pro with Retina display. Although it's running the last-generation of Intel Core processors, you get roughly the same performance – flash speed aside – and that all-important high-resolution display for $1,499. It lacks some of the Air's slimness, but the 0.53lb weight difference is hardly noticeable and the Pro is actually narrower and not as deep as the Air.
Wrap-Up
The 2013 MacBook Air 13 delivers what it promises: excellent battery life. As the MacBook Pro range became slimmer and more capable, not to mention introducing Retina resolution, some began to question the Air's purpose in Apple's range. We'll certainly admit to being swayed by the high-pixel-density screens, though the knowledge that a Haswell upgrade is likely to come soon might delay us from buying one today.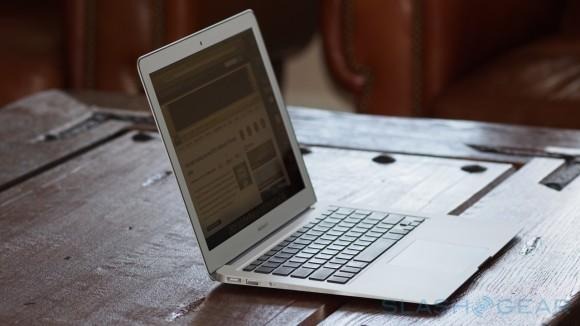 With the new Intel processors, however, the Air has redeemed itself. Twelve hours of runtime is no laughing matter, and to be able to do it while still handling all the usual applications – video editing included – makes for a highly persuasive notebook for road warriors.