Star Wars 360 video sends you speeding on Jakku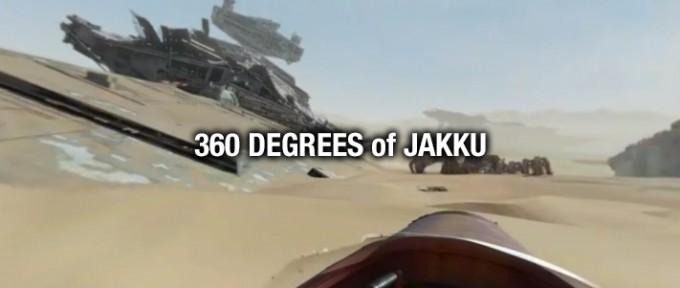 This morning the first 360-degree immersive Star Wars: The Force Awakens experience was released – and what a doozie it is. This experience comes in the form of a 360-degree Facebook video, created with the technology described in our first
. Here you'll be jamming along the sands of Jakku on the speeder you saw in the first couple of teaser trailers for the new movie. You're driving as Rey would, and if you listen closely, you'll hear that
is along for the ride as well. Watch out for desert marauders while you're out there.
Below you'll be able to dive in on this experience yourself. If you're unable to see the video correctly, we recommend trying the web browser Chrome. Desktop is best, for now – we'll be checking on mobile adaptations in the near future. This is a Facebook joint, through and through.
Because this is one of Facebook's first big (exclusive) releases in 360-degree vision, you can expect that they'll be talking about how you can dive in with Oculus Rift for the full virtual reality experience, soon. See our feature on
for more information on this soon-to-be-big project.
Also expect more experiences like this for the Star Wars universe soon. The folks at ILMxLAB are bringing a whole collection of videos, apps, and all manner of virtual or otherwise augmented reality experiences your way soon. Head to our Star Wars tag portal to see what's next!