BB-8 by Sphero Review: the best Star Wars toy ever made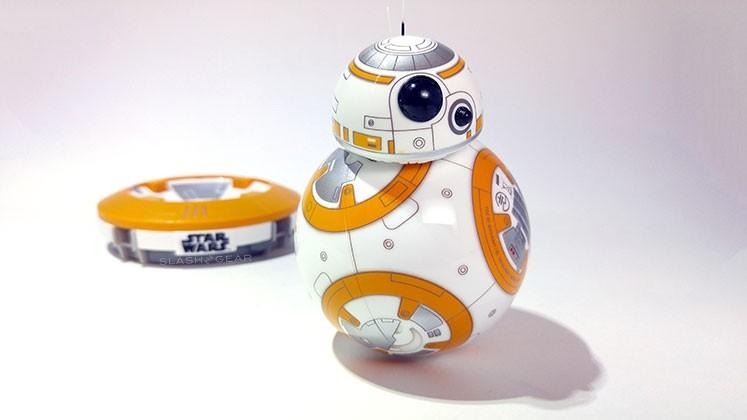 The "BB-8 by Sphero" is a robot toy that combines the high-tech remote-control spherical fun of the original Sphero with the life force of the newest droid hero from Star Wars. This is the "ball droid" you've likely seen in the first, second, and/or third teaser trailer video for Star Wars: The Force Awakens. This device incorporates remote control with a smartphone, augmented reality, and the ability to roll around and act entirely autonomously all around your house, recording data and exploring your hallways as he does so.
BB-8 by Sphero is a remote-controlled robot in spherical form. Inside the body of this droid is a set of wheels which allow it to roll around in any direction. Atop this particular Sphero is a head that sticks to the body magnetically.
The app that goes with this Sphero toy is made specifically, uniquely for it. BB-8 has his own Star Wars-themed control app here, and three functions (for starters) make him come alive.
You'll have a basic control to control him yourself, you'll have autonomous control, and you'll have holographic camera messaging.
Above you'll see the first Holographic message (using augmented reality with the iPad's camera and BB-8), including information on the newest wave of X-Wings for Star Wars: The Force Awakens.
Below you'll see a readout from the app shown during autonomous control. Allowing BB-8 to explore your house results in some rather interesting bits of info.
Inside this little monster is a battery that'll last you 60 minutes or so. The box says 60 minutes and, based on the at-least 10 times we've run the power from full to empty, we've found 50 minutes to be the smallest amount of time BB-8 will last at one go.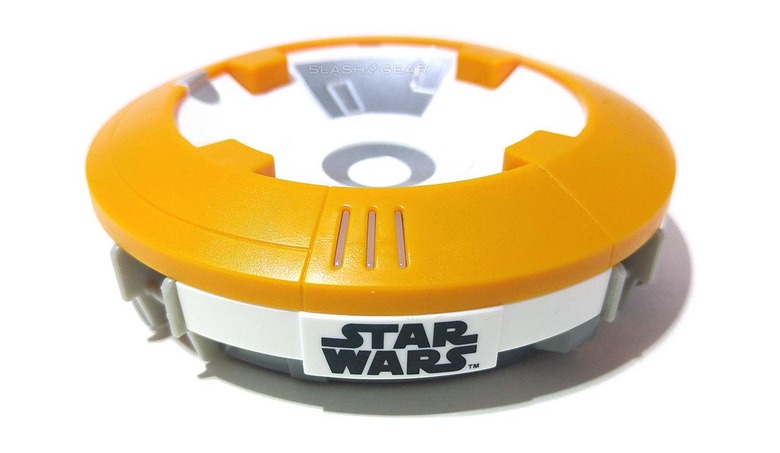 This BB-8 has a wireless charger that does the same thing as each of the other wireless chargers with other Sphero devices, only here it's got a rubbery top that holds the device in place while it's charging up – also there's a blue light that blinks while BB-8 is charging and stays blue when he's charged.
This toy is 11.4-cm tall and 7.3-cm wide. The sphere bit is the same size as the Sphero 2, while the head is just about the size of a half of a golf ball.
Under the head is a couple of wheels that go in one direction. The head either has a magnet or a piece of metal in it – we're not entirely sure. The same goes for the inside of the sphere – there's some sort of rounded wire that goes from the mechanical wheel base to the opposite side of the inside of the sphere.
The rudimentary illustration you see below shows where the components are in the non-transparent Sphero we're reviewing today. The transparent edition goes by the name of [Sphero SPRK edition] – made for students.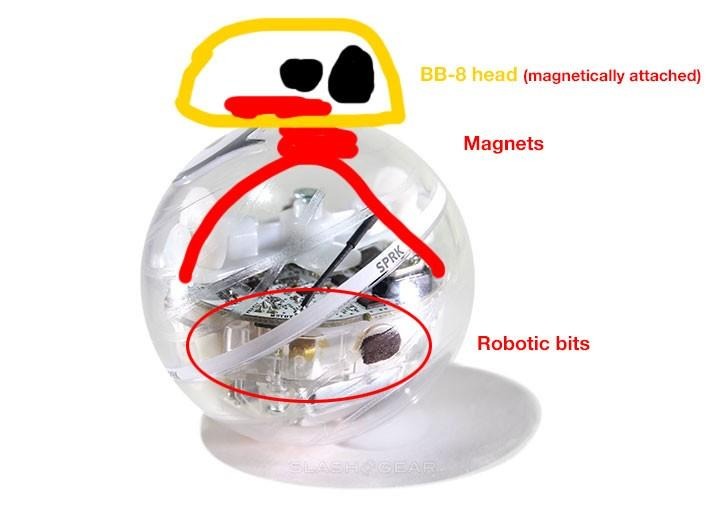 AGAIN – to be clear – this transparent Sphero is the SPRK edition, while the BB-8 is white with printing on the outside of his body. The BB-8 head does NOT attach to this SPRK edition (we tried!)
The only bit about this toy we're concerned with is his antenna. They're tiny – super, teeny tiny – and therefor prone to bending. If you've got a 4-year-old in your home, expect these antenna to be busted directly off within a week. If you're OK with that, no worries!
BB-8's head sticks to his body just so long as you don't go off any ramps. Going over a 3-inch jump will result in the head being bounced off. The magnets here are strong, but they're not THAT strong. They've got to strike a balance between sticking on always and being loose enough to let the head move around the body.

This device is being controlled with an iPad. You can also control it with an iPhone or an Android device.
Below you'll see several screens from the control app – it's super simple to use.
BB-8 by Sphero does what only the most expensive, above-and-beyond, home-made Star Wars models of droids have done in the past. BB-8 isn't just a representation of the droid you'll see in the films.
BB-8 is BB-8.
He's a tiny version of the real thing.
If there's one Star Wars toy you're going to need from The Force Awakens, BB-8 by Sphero is it. Even if you're not a toy collector. No matter your age. This little droid is an awesome piece of sci-fi history.
This device will be released to stores as of this Friday – Force Friday, that is – and it'll cost you $149.99, and it'll be launching at Apple stores, Best Buy, and Sphero's stores online.