Spotify co-founder touts "platform" initiatives at CTIA 2012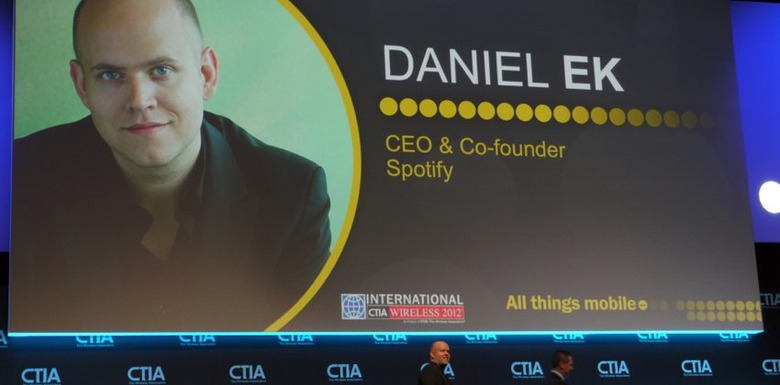 This morning at the 2nd full day's CTIA 2012 keynote, Spotify CEO and co-founder Daniel Ek shared his views on the future of mobile streaming music with the world. With both free and premium offerings, Spotify is the second biggest revenue stream in the whole country in the UK, this model of course being hoped for by Ek as Spotify grows in the USA. They're already doing fairly well with the average Spotify user in the USA listening to 100 minutes of music a day, they having created 700 million playlists with Spotify software in the short number of months the service has been available in the states.
"Spotify thinks of itself as a platform," said Ek, "our first big step being integration with Facebook." March 2012 there were 1.5 billion shares from Spotify to Facebook, with 50 billion impressions – this of course showing the power of platform integration, so notes Ek. Expanding with Spotify Apps and delicious applications on the Spotify platforms as Sounddrop – which in the slide you see in the gallery below shows License to Ill, a move which we must assume is in honor of the recent death of MCA (RIP).
Ek noted how the Spotify Play Button as well as the Spotify for iPad release have been received extremely well, with a whole batch of devices also being inside the Spotify network right now with a bunch on the way as well. Consider this a siren call to Pandora who just this week has been knocking on Spotify's door, so to speak, with numbers climbing quick.
Check out the rest of our coverage of the full set of CTIA keynotes and events through our CTIA 2012 portal – open all week!