Sony Ericsson XPERIA ray Review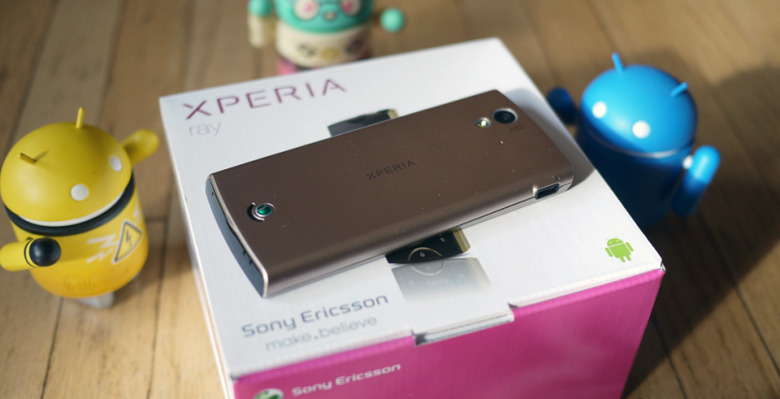 The XPERIA ray is easily the smallest smartphone I've ever had the opportunity to lay hands on, and while it may seem at first to be tiny in stature, it packs an oddly enticing set of punches. Head back to our XPERIA ray hands-on and unboxing post to get all the specification details on the device, then come back and get the most important bits: 3.3-inch TFT LCD display a 480 x 854 pixel resolution, a single-core 1GHz processor inside, a VGA video chat camera on the front, and a massively impressive 8.1-megapixel camera on the back. This tiny monster is set to carve out its own piece of the American petite smartphone pie, that's for certain.
Hardware
This device is made of hard plastic and "scratch-resistant" glass for the most part, with a slightly less-than-impressive plastic button sitting at the bottom-center-front. What's awesome about this little half-circle button is that it's got a multi-color half-border of color around it to show off notifications galore. The not-so-awesome piece of the puzzle is that it makes a little tapping noise when you touch it lightly. This seems to me to mean that it's made to be pressed a thousand times but that it's not as perfectly fashioned to fit as the rest of the device appears to be.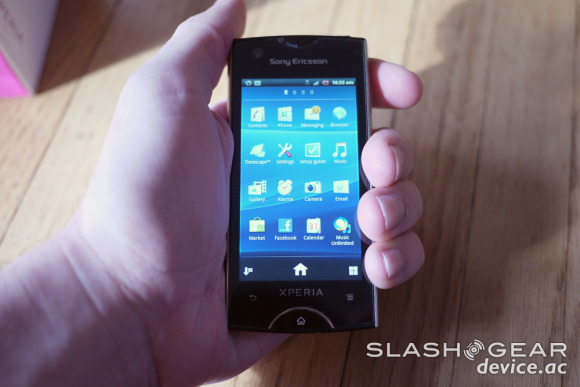 The phone fits in your hand like one of the older generations of iPod Nanos, like a long pack of gum that just to happens to hold your smartphone guts inside it. The one we've got here has a wine-colored back panel complete with the Sony Ericsson green orb which looks lovely against any color, and the speaker resides underneath. The speaker is comparable to the rest of the XPERIA line, it being OK but nothing all that fantastic, while the camera and single LED bulb are certainly something to write home about. They're great, they produce fairly awesome photos, and the shutter speed is near instant – and that LED can be used as a lamp for photos without any special hack, a definite plus!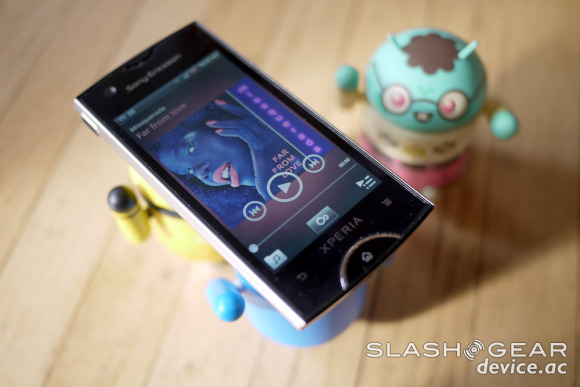 The display has so many pixels inside it, you might have a heart attack. If you're used to device like the iPhone 4 or 4S, you know that more pixels mean a sharper image, and that's true here as well. One must ask though, what's it worth at so small a scale? That's a question you'll have to ask yourself and your petite hands. If you've got any sort of fingers that are bigger than mine are (see the hands-on video), you'll be in trouble. This device is definitely made for those with tiny fingers and tiny palms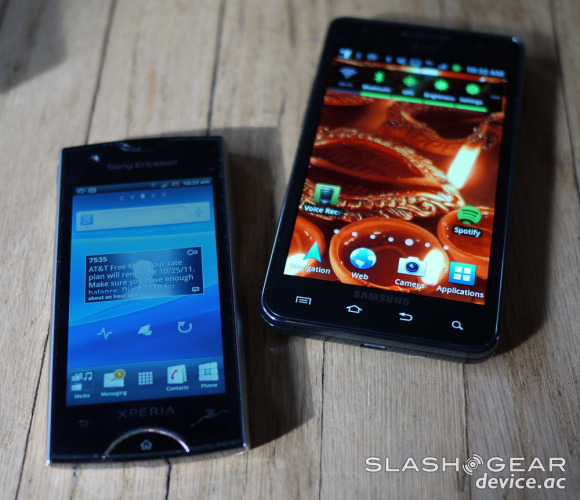 Above you'll see the XPERIA ray next to the AT&T Galaxy S II with a Super AMOLED Plus display – see the brightness next to this device's TFT display's brightness and decide for yourself which is brighter – and better.
[vms 35b3ead06728d6f073c6]
Sony Ericsson XPERIA ray hands-on and unboxing
Software
The software here is extremely comparable to the rest of the recent range of XPERIA devices, so I won't go too deep into the specifics. Instead head back to our review of the XPERIA Mini PRO or the XPERIA Neo, both of them devices with essentially the same Sony Ericsson software aboard. That said, the software is a really refreshing vision of Android for those of you who've never tried it.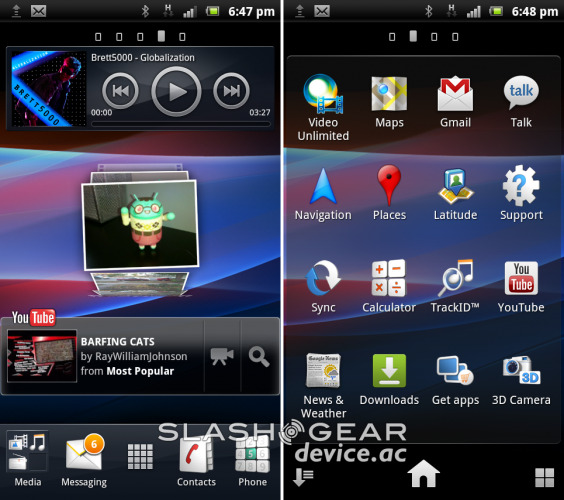 While some manufacturer's user interfaces are looked down upon by those who want their devices to be strictly vanilla Android, the XPERIA range has a look that if I owned an XPERIA device, I'd keep rather than hacking or replacing with a home-replacement app. And that's saying something. The only other custom UI I keep on a smartphone instead of reaching for the root is Samsung's current flavor of TouchWiz, as found on the AT&T Galaxy S II.
Have a peek at a couple of standard benchmarks, one Quadrant Advanced and the other CF-Bench, to access some numbers-based details on the device: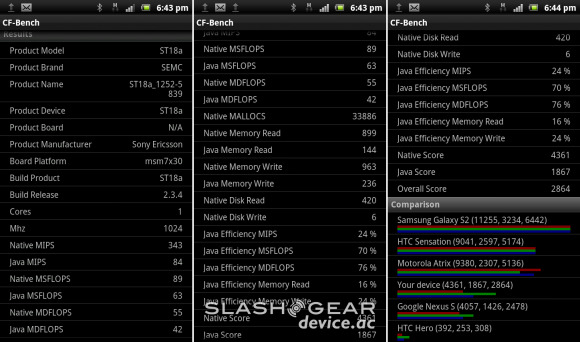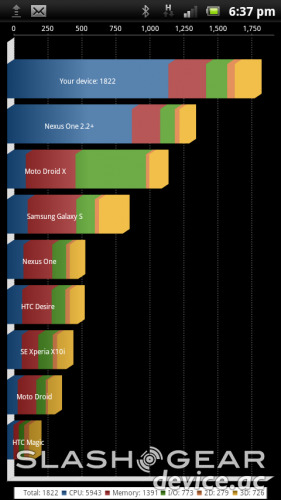 Camera
The camera here is impressive, very impressive for how tiny the smartphone itself is. While the rest of the devices that'd otherwise be comparable to this one tote 5-megapixel shooters that are for the most part lacking, this XPERIA ray smartphone has a camera that holds its own against top-tier devices that cost 3x as much. Have a look below at some examples (with more photos found in the gallery at the bottom of this post.) You'll find 720p video and 8-megapixel photos looking nice.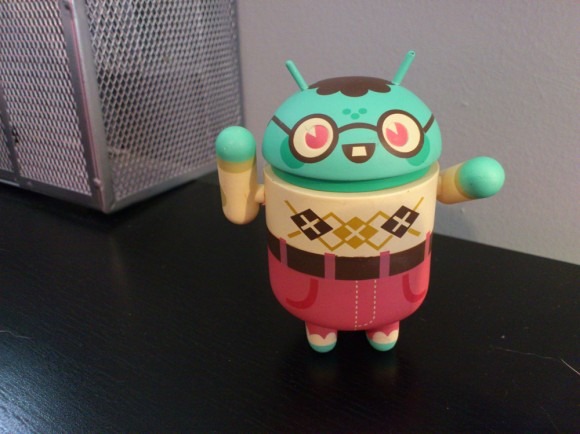 Battery
The standby on this device is amazing. The phone has a 1500 mAh battery and as the screenshot below will show, you've got DAYS of time with this device ahead of you. If you're using it strictly for video and heavy processing, you'll be working for less than 10 hours, but if you only use it like a normal person, checking the email once every couple of hours, watching a YouTube here and there, playing a game while you're on the bus, you've got a couple of days without need for a charge – that's utterly awesome.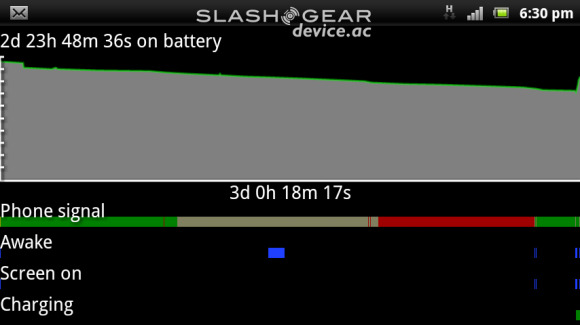 Wrap-Up
This device is a surprisingly enjoyable to use device for its size, but the cost might be prohibitive to most Americans used to getting their devices on-contract for the major discount available when a carrier gets ahold of a device. Today you can purchase the XPERIA ray for $359.99 off-contract from NewEgg. For the average consumer internationally, that might be the norm, but here in the USA, I have a funny feeling that not just a whole lot of these handsets will be selling off the shelves.
Should Sony Ericsson find a way to hook up with AT&T to get this device's price down to something like $150 USD, they'll have a winner on their hands. A tiny device with a fantastically sharp display and a camera that takes excellent video and photos. The processor is only 1GHz single-core, but aside from the most high-powered apps on the market today, you'll still be able to run everything you like, including HD videos – of course again, the display is tiny, but sharpness is key.