Sony Ericsson X2 Gets Official Today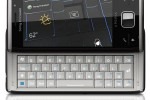 Yes, Nokia World is happening right now, and yes, they've announced a load of stuff today. But there are still other companies out there, and they've still got gadgets they want to get out to the rest of the world. And we're happy to oblige them, especially when it's Sony and they're announcing something like the X2.
There are some definite similarities between the new installment in the X-series, and the previous X1. But that's to be expected. And while some were worrying that the X2 wasn't as sleek as the original, from what we can see here, there's no need to fear. It's still got that classy look to it. And as for looks, that's all we really have at this point. Details are light for the moment, with the exception of the announced 8.1-mega pixel camera with auto focus, image stabilization, geotagging, a 16x digital zoom, and flash. It's launching after October 6th, because the X2 will come stock with Windows Mobile 6.5 Professional. It has a 3.2" 480x800 touchscreen display, but it's still resistive. It's quad-band EDGE and tri-band (850/900/1900) 3G. And, like the X1, there will be two variations of the X2 released, with the X2a being the United States 3G model.
Sony Ericsson is saying the X2 will launch in the fourth quarter of this year. And no, there isn't any indicators of pricing, but let's just go ahead and assume it will be pricey. After all, the first model went for quite some change at its debut. We'll have to wait and see where this phone goes for certain, as apparently the United States 3G version is going to Australia and New Zealand first. Are you crossing your fingers yet?
[via WM Experts]