Nokia N97 Mini, Plus X6 And X3 Music Phones Announced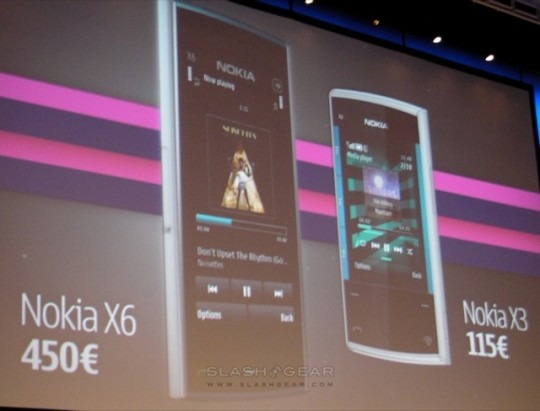 Nokia have announced several new devices at Nokia World, including making the Nokia N97 Mini official – complete with preloaded Lonely Planet information – as well as debuting the Nokia X6, a touchscreen device, and the Nokia X3, a Series 40 music phone.  The X6 has managed to fly beneath the radar in the run-up to Nokia World, offering a 3.2-inch touchscreen, 16:9 aspect display, direct access to Ovi Store and Facebook integration.
There'll also be Comes With Music media downloads on the X6, as well as 32GB of onboard storage to keep it all.  As for the Nokia X3, that will have a 3.2-megapixel camera and FM radio, together with a slide-out numeric keypad and integrated stereo speakers.
The Nokia N97 Mini is expected to be priced at €450 ($639) pre-subsidies when it lands in October 2009.  Meanwhile the Nokias X3 and X6 will land in Q4 2009, priced at €450 ($639) and €115 ($163) respectively.
Press Release:
Nokia seizes social internet and amplifies music experience

September 02, 2009

Stuttgart, Germany – Today, at Nokia World, the annual destination for people with passion for mobility, Nokia unveiled a combo that can change how people connect with each other and offer new and exciting ways to give everyone, everywhere, the power to make the most of every moment. With today's news, together with Nokia's recent announcements – Nokia Money, the Nokia N900, Nokia Booklet 3G, Nokia 5230 and Nokia 5800 Navigation Edition – Nokia expands in new directions for changing the ways people go about their lives.

Olli-Pekka Kallasvuo, CEO, Nokia, commented: "Nokia aims at reaching the many, not the few, with our rich portfolio of services. We are doing this through an increasing number of open partnerships with world leaders in many fields. We are proud to lead the charge in smartphones and beyond as manifested in the Nokia N900 and Nokia Booklet 3G, two great examples of how the world is changing and Nokia is driving this change."

Opening up the next innovative chapter of personal and location-aware internet, Nokia announced lifecasting with Ovi, a partnership with the world's largest social network, Facebook. Lifecasting with Ovi is the first application to let people publish their location and status updates directly to their Facebook account from the home screen of a mobile device. Lifecasting goes beyond just publishing your status – it is about building deeper and closer connections between people. It triggers new kinds of communication patterns, such as sending messages or status updates or even navigating to a friend or a place.

Lifecasting will premiere on the new Nokia N97 mini, companion to the successful Nokia N97. Designed with a social and style-conscious consumer in mind, the Nokia N97 mini is a smaller mobile computer with stylish stainless steel cues, featuring a tilting 3.2" touch display, QWERTY keyboard and fully customizable homescreen that makes each Nokia N97 mini as unique as a fingerprint. The Nokia N97 mini delivers a truly personal internet experience in a compact handset based on the iconic design of the Nokia N97.

Jonas Geust, Vice President of Nokia Nseries, commented: "People want to bring their physical and online worlds together via the internet. The Nokia N97 mini is designed for this new social internet and to help navigate people and places. With lifecasting, the Nokia N97 mini and Ovi usher in the next chapter of personal and location-aware internet."

Lifecasting with Ovi will be available for both the Nokia N97 and Nokia N97 mini via Nokia Beta Labs. The Nokia N97 mini features new software which will be released in October as a free update for the Nokia N97. The new software brings compelling new experiences to both devices, including new homescreen widgets and additional usability improvements including flick scrolling.

The Nokia N97 mini is powered by a new Ovi Maps experience which makes searching, finding and navigating even easier. In addition to global pedestrian navigation, people can access premium content from Lonely Planet, Michelin and Wcities, turning the Nokia N97 mini into the world's smallest travel companion.

Users can personalise the homescreen of their device even further with thousands of different applications and services available from the Ovi Store. From games, videos and podcasts to productivity tools and web services, Ovi Store is the easiest way to fill the Nokia N97 mini's homescreen with applications that reflect individual tastes. The Nokia N97 mini is expected to begin shipping in October 2009 for an estimated retail price of EUR 450 before taxes and subsidies.

The Comes With Music story continues with the Nokia X6

Pioneering new ways for the world to experience music, Nokia today announced the launch of the new Nokia X6. Capable of playing up to 35 hours of music, the Nokia X6 is a powerful entertainment device, combining 32GB of on-board memory with a slick 3.2" finger touch interface.

The ultimate device for music lovers and social butterflies, the Nokia X6 has a 16:9 widescreen optimised for photos, videos and browsing. With direct access to Ovi Store, the Nokia X6 is a hive of activity that brings 20 friends and virtual communities, like Facebook, to your homescreen.

Jo Harlow, Vice President, Nokia, commented: "The Nokia X6 and Comes With Music is a powerful combination, enabling music fans to download all the music they could ever want – quickly, easily and for free. We're giving people convenient access to and ownership of a vast music library and an exciting new touchscreen device to play their music on."

The new Nokia X3 also joins Nokia's music portfolio. The Nokia X3 is designed for music lovers and is the first Series 40 Ovi Store-enabled device. The Nokia X3 is a sleek and compact music device that comes with stereo speakers, built-in FM radio, and a 3.2 megapixel camera.

To make the most of the entertainment experience, Nokia introduced the Nokia Mini Speaker MD-9, a pocket-size speaker for big sound, and the Nokia Bluetooth Stereo Headset BH-505, an ergonomic and lightweight neckband headset for great music and call audio quality also in noisy environments.

The Nokia X6 has an estimated retail price of EUR 450, with the Nokia X3 retailing for an estimated EUR 115. Prices are before taxes and subsidies, and both devices will ship during the fourth quarter of 2009.