When you decide to pick up a Sonos speaker, you decide to jump into an ever-expanding ecosystem of both hardware and software, with a brand that's dead set on pushing an immersive experience out to the customer. With the newest member of the family, the Sonos SUB, you've now got an earth-rumbling bass component in addition to a couple of sets of high-quality speakers and several center points – dock, bridge (hub), amplifier, whatever you want. The big question you should be asking yourself here is not just if you want to work with the magic that is the SonosNet wireless mesh network, but if you feel its necessary to pick up more than one of the Sonos family components.
Joining the Sonos Party
With the Sonos SUB you've got a one-button-connected bass component for your Sonos system. You will not want to buy just the SUB and not at least one of the two speakers that Sonos has to offer, those being the PLAY:5 or the PLAY:3. With either of the PLAY speakers – if you buy one at the time this post is being published – Sonos has a special "Gift Pack" that essentially means you'll get a free Sonos Bridge with the purchase of either speaker. So you've got the Bridge, either a 3 or a 5 speaker (or two) and the SUB – this is the basic setup you'll want, not just the SUB.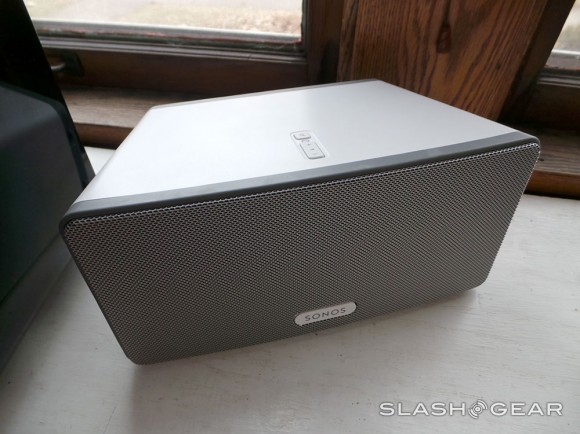 This is because the Sonos family of devices works in its own net, and does not connect the same way a standard speaker does. On the other hand, if you do pick up the Sonos CONNECT or CONNECT:AMP, you'll be able to connect a standard RCA line-in bit of audio to your SONOS network where it can be wirelessly output to the SUB and wired to several of your standard speakers with combined spring binding post / banana jack connectors all at once. And if you don't know what that means, I wish you good luck and suggest you get a standard speaker setup.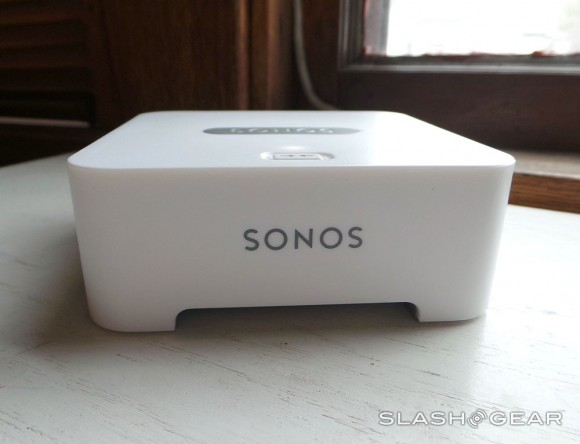 On the other hand again, if you want to work with Sonos from top to bottom, you can connect whatever you want to a CONNECT and blast all your audio from all your sources. If you just want music, you wont have to mess with all of this stuff, you'll only need one Sonos speaker – and the AMP, since that's what we're reviewing, of course. To connect your devices together, you either need to hook one (any one) of your Sonos speakers or SUB to the internet with an ethernet cord.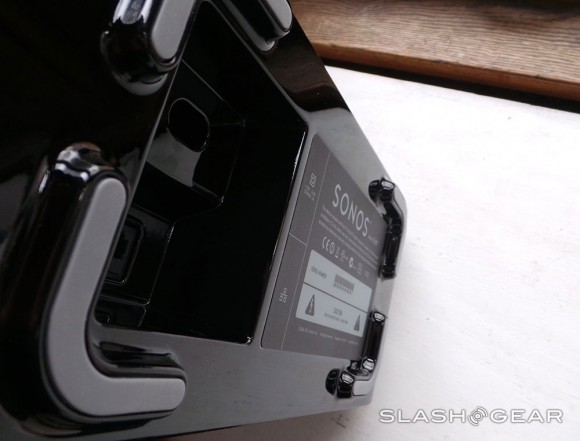 If you don't want to connect one of your speakers with an ethernet cord – if your router is in a room that you don't want speakers in, for example – then you should indeed get the BRIDGE. With the BRIDGE you can connect to the web, then the BRIDGE will be your access point for all the rest of the devices. Then you've only to access and wirelessly control the music you want to listen to from your iPhone, iPad, iPod touch, Android phone, Android tablet, Mac, or Windows-toting PC.
Software
The software experience with Sonos is being updated rather rapidly – just today we found an update for the iOS apps that allow us to play music directly from the device, this effectively taking the place of what Apple notes is their unique wireless capability in AirPlay. Android has an app that's essentially the same as the iOS experience, while the Mac and PC versions of the software offer, again, basically the same abilities with slightly different layouts.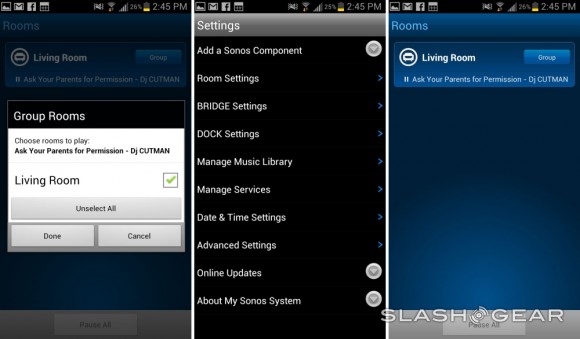 Above: Android, Below: iOS (iPhone 5)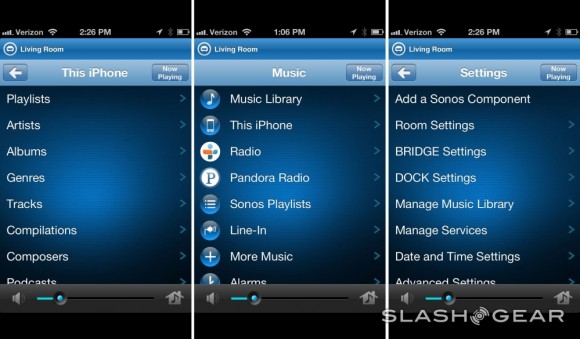 The larger the screen you have, the easier it is to navigate the Sonos user interface – while when you're working with a display as small as the iPhone 5, you might be tripped up by the slightly less-than-intuitive arrangement of the buttons and access to your tunes. Once you've set up your own playlist or have decided upon a single source for your music though, you won't have to worry about it.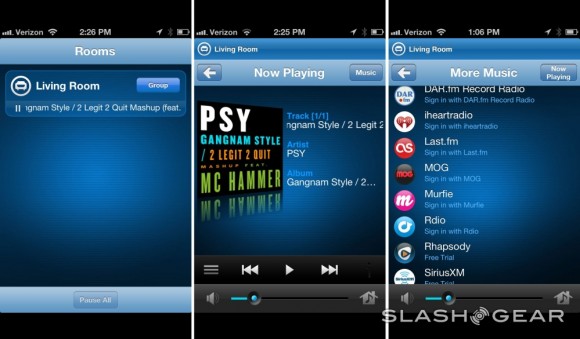 At the moment you can use a variety of music sources including Pandora, Spotify, tunein, Amazon Cloud Player, Songza, Rhapsody, mog, SiriusXM, iHeartRadio, Slacker Radio, Wolfgang's Vault, DAR.fm, AUPEO, rdio, murfie, last.fm, and stitcher. Sonos is currenly working with the developers of 7digital and Hearts of Space to get them onboard with this wireless experience as well.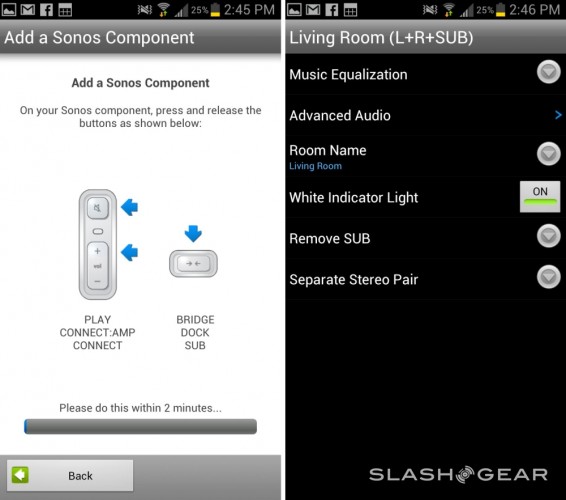 Perhaps the most useful element in all of this SonosNet wireless control environment is the power to group speakers together individually. You can set up a couple of PLAY:3 units in your living room with a SUB under the couch while you've got two PLAY:5 speakers in the kitchen and a set of two 5's, two 3's, a SUB, and a CONNECT:AMP in your basement to play some heavy-hitting theater beats, each of the rooms with their own audio, all of them in the same network. The real power of this system is for the super-vested in Sonos to create their own massive network, really.
Sound Quality
There's not much to be said for the sound quality of the SUB that's not already spoken by Sonos themselves: "soul-shaking" is what they call it. Indeed it is difficult to even set this device up for sound if you live in an apartment for fear that you might not only disturb the residents above and below you, but that you might wake up your neighbors across the hall as well, not to mention the whole complex across the street.
But once you do have the system set up and ready to rock, you can turn the whole thing down to human levels. This system is made to be sitting either right out in the open next to your television set or in the center of your room or under your couch or bed. If you do place it under your seats, prepare to get you butt rumbled. The sound here is as loud and as precise as any system we've yet tested.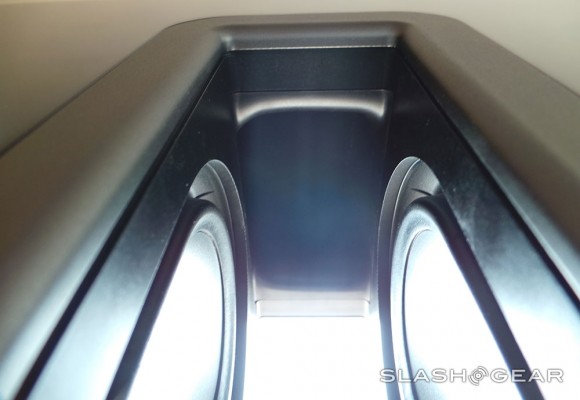 The SUB doesn't break up the family as other massive stand-along subwoofers might. Instead it's able to be mixed right in with the natural array of sounds coming from the rest of your Sonos speakers – and with your Sonos apps you're able to push them all up and down individually as needed, of course.
Wrap-up
The Sonos SUB is a massively expensive subwoofer made to be part of the full wireless speaker family for an equally giant price: $699 right out of the box. You do get free shipping and unlimited support from Sonos, and we're to understand that there's a slightly less glossy version of this machine coming soon that'll cost just a bit less than this first release. If you're willing to pay $699 for a component in your hi-fi speaker arrangement, you certainly wont be disappointed in the SUB.
Have a peek at the column/review Small Sonos: Is multi-room music overkill in a tiny apartment? by Chris Davies for additional insight with the Sonos PLAY:3 and the overall Sonos experience.