Sonos PLAYBAR hands-on: Your TV audio gets clever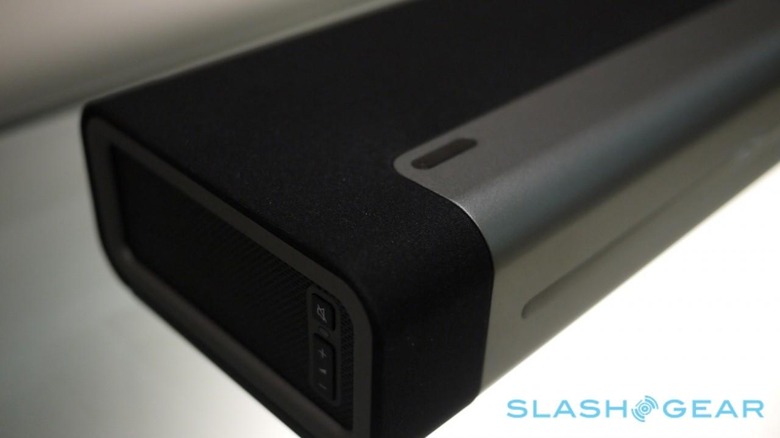 Streaming music specialist Sonos has been hinting at home theater expansion for years now, but it's taken until today for the fruits of that ambition to arrive: the Sonos PLAYBAR, aiming for a spot under your TV. Promising the traditional Sonos ease of setup and use, but with a dual-personality catering both for TV and movie audio, and for music, the PLAYBAR hooks up as another zone in your home entertainment network and packs nine speakers as well as playing nicely with other PLAY models. We caught up with Sonos to find out why the PLAYBAR was special.
The company's reluctance to extend itself beyond musical speakers has been down to a fear of losing focus: the audience is still dedicated music lovers, Sonos says, but concedes that many in that audience also love films. Meanwhile, while display technology has advanced hugely, skinny flat-panel TV sets have squeezed speakers into something of an afterthought, thus opening the door to hardware like the PLAYBAR.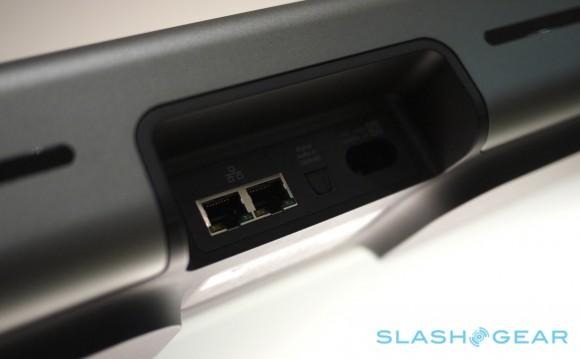 All-in-one speakers aren't new, of course, but PLAYBAR does some things differently. That starts with setup: there's wireless onboard, for the easiest way of connecting, but you also get a pair of ethernet ports on the back for wired networks (and for passing the connection through, say, to your smart TV, or being the first node hard-wired to your router for an overall Sonos installation). Otherwise there's just power and an optical digital input – no HDMI, since Sonos expects the TV to remain the "brains" in charge of switching and managing media – along with the usual three physical buttons for mute and volume up/down which are on one end of the bar.
When you first set up, the PLAYBAR can learn the volume buttons on your favorite remote (whether that be for your TV, your Blu-ray player, or your set-top box). Out of the box there's presets for the popular brands/models – most users will just have to press the volume-up key for the PLAYBAR to recognize it – but there's also a nine-key-press learning mode for new sets. Cleverly, Sonos collects up those programming settings and updates them across all PLAYBAR units, meaning the next user with the same remote won't have to go through the teaching process. On the back of the soundbar there's a broad IR repeater strip, just in case placing the PLAYBAR in front of your TV blocks its IR receiver, and there are two IR windows on the Sonos itself, catering for table or wall mounting.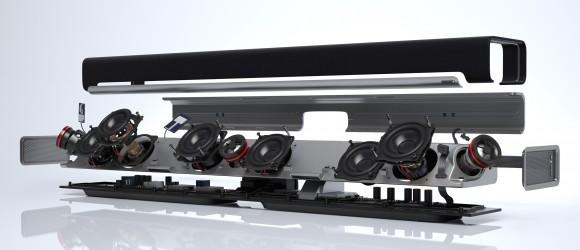 Back when the PLAYBAR was first spotted sneaking through the FCC, there was speculation as to what its dual wireless chipsets might be used for. As the company explained to us, it's all down to latency – or the avoidance of it – in surround sound mode. The PLAYBAR has one regular WiFi chip to hook up to the network as per all Sonos speakers, but also has a second, ultra-low-latency chip which is used to maintain up to three perfectly-synchronized channels in a surround setup, feeding two PLAY:3 rear speakers and a SUB subwoofer.
As for the speakers inside the PLAYBAR itself, there are six mid-woofers and three tweeters, the latter spread across the outer edges and one in the middle. At normal volumes, the woofers are synchronized, but they can automatically shift out of phase if required – complete with some clever DSP – to avoid distortion when you crank up the audio. Sonos has also equipped the PLAYBAR with completely different settings for music and movies (in fact they automatically change depending on physical orientation, too).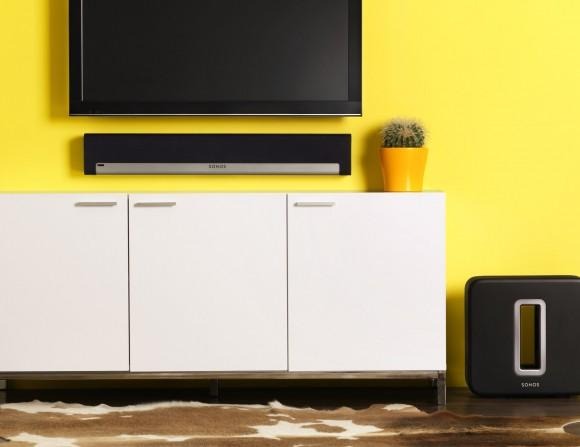 Most importantly, in either mode, it sounds great. Music has a surprising degree of precision, with vocals coming through clearly in the center while the rest of the soundstage has a spread that belies the placing of the speakers. Movies, meanwhile, go even further: the virtual surround you get with the PLAYBAR alone is impressively effective, and the bass has some decent thump to it (given the limitations of the 36 x 5.5 x 3.4 inch footprint and the speakers Sonos has been able to fit), but group it up with a couple of PLAY:3 rear channels and the SUB, and it's both incredibly loud and precise.
Sonos PLAYBAR overvew video:
Control, as you'd expect, is via Sonos' existing PC, Mac, iOS, and Android apps: the PLAYBAR shows up as a regular zone, which means you can group it up for party music. However, there's a little extra consideration for the TV focus there too; if you try to add the PLAYBAR to a group, it'll double-check to make entirely sure you want to do that, and if you start playback on your TV, the soundbar will automatically switch to whatever is coming through its optical input. You can, though, manually change the audio while leaving the screen on, handy if you want to show a photo slideshow with music from, say Spotify.
The Sonos PLAYBAR will go on sale on March 5, priced at $699 in the US, £599 in the UK, and €699 in Europe.