Smart Wheels: We talk Infotainment & the 2014 CTS with GM's Mark Reuss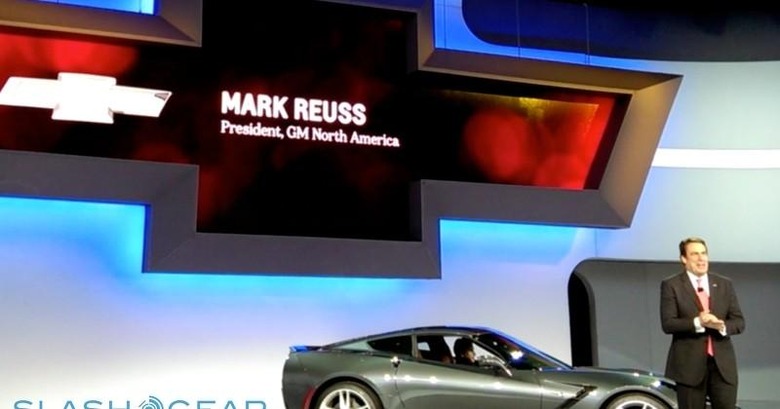 Once upon a time, your car had to be the fastest or the most luxurious if you wanted to stand out. Now, as GM has discovered, a car has to be talkative if tech-savvy drivers are to take them seriously. A path that started with OnStar has ended up with cars that talk to your smartphone and tablet, quietly plan their own servicing, and generally take the sting out of owning and maintaining a modern vehicle. SlashGear sat down with GM President of General Motors North America Mark Reuss to talk infotainment and how the company is betting on more than just top speed for models like the new 2014 Cadillac CTS.
We're no strangers to GM's in-car tech. The company announced earlier this year that it would be equipping all of its models with in-car LTE, and promptly showed off a demo of what you could do when your 4G connection is actually baked into the car's electronics, rather than just a dumb mobile hotspot in the glovebox. We also played extensively with Cadillac CUE, the infotainment system built into the 2013 ATS, last year.
GM isn't a late entrant to the infotainment market, however, and gambles like baking expensive LTE radios into every single model aren't exactly new. "If you look at our history, we've long had OnStar as an asset" GM President Mark Reuss told us. "So I think bringing that demonstrates the commitment we've made. There were a lot of tough times at the company when we looked at the equipment that we put in to do that, and generally did not price for. So that's generally a long-term financial commitment to what we think we're now being able to look at: an amazing opportunity for us for 4G, the expansion of that pipe we've invested in."
In fact, Reuss argues, car connectivity and the functionality that enables could well end up being the 21st century's equivalent of extreme customization. "If you look at how people use their cars, if you look at the changing demographics, new people coming into the car-buying market, most of those people have sort of an "ultimate customization" available, they see all the different devices available today" he pointed out. "That's a reflection of who you are, that's a reflection of how you live ... it's almost like hot-rodding used to be, right, sort of like that type of creativity that you have. It's very low-cost, it's very fun."
Examples of that flexibility GM has already demonstrated range from remotely setting LED color schemes and cabin temperature, monitoring fuel levels and economy from across the country, and turning your car into a Skype video conferencing suite. However, Reuss says, the key is minimizing the stress involved in owning a car.
"That attention and care is now delivered through the pipe of the car, because the car is now bringing that information back to both the dealer, our engineers, and us as an OEM, and that's really important data to us from a safety standpoint, and it's important to the customer" Reuss says. "It takes the challenge of thinking about "when's my oil going to be changed?" and "when are my tires going to be rotated?"; it takes that away from your busy life. And these are big, big things because the world is not getting less complex, and these type of tools in fact can make your daily life less complex."
Still, it's a big investment to web-enable every car you produce, especially when only part of your audience might walk into the showroom with an understanding of cutting-edge informatics. According to Reuss, GM has tackled that in how it markets each system across each of its brands, picking out the key functionality it knows potential drivers are going to be most interested in, as well as able to afford.
At the budget end, for instance, there are models like the Chevy Spark, aimed at younger drivers who are particularly smartphone-savvy. "You see widely different approaches in GM in how we're doing this" Reuss points out. "The reason for purchase in a Spark of the screen we have in the car, the bring-your-own-media, don't underestimate that. This is a car that's under $13,000 ... so that car in that price point is one approach to connectivity and bring-your-own-media, that replicates basically what you have on your phone in a very simple way, a fun way."
On the other end of the spectrum is Cadillac's CUE, which doesn't assume the driver will necessarily be coming to the car with a pocket or bag full of the latest phones and slates. Instead, Reuss says, "the CUE system embeds more of that technology into the car, into the center stack of the car."
For Cadillac drivers, the appeal of a system like CUE might not be its streaming media capabilities but how it unlocks new safety and convenience features: tech that builds on the same underlying informatics hooked into the car, but delivers that access and data in differently focused ways. "The price point is wildly different," Reuss concedes, "but that type of information, integration, safety systems, crash avoidance, automatic cruise-control, radar-detected cruise control: that data and that format in the car you'll see on the most expensive models in the range. And it replicates a lot of the function of what a tablet, or a smartphone, would do for you on a use-basis."
The next example of that growing technological focus inside and outside of the car comes in the shape of the new 2014 Cadillac CTS, the company's latest sports sedan. Set to hit the road later this year, the CTS builds on the excellent example of last year's Cadillac ATS, borrowing the expansive all-digital driver instrumentation from the more expensive XTS, and cladding it in a sharp suit with echoes of the eye-catching 2014 Corvette Stingray.
On the outside, that design language expresses itself in features like the daytime running lights, extending down from the main lamp cluster and under the bumper. Like on the new Corvette, GM has worked hard to diffuse the LEDs so that they illuminate as two solid strakes of light; that, director of Cadillac exterior design Bob Bonaface tells us, gives the whole family a recognizable face, and one which you can spot no matter whether it's day or night.
It's arguably on the inside that the technological and materials focus is most obvious. Just as the Corvette team strove to be "authentic" in their choice of finishes – opting for real carbon-fiber, real metal, real leather rather than cheaper lookalike alternatives – so the new CTS dresses its cabin in premium materials. Eight interior finishes will be offered, ranging from the more traditional black, tan, and brown leather, through to more eye-catching shades like blue, each with optional contrast stitching. Real carbon-fiber and aluminum also show up again, joined by open-pore and natural finish wood.
The center stack has the same zero-profile touch sensitive buttons, topped by an 8-inch 800 x 480 touchscreen with anti-gloss and oleophobic coatings, as we saw in the Cadillac ATS last year. However, the ATS's LCD sub display in the driver's binnacle has been replaced with a huge, 12-inch 1280 x 480 cluster display, capable of showing multiple instrument layouts and even 3D graphics of the car which can be scrolled through using wheel-mounted controls. It's all driven by a tri-core ARM11 processor running Cadillac's proprietary Linux OS.
The only visible sign of that underlying tech that GM wants drivers to see, though, is a smooth and responsive interface. It's still a work-in-progress, Reuss tells us, but it's one the car company is committed to: making its car's controls just as tactile and efficient as analog would be, while also having the flexibility benefits being digital brings. "Things we're working on to make them perfect is the feedback and latency of something so simple as a volume control," he says, "so we'll work to perfect that, but the use and layout of it is spot-on, so we're committed to that."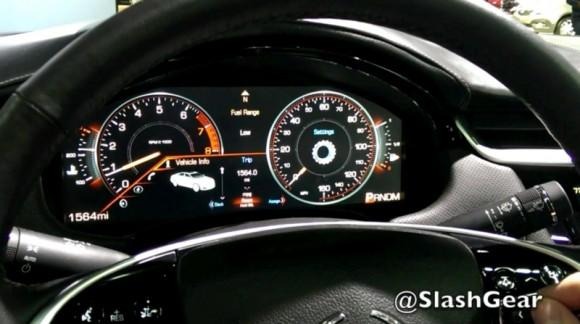 If the proof of the pudding is in the eating (or, in this case, how many drivers aren't punching their dashboards in confusion), the GM President says the response – even from those who might traditionally be considered more tech-averse – has been positive. "While the demographic for Cadillac may not be the very youngest car-buying population, our population is currently changed by the use of those devices no matter what your generation is" he argues. "You immediately understand what [CUE] is and how to use it, so we've had very little feedback that that's a problem; very little from the CUE system in both the XTS and ATS."
Next up is third party developers wading in, as GM throws open its In-Vehicle APIs and invites coders to cook up new functionality and features based on having core access to the infotainment stack. Alongside that, there's an official plan for "agility and capability" over the next decade, Reuss says, though he also points out that consumer demands more than anything might well shape what car dashboards look like and deliver in tomorrow's models.
"I don't know how it's going to evolve, and that's exciting to me" Reuss concluded. "It's sort of an open world of possibilities for it, and our job is to provide those open world of possibilities enabling people's lives to be easier, to provide new advantages to buy a GM car, and to provide a user-interface that's extremely safe, and easy to use, and very consistent."