2014 Corvette Stingray: GM talks authentic design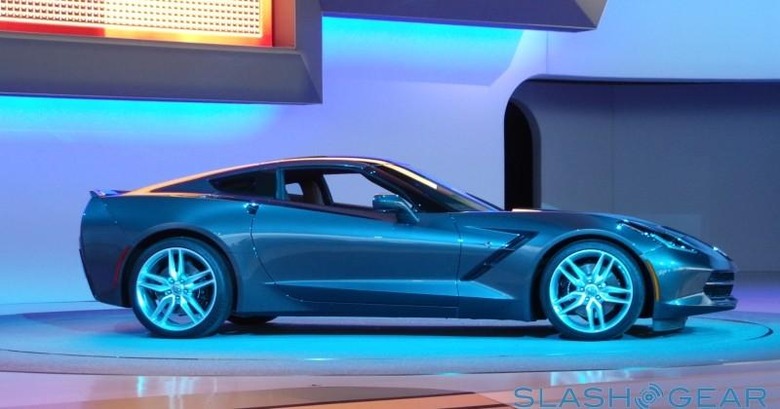 The opportunity to design a new, next-generation Corvette doesn't come along too often, particularly when it's the iconic Stingray, and so GM has wasted no chances in putting together a car that demands performance benefits from every aesthetic decision. SlashGear caught up with GM at the New York International Auto Show to take a look at the 2014 Chevrolet Corvette Stingray coupe and convertible and talk authentic design – inside and out – with the execs responsible for guiding the changes in the new model.
From the outside it's clearly a Corvette at first glance, but take a longer look and the evolution of the design becomes clear. The 2014 car is 4mm lower than before, as well as being wider and 15mm longer; the wheelbase has increased by an inch, pushing the front wheels forward and giving the car a better footprint and handling, in addition to making it look more composed and aggressive. New lights front and rear, as well as a new collection of vents, perforate the bodywork, which has a new blend of creases and sweep-lines.
Importantly, the design elements aren't done solely for the sake of appearance, but also invariably serve a performance element too. "You want a compelling design, you want a strong aesthetic" GM's Kirk Bennion, Exterior Design Manager for Corvette, told us. "We try to do things where, okay, this gives us a new look that we like, we think it's attractive, but if we can also benefit with some functionality then it's a double win. We like to do that with Corvette especially."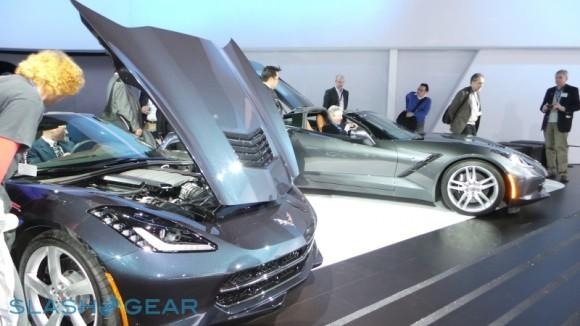 So, the front grill and the hood vents aren't just for show, but sit at either end of a new, ducted extractor that feeds cool air across the radiator. That itself has taken on a whole new angle: where Corvette radiators of old went from upright to leaning back, Bennion explained, the 2014 model actually tips its radiator forward, into the flow of air. Each of the grill blades in the hood sits at its own, specific angle for the best flow.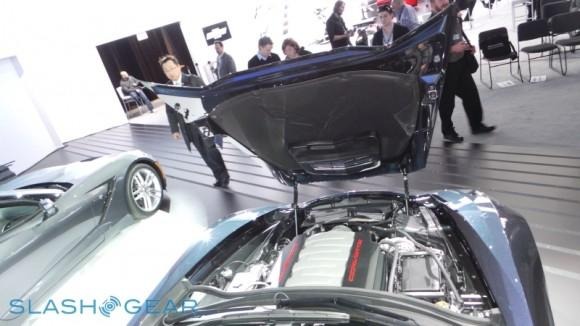 That's not the only trick ducting. The 2014 Stingray sees the return of intakes on top of the rear arches, sitting on the long swathe line that runs from the back of the car, down the shoulder-line, and blends in interesting angles with the hood and arch creases. They're not for cooling the brakes, but instead are the rear trans and diff coolers, which are just visible through the upright outlet vents at the back of the car. They also saw GM's engineers take on the challenge of delivering a huge eight cubic meters of air per minute through each intake, while simultaneously avoiding debris. Side vents – finished in carbon-fiber – are also fully-functional, delivering a reduction in drag as well as cooling benefits.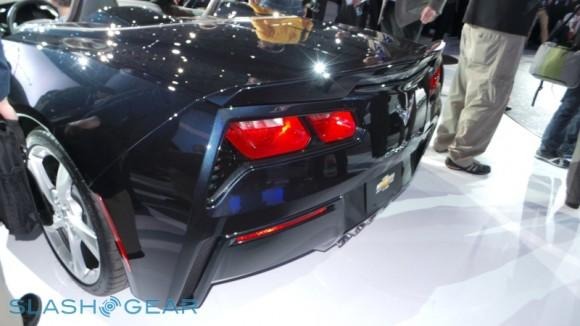 Like many other recent cars, the 2014 Corvette Stingray makes ample use of LED lighting; however, GM has taken a few new approaches in how it implements those lamps. Up front, there's a new single, bi-functional headlamp with daytime running lights replacing separate fog lamps. That's something we've seen on models from Audi and others, but GM has played with the positioning and angles of the LEDs to make the lighting more consistent.
"We wanted to avoid 'carnival light' spacing" Bannion told us, referring to the tendency for LED lamps to look like a string of individual bulbs rather than a solid bar of light. "We really worked hard to keep the LEDs close together, to diffuse the light." To do that, the LEDs are actually downward-firing, into a diffuser lens that smooths out the individual brightness of each into a consistent whole. They're set next to a stack of amber LEDs for the turn signals, which also blend together into a solid lozenge of light, and everything is embedded into a black stainless steel assembly which creates interesting reflections depending on the angle from which you're looking at the car.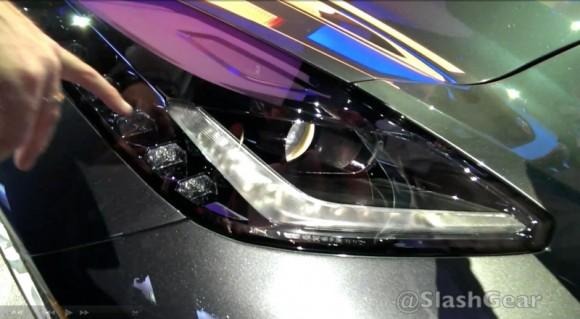 That same attention to detail is continued at the rear of the car. GM has stuck with the dual-element tail lamps that have been a feature of Corvettes since 1961, but it has used the same downward-firing LED technology as on the headlamps for some extra visual flourish. "The technology here again is indirect LEDs, so the LEDs are horizontal, they're throwing the light down into the cavity, for even-lit appearance. They kinda avoid having the spottiness" Bannion explained. "Also, with the lamps being three-dimensional, is very new for the car as well."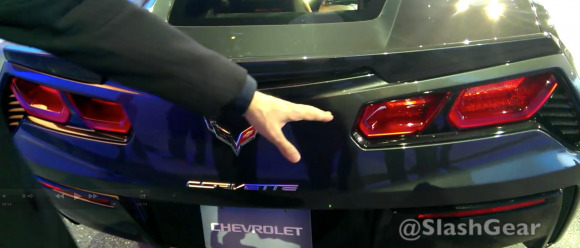 The result is a car that treads the line between classic and contemporary, just as GM expects a Corvette Stingray buyer to demand. "They're still dual-almond shape, but we really felt we needed to break tradition, have a car that's more distinctive, more unique at night" Bannion pointed out. "There's a lot going on with lighting technology right now, and you can see manufacturers are doing more and more to have their cars be seen, or be seen as exclusive with the night-time signature."
It's when you're inside that the changes are most obvious, however, particularly if you've ever found yourself behind the wheel of a previous-gen Corvette. The dashboard and seats are less of an afterthought compared to the exterior, Helen Emsley, Interior Design Director for Performance Cars at GM, told us. So, the 2014 dash is more like a jet-fighter cockpit, surrounding the driver in an arc of controls and gages. Those gages have been redesigned for the new Corvette Stingray, with a choice of digital and analog views in the 8-inch instrument binnacle, and variations according to which of the three driving modes – touring, sport, and track – the car is currently set to.
Just as the exterior design has sought to make aesthetic details serve a functional purpose, so part of Emsley's focus with the new Corvette has been to make the interior more authentic. "This is a Corvette. If it's metal, if it's aluminum, it should be real – it is real aluminum. If it's carbon fiber, it's real carbon fiber," she explained to us. "It was very important to us that we show real, authentic materials."
That approach has continued over to the passenger seat, with Emsley saying that GM wanted to make the 2014 Corvette Stingray just as much of an experience for the person not driving. So, the "co-driver" gets a separate interior, in Emsley's words, a second cockpit arch with their own speed gage and heating controls. Materials all round have taken a step up in quality, with hard surfaces replaced by soft-finish plastics and contrast-stitched leather. In fact, GM has even cooked up two new, exclusive leather colors for the Corvette: black may well be the most popular, Emsley concedes, but the new beige and new red finishes are expected to draw some buyer attention, along with the existing black & grey and black & dark brown options.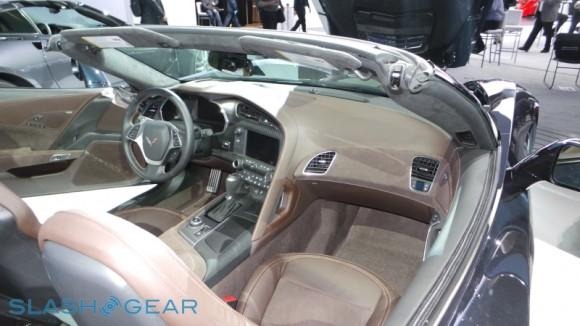 Everywhere you look there are thoughtful design decisions, showing just how much consideration the GM team has put into the interior of the new car. Recognizing that many Corvette buyers want to replace the standard seats with more sports-focused alternatives, Emsley points out, GM will offer a choice of two styles with the 2014 model: either the normal touring seats, or special sports seats as a cost-option. More mundane – but no less important – considerations like storage have been addressed in clever ways, too, like a sizeable storage cubby hidden behind an 8-inch motorized drop-down infotainment display.
The Stingray convertible – which made its North American debut at the New York show – is certainly beautiful, but those who opt for the coupe also get a choice of roofs. Three targa tops are on offer: the standard, carbon-fiber roof which is painted to match the body; a premium version which is left in exposed carbon; and a polycarbonate version which is translucent, allowing more light into the cockpit. There'll also be various body/performance packages, such as the Z51 with its tall rear spoiler – helping reduce lift – and larger wheels.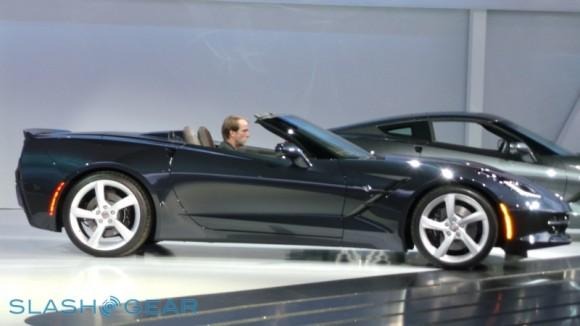 All in, it's a suitably considered approach to what's undoubtedly a muscle-car icon. "When you think of the opportunity, every time you get to do a new next-generation Corvette, you realize that there has to be certain calculated moves in order for it to be seen as the next-generation, and that's why we felt we needed to make some of these changes" exterior design chief Bannion told us. Throw in a new LT1 6.2L V8 engine capable of 450 HP and 450 kb-ft of torque, and you've got performance that matches the great looks, too. The new 2014 Chevrolet Corvette Stingray will go on sale this fall, in both coupe and convertible versions.