SlashGear 101: What is Apple Music?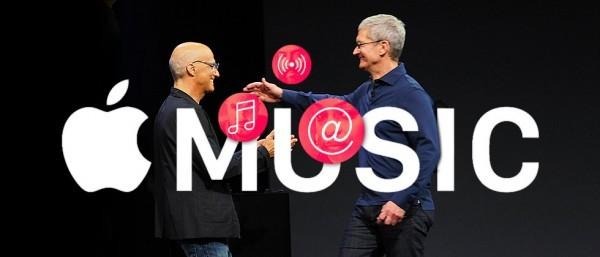 Apple Music is to streaming music what the iPhone was to smartphones – or at least that's what Apple would like you to believe. When introducing this service this week, former head of Beats, now Apple man Jimmy Iovine referenced the original Steve Jobs keynote reveal of the iPhone, here suggesting, "Apple Music is three things, a revolutionary music service... the first ever live, 24-hour, worldwide radio station... [and] Connect, a fantastic way for new and even unsigned artists to connect directly with music lovers anywhere."
Music
Apple Music's most obvious key is their streaming music collection. Users will be able to play any song in the service's library just as they would in competing services – services like Tidal or Spotify. Apple suggests they'll have "millions" of songs ready for streaming when Music launches.
Apple Music will launch on 6.30.15.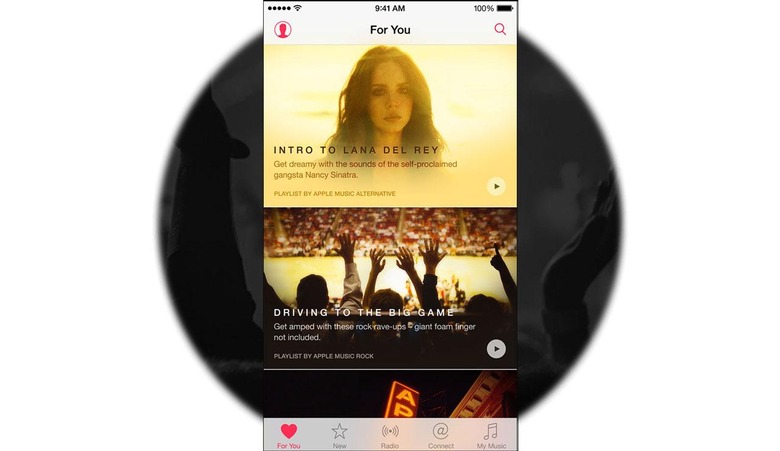 Users are also able to upload music from their own collection and stream anywhere.
Uploading music to stream to Apple Music is just one of several services we've seen in earlier iterations from Apple before. Consider the following:
• Genius
Inside the service "hearting" elements plays a big role. Users can "heart" albums, tracks, musicians, and status updates from artists. Though these hearts, new tracks, playlists, and artists will be suggested to users intelligently.
There's a "For You" tab that collects everything the user might be interested in, all made possible with the user's hearts.

There's a New tab for new music. This tab delivers every new track and album. Curated for the masses, not just the user.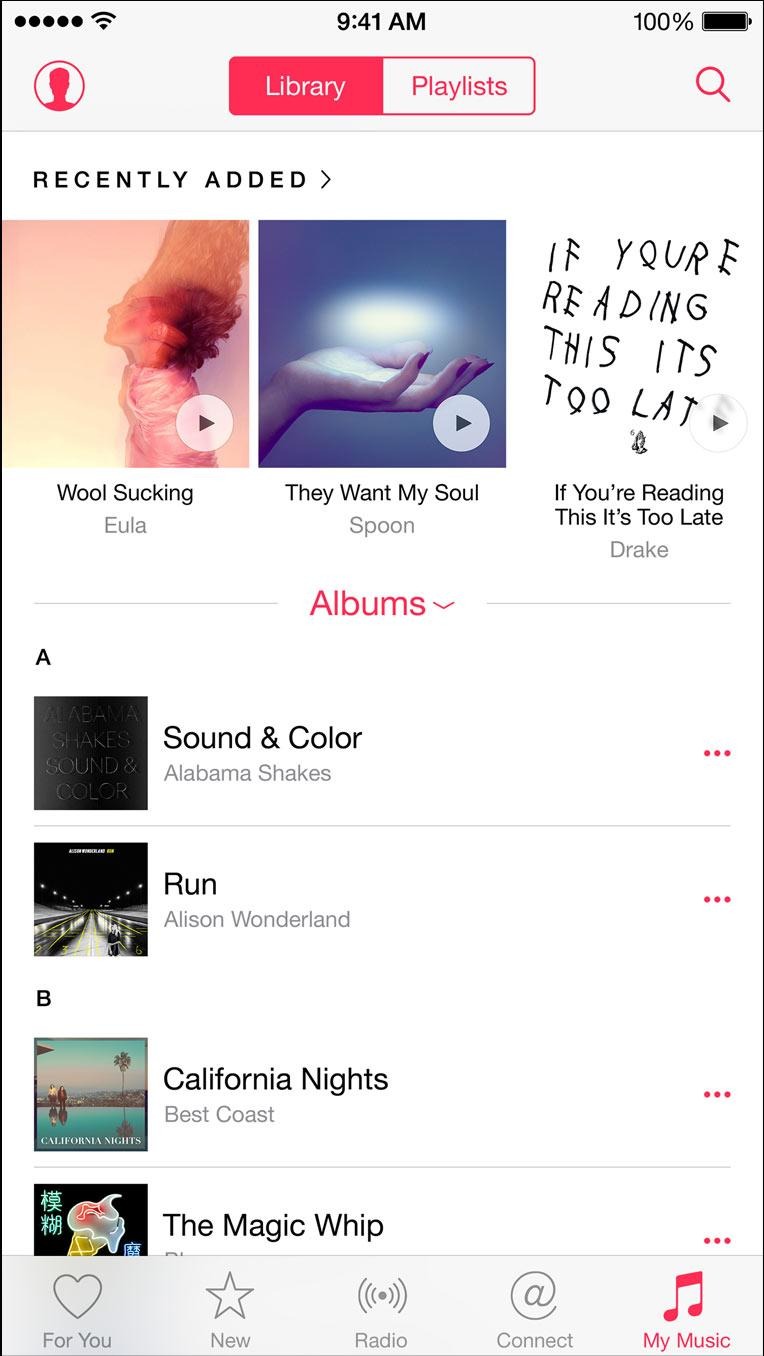 My Music is the last tab to the right in this Apple Music app, showing the music users have either decided to add to a user's playlists online or have uploaded themselves. Users organize this area manually.
The users My Music tab has a Library and a Playlists section, organized by Albums, Artists, and Genres, with a list of Recently Added albums at the top.
Playlists are made up of streaming music through Apple Music's library and the user's uploaded music.
This is the place you're able to make your music able to be played offline, as well.
In addition to online music, users can hit the "make available offline" button for no-internet-listening. Only ONE device connected to an account can make use of this offline music feature, though five devices can be connected to a single Apple Music account.
Apple Music will be streaming at 256 kbps. This compares to Spotify's 320 kbps, Beats Music's 320 kbps, and Tidal's options between 320 kbps or 1411 kbps (lossless.)
Connect
This is a place where artists share updates with fans. It's basically "mini mailing list," according to Chris Davies in his Apple Music first hands-on look.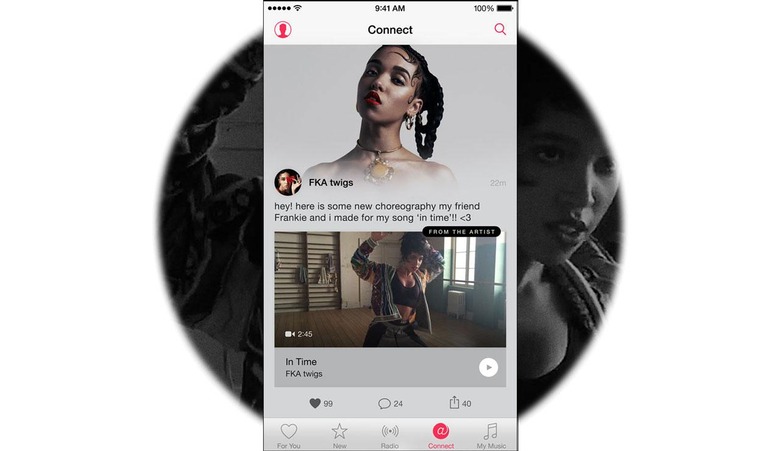 Connect includes status updates, audio clips, videos, and photos. Basically whatever they want. Sharing, hearing, and commenting happens here as well.
Sharing a piece of content here can be embedded in an email or it can link back to the Apple Music app. Some content requires that you be subscribed to Apple Music, some content does not.
Success in this Connect arena really, truly depends on artist involvement. If artists jump onboard and update with exclusive bits of information on the regular, Apple will have a winning service – in this arena, anyway.
Radio
Radio is a collection of internet-based radio stations. The first "worldwide, always on" radio station here is Apple's own flagship "Beats 1", with DJs including Zane Lowe in Los Angeles, Ebro Darden in New York, and Julie Adenuga in London.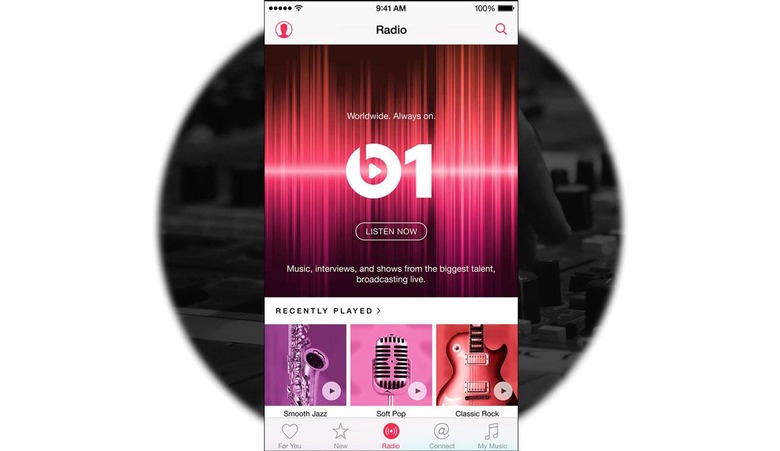 Users are able to play radio stations as easy – or indeed easier – than they were able to in iTunes, and the search function is ready to roll right off the bat.
We'll expect Apple to continue to collect DJs from around the world for their online radio service and stations. They'll continue to host radio stations online from around the world, and in all likelihood will encourage new services to start.
Devices
Apple Music will work on the iPhone, iPad, and MacBook. There'll also be an Apple Music app – at least a controller – on the Apple Watch.
Apple Music will also exist on Windows PCs and Android devices. No minimum requirements for Android devices has yet been shared, but you'll almost certainly be good to go if you bought your (new) device within the last couple of years.
Costs and Release
Apple Music will come in at $9.99 USD per individual user or $14.99 USD for up to six users connected through one single iCloud Family Account.
Apple Music will also be released with an optional three month free trial.
Again, this will all be launching on the 30th of June, 2015, all around the world at once.
Have a peek at our Apple Music timeline below and stick around our Apple Music tag portal from now on out for updates of all sorts.
BONUS: Take a look at the rest of our SlashGear 101 series for more lessons in easy understanding.