You couldn't move this past week for talk on Apple's new hardware for WWDC, with the main attention centering on the MacBook Pro with Retina Display and the 2012 MacBook Air. Both citing portability as key to their ethos, and both grabbing Intel's newest third-generation Core processors to back that up with power, each makes a compelling case to be included in your briefcase or bag. But which new notebook is the tastiest Apple for you? Read on for everything you need to know.
Who's the MacBook Air for?
Apple avoided the netbook market but instead made a strong play in ultraportables, phasing out its cheapest MacBook range in favor of the slimline MacBook Air line-up. The 11.6-inch model, from $999, has the humblest specifications – you have to squeeze your data into just 64GB of drive space in the cheapest unit – but a combination of Ivy Bridge processors, a standard RAM bump to 4GB in 2012, and the use of speedy flash storage not sluggish traditional hard-drives keeps things moving with alacrity. Meanwhile, the 13.3-inch version, from $1,199, offers more screen space for those willing to accommodate a little extra heft.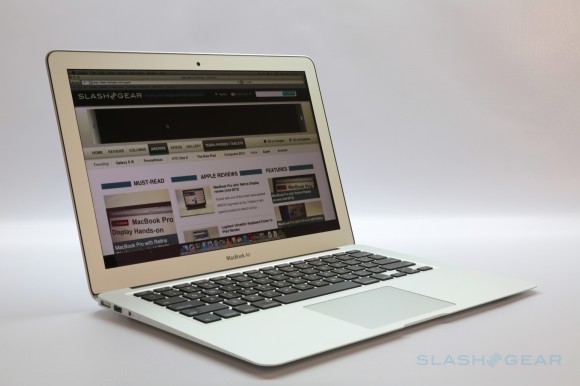 Already, the Air has found itself a loyal and loving audience with road warriors. Its sturdy unibody aluminum construction and light weight – along with a battery that, in 2012 form, can be coaxed into delivering Apple's promised 7hrs from the 13-inch version – makes it ideal for anybody who spends their time on the move and in their browser or Office apps, tasks the specifications are more than capable of handling.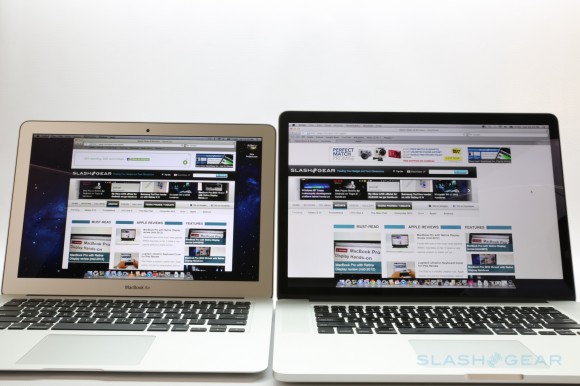 The fly in the ointment is graphics. Space and power constraints mean the Air is left with only Intel HD Graphics 4000 to keep the pixels crunching. You can plug in a single external display, but not two like with Apple's more powerful – and expensive – notebooks, and if you're looking to do any serious gaming then the lack of a discrete GPU is going to seriously hold you back.
Why should I opt for the MacBook Pro with Retina Display?
If the MacBook Air is a compromise in portability and performance to meet a price, then the MacBook Pro with Retina Display skews that balance to emphasize portability and performance at the cost of a hefty price. Starting at $2,199, you could have two Airs for the same money, though the specifications reflect that hefty step up.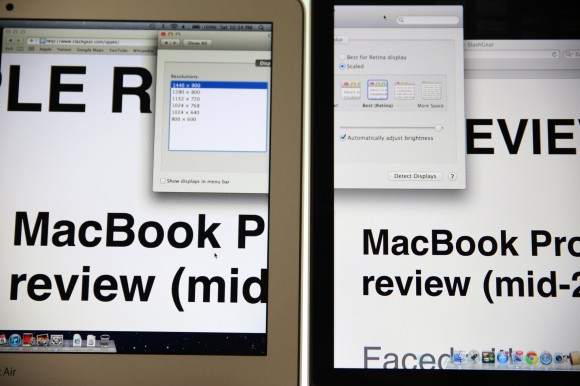 [aquote]If you work on high-res graphics or Full HD video the Retina Display will make a significant difference[/aquote]
The instant appeal – so important it gets a specific mention in the unwieldy name – is the Retina Display. Apple's panel offers a total of 2880 x 1800 resolution, but according to the settings can resemble a regular MacBook Pro display but with deliciously smooth icons, graphics and text, or even replicate a 1080p panel with up to a fourfold increase in detail over your HDTV. If you work on high-res graphics in Photoshop or process Full HD video – or, indeed, if you create new iPad apps, and need to see them full-resolution in their entirety – then the Retina Display will make a significant difference to your daily use.
However, by making some decisions about what to leave out of the MacBook Pro with Retina Display, not just what to include, Apple has produced its next-generation of Pro notebooks. The optical drive is gone, with the ensuing space used to slim down the chassis as a whole and tweak the ports. There are two Thunderbolt ports now, not one, though you lose the gigabit ethernet and will need a Thuderbolt-to-Ethernet adapter ($29) if you want to get online the wired way.
More shocking – for Apple – is the concession to include both USB 3.0 and HDMI. Neither are connections that Apple showed any inclination of adopting on its notebooks, despite frequent requests. A total of two external screens can be hooked up – though neither can actually be driven at Retina Display resolution – and of course Thunderbolt can be daisy-chained for extra peripherals.
I do frequent video editing, which should I go for?
The obvious option is the Retina MacBook Pro. It has both the Intel HD Graphics 4000 of the Air and a discrete NVIDIA GeForce GT 650M GPU with 1GB of its own memory, automatically switching between the two depending on graphical load. That means plenty of power for crunching through high-definition video or, indeed, playing the odd game.
Still, if you're a casual video editor then there's a workaround you could consider. We know more than a few technology writers – some on the SlashGear team included – who use an Elgato Turbo.264 HD Video Encoder dongle with the MacBook Air to speed up the process of exporting HD video from iMovie and other apps. In effect an external GPU that you plug into a USB port, it can near-halve the processing time and, at $99.95, is a darn sight cheaper than stepping up from the MacBook Air to the MacBook Pro with Retina Display.
What about the regular MacBook Pro?
Apple has left MacBook Pro buyers with a choice: the new, Retina Display equipped model with its thinner chassis and extra ports, or the previous design of the Pro, with the same Ivy Bridge Core i7 options but fewer ports, a bulkier design and the inclusion of a DVD burner. If you want a 13-inch MacBook Pro then the old design is your only choice – right now there's no 13-inch Retina model – and similarly both the 13- and 15-inch original versions are the cheaper starting points to the flagship range.
[aquote]The "old school" feel isn't limited to the optical drive[/aquote]
The "old school" feel isn't limited to the optical drive, however. As well as a "regular" display – 1280 x 800 or 1440 x 900, depending on size – the storage uses an old-fashioned HDD too, from 500GB. Platter-based drives have the advantage in capacity and price, and are definitely cheaper per-gigabyte than flash storage as Apple uses in both the Air and the Pro with Retina Display, but they're also slower and more susceptible to bumps and knocks.
In short, if you still make regular use of an optical drive, with CDs or DVDs, or if you want to store a significant quantity of data on your notebook itself (and don't have the budget for a vast SSD) then the regular MacBook Pro is worth considering.
I've heard bad things about repairability…
We left out one final, very significant difference between the two MacBook Pro variants in the last section: how easy they make it to repair or replace internal components. Both the MacBook Air and the MacBook Pro with Retina Display sacrifice such factors in favor of reducing bulk.
So, both has memory soldered directly to the mainboard, rather than added using a more traditional clip like the regular MacBook Pro, meaning that if you don't opt for Apple's offer of a RAM upgrade at point of order, you're stuck. Similarly, the flash storage – though removable – is of a proprietary design and, even, different between Air and Pro models. Don't expect to simply drop in a newer, bigger SSD if you have an urge for more space.
Those are the common planned upgrades; there's also the matter of repair. In the new Pro, Apple has opted to glue down the battery packs – sandwiching in the trackpad cable in the process – and the vast majority of the components are unique to the new Retina Display model. Even that eye-catching screen itself could present a real headache should something go wrong. Apple shaved away bulk by bonding together the glass and aluminum, meaning that any breakages will probably demand the whole lid be replaced.
The questions, then, are how many people actively upgrade their notebook and how many attempt to repair it themselves. Apple will undoubtedly be watching the buying patterns for the old and new designs very closely, to see what compromises the public is willing to make.
I just want a cheap Mac notebook, which is best?
If price is your sole guiding star, and you're insisting on an Apple logo on your new notebook, the MacBook Air is the cheapest step onto the ladder. it's priced from $999 for the 11.6-inch model; the 13-inch starts at $1,199, which is coincidentally the same as the entry-level 13-inch MacBook Pro (the last-gen design with an optical drive, not a new Retina Display version).
[aquote]The MacBook Air is now the cheapest step on the Apple ladder[/aquote]
Deciding between those two depends on what you plan on doing with your laptop and how much data you think you'll be saving on it. The Air has a slower, 1.8GHz processor, versus the 2.5GHz Core i5 in the Pro; the Air also gets a 128GB SSD, faster but smaller than the 500GB traditional hard-drive in the Pro. Both have 4GB of memory and Intel HD Graphics 4000, along with a battery rated for up to 7hrs. The Air is slimmer, lighter and more portable, while the Pro has the benefit of a built-in optical drive.
Of course, it's also worth considering Apple's refurbished MacBook range, available direct through the company's online store. Offers there vary according to what stock Apple has on hand – all wiped clean, tided up and sold with a warranty – but at time of writing there are 11.6-inch 2011 MacBook Air models available from $759 and 13.3-inch 2011 MacBook Pro models from $929. They're roughly 15-percent savings from list prices.
Wrap-up
If it's a case of "needs" not "wants" then, for most users, the MacBook Air will be more than sufficient to do all they ask from a computer. The ultraportable has set the benchmark by which rivals are judged, and though we'd love some extra graphical grunt, the Ivy Bridge upgrade has kept the Air ticking along nicely for most of the general use-cases, albeit perhaps with some well-considered accessories.
Tech purchases don't just come down to pure need, however, and there's little denying the MacBook Pro with Retina Display's capacity to inspire lust and admiration. It's an expensive indulgence but, if you're a video or photo editing pro, then there's undoubtedly huge benefits in getting more detail on your screen at any one time. It's also worth noting that, if you spec out the ostensibly cheaper last-gen design MacBook Pro to the same memory and storage, it's actually several hundred dollars more than its Retina Display cousin.
If you can afford it – and you can accept that you're unlikely to be tinkering under the hood any time soon – then the Retina Pro is a hugely potent machine with plenty of strengths. We've laid them all out, along with benchmarks, in the full SlashGear review. For the rest of us, the 2012 MacBook Air is a viable alternative while we wait for Apple to broaden its Retina applications.