MacBook Air 13-inch Review (mid-2012)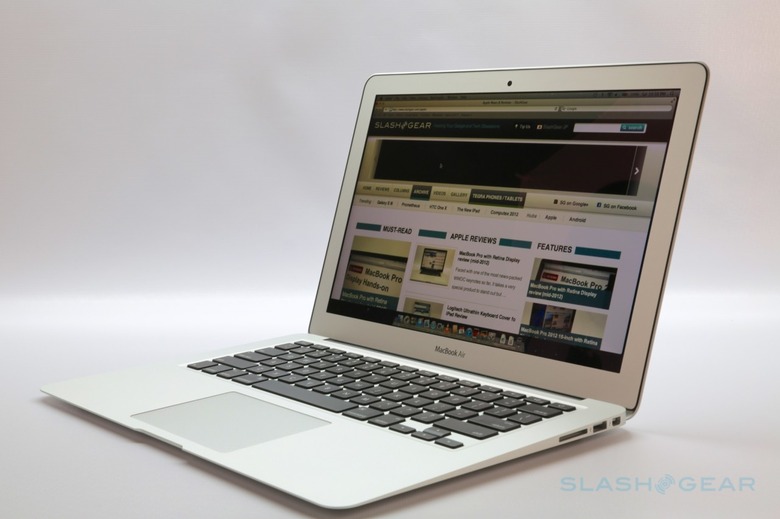 Apple's MacBook Air may have fallen into the shadow of the new MacBook Pro with Retina Display at their WWDC 2012 launch this past week, but the updated ultraportable has plenty going for it. A proven design favorite, and undoubtedly the inspiration for a legion of Windows-powered ultrabooks, the MacBook Air now gets a fresh batch of processors in the shape of Intel's latest Ivy Bridge chips, along with a general refresh to the spec sheet. Is that enough to keep the MacBook Air at the top of the ultraportable tree? Read on for the full SlashGear review.
Design
Apple saved its design news for the new MacBook Pro with Retina Display, and outwardly there's almost nothing to distinguish this updated MacBook Air from its predecessor. That's arguably no bad thing, though; given the Air is still one of the more distinctive and good-looking ultraportables out there.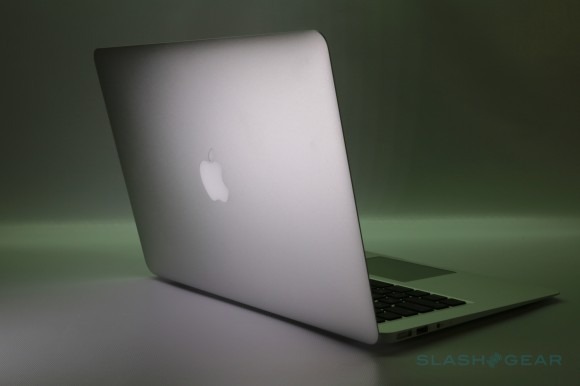 The wedge-profile remains, with ports split between the left and right edges. Our 13-inch review model has power, a USB 3.0, headphone socket and microphone on the left side and Thunderbolt, a second USB 3.0 and an SDXC card slot on the right; the 11-inch MacBook Air lacks the SDXC slot.

The one noticeable change from the 2011 Air is the power connector, with the 2012 model using the same MagSafe 2 port – slimmer and wider – as the new MacBook Air. That means you'll need a $10 adapter to use older power supplies with the new notebook.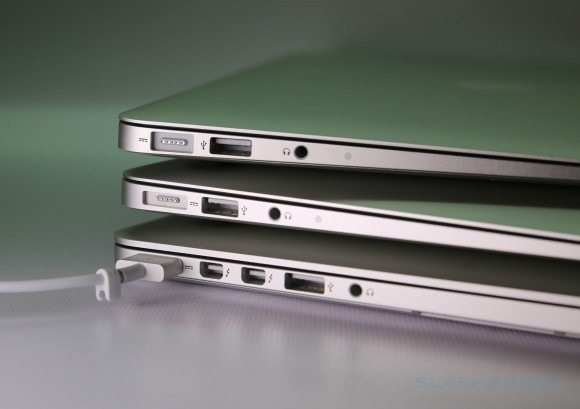 Open the lid and there's the same bare display, with no glass cover-layer on top, as well as a backlit keyboard and large mutlitouch trackpad. At 0.68-inches at its thickest when closed, and 2.96 pounds (2.38 pounds for the 11-inch), the Air remains one of the lightest and most portable notebooks on the market.
Specifications
With the exterior for the most part unchanged, it's the internal components in the 2012 MacBook Air that have seen the biggest changes. As with the new MacBook Pro line-up, Apple has switched to Intel's 3rd-Gen Core processor range, with the 11-inch starting out with a 1.7GHz dualcore Core i5 (with up to 2.6GHz Turbo Boost) and the 13-inch starting with a slightly faster 1.8GHz dualcore Core i5 (up to 2.8GHz Turbo Boost). Both have a Core i7 upgrade option, a 2.0GHz dualcore Core i7 with up to 3.2GHz Turbo Boost.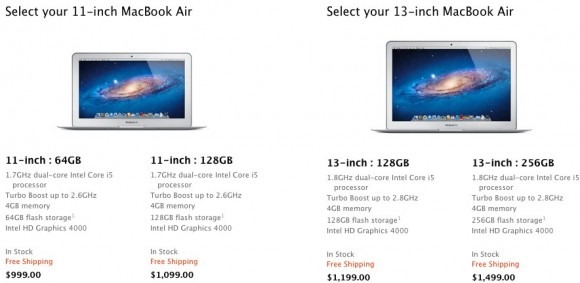 Each model uses Intel HD Graphics 4000, the onboard GPU paired with Ivy Bridge processors. Unlike the larger MacBook Pro there's no discrete graphics option, and you can only drive one external display, not two. For most mobile users that's probably an acceptable compromise in the name of portability and battery life, though if you plan on doing any HD video editing – or, indeed, gaming – then the limitations of the HD Graphics 4000 chipset will soon make themselves clear.
Otherwise there's 4GB of 1600MHz DDR3L memory as standard – double that of the 2011 model – with 8GB a $100 upgrade. Storage starts at 64GB of flash memory on the entry-level 11-inch and 128GB on the entry-level 13-inch, with the option to double that on each for $100 or $300 respectively. A 512GB upgrade is also on offer, though it's expensive at $500 or more. It's worth bearing in mind that, thanks to the soldered RAM and the proprietary flash storage system, upgrading your MacBook Air is near-impossible, so it pays to make sure you're happy with the specifications when you first order.
Memory benchmark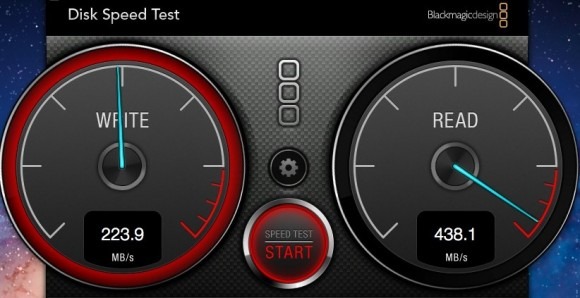 The other key change over the last-gen Air is the new webcam, stepping up to a FaceTime HD camera running at 720p 1280 x 720 resolution. The 11-inch Air runs at 1366 x 768 resolution, a good choice given the size of the panel, while the 13-inch comes in at 1440 x 900. There's no word on when – or indeed if – we'll see Retina Display versions of the Air, nor when Apple might switch to IPS panels which have broader viewing angles.
Performance and Software
Performance in an ultraportable form-factor is always going to be a compromise with power consumption and portability, but Apple and Intel are confident that Ivy Bridge strikes the best balance yet. Our review unit runs the 1.8GHz dualcore Core i5-3427U with the standard 4GB of memory.
[sgbenchmark id=161 show=system]
In Geekbench, a synthetic test of processor and memory performance, the new MacBook Air scored 6,743. That's more than 1,000 points higher than the 2011 1.7GHz Core i5 also with 4GB of memory and, perhaps even more interesting, 400 points more than the 2010 MacBook Pro running a Core i7 processor.
MacBook Air 2012
[sgbenchmark id=161 show=score]
MacBook Air 2011
[sgbenchmark id=137 show=score]
We then turned to Cinebench, a test of 3D rendering and OpenGL that demands the best of both processor and graphics components. The MacBook Air scored 2.56 points for CPU and 16.41 fps for OpenGL, unsurprisingly lower than machines with discrete GPUs. Still, the flash storage and high-speed low-voltage RAM showed its worth in xbench testing, with the Air scoring 347.67: that's just 143 points short of the new MacBook Pro with Retina Display.
In practical terms, our usual load of multiple browser windows (each with many tabs), email app, multimedia playback and image editing ran with no issues on the updated Air. Intel quotes a 60-percent improvement in graphics performance from the new GPU, and we did find iMovie exported HD video clips faster than the last-gen model. It took 15-minutes and 28-seconds to import an 8-minute long 1080p video while exporting the same video took 33-minutes and 35-seconds in our testing. In comparison to the new MacBook Pro Retina display, importing the same video took 12-minutes and 5-seconds and exporting only took 20-minutes and 48-seconds. That being said, if you're planning on doing a significant amount of video processing, we recommend looking to a notebook with a discrete GPU (we highly recommend the new MacBook Pro with Retina display) or alternatively equipping the Air with an external video processing dongle such as from Elgato.
At launch – and for the next few weeks – the new MacBook Air runs OS X Lion. However, buyers are guaranteed a free update to OS X Mountain Lion when it launches in July.
Battery
Apple quotes the same 7hr runtime for the 13-inch MacBook Air as before, or up to 5hrs from the smaller 11-inch version. In our testing, with brightness set to 50-percent and WiFi and Bluetooth turned on, continuous browsing (loop test), we were able to stream a 2-hour long video once while playing a looped video for a total of 6-hours and 18-minutes before the battery ran out.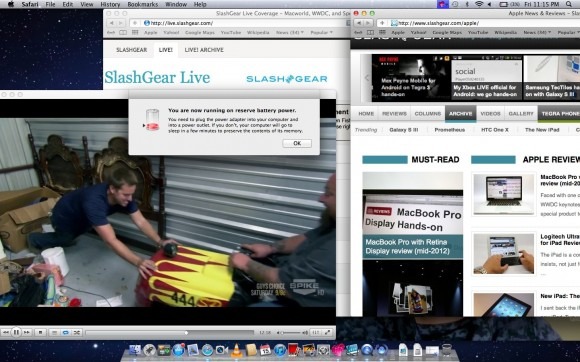 Wrap-Up
There will undoubtedly be some disappointed that the Retina Display hasn't made it to the MacBook Air range yet. It's true that the massively pixel-dense display is one of our favorite features of the new MacBook Pro, but for the moment it's an expensive addition. In contrast, Apple has actually reduced the price of entry to the MacBook Air club, with the 11-inch starting at $999 and the 13-inch at $1,199.
That's no small achievement for a machine that delivers not only extreme portability but the sort of performance that, only two years ago, would've demanded a top-spec MacBook Pro. The addition of USB 3.0 and an HD webcam addresses two of the most common feature requests, and there's minimal impact on runtime despite the more powerful processors.
With the PC industry throwing every ultrabook it can come up with at the market in the hope of scoring a win, Apple has done exactly what it needs to with the MacBook Air. Faster, more flexible and cheaper, it presents the strongest challenge from an Air model to-date. That's certainly enough to leave it as our choice of ultraportable notebook. [Visit Apple for details and videos]