Sideways-on-ice Lucid Motors Air is best Lucid Motors Air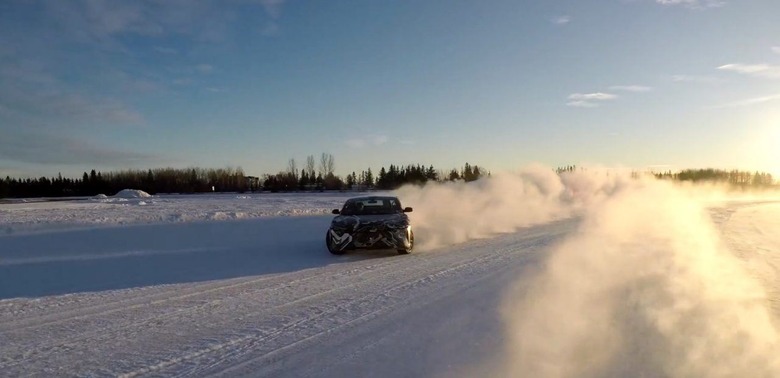 It's fair to say there are probably still more questions than answers about Lucid Motors' Air, but it's Friday so why not just watch it going sideways on ice instead. The work-in-progress electric car has headed off to northern Minnesota for winter testing, and while the automaker's primary concern is seeing how the EV powertrain and other systems hold up in -18 Fahrenheit temperatures, there's still some room for play. In the case of a 1,000 HP car, that means serious skidding.
Cold-weather testing is an (uncomfortable) fact of life for modern car development. In an electric vehicle's advantage, there are fewer moving parts to seize up than you'd find in the typical internal combustion engine. On the flip-side, however, batteries generally aren't all that receptive to sub-zero temperatures, which can have a significant impact on range.
For Lucid Motors, the particular focus this time around was how the Air handles and whether the brakes can keep up with the power. Low friction surfaces – including packed snow and polished ice – are an exaggerated example of conditions many drivers face for at least part of the year. The car needs to be able to handle sudden changes in friction from left to right, and its stability control, anti-lock braking, and traction control electronics must keep up.
In the Air's favor are its twin engine configuration. As we've seen from all-wheel drive Tesla Model S and Model X cars, an electric motor at the front and one at the back allows for all of the wheels to be driven. Lucid Motors combines precise control over pushing torque front and rear with brake-based torque vectoring: effectively, one of the wheels – usually the inside wheel in a cornering situation – is braked, to tighten up the turning ratio.
NOW READ: What you need to know about Lucid Motors' Air
Meanwhile there's active suspension, which allows the Air to adjust its damping in real-time. Although the car is targeting well-heeled luxury sedan buyers who might ordinarily be drawn to a Mercedes-Maybach or even a BMW M760i xDrive, it claims it still wants to deliver more of a connection to a driver who wants to make more spirited use of all that horsepower and instantaneous torque. "The driver should experience the subtle information being fed from the front tires to their fingers," the company says, "they should sense the car come alive and gently yaw under throttle mid-corner."
For the moment, though, the only drivers getting that sense are those on Lucid Motors' payroll. While reservations for the Lucid Air Launch Edition are open, the $160,000+ car isn't expected to reach production until 2018. More affordable versions – with less horsepower but a price tag more in the region of $100k – will follow on after that.
MORE Lucid Motors