The 4 key things to know about Lucid Motors' Air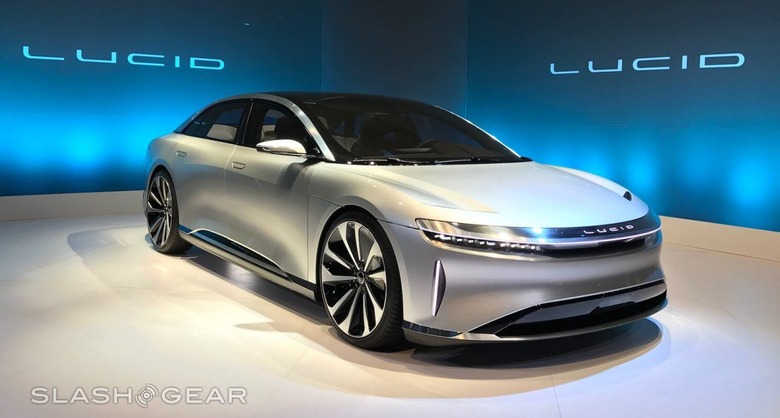 Launching an electric car company seems like the go-to folly of today's billionaires, but Lucid Motors wants to be more than just a vanity project of its well-heeled backers. The California-based automaker took the wraps off its first model, the Air, this week, promising Tesla-beating range, autonomous driving, and more gadgetry and luxury than a Mercedes or an Audi. Big words, certainly, and even with some industry heavyweights on the staff, it's no small challenge. Here's what you need to know.
It's not a Tesla competitor, at least so Lucid insists
Any new electric car is going to get compared to what Tesla is doing. Elon Musk's EV business has gone from electric punchline to a real contender in the auto industry, and even if the company has struggled to turn a profit, it's undoubtedly responsible for lighting a fire under more traditional automakers. Electrification was a footnote until the Model S – and its vocal fans – demonstrated there was an appetite for it.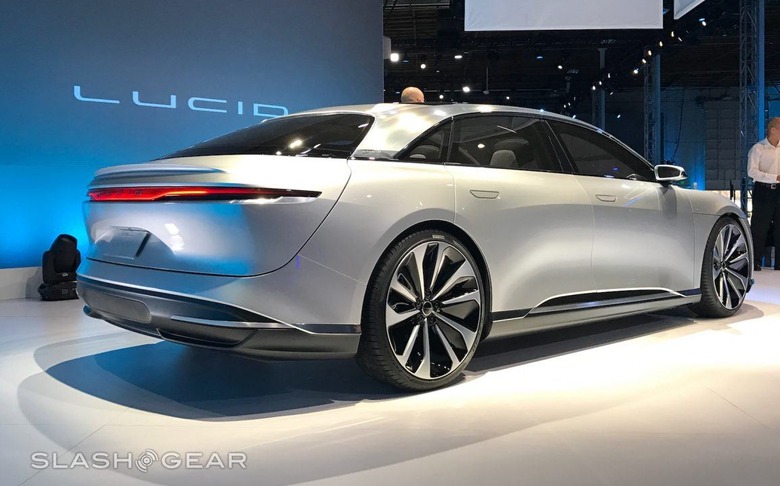 Even so, Lucid Motors' execs claim Tesla isn't the primary competition here. Though the Air may be a sedan, like the Model S, it's really intended as a rival to traditional luxury cars with gasoline or, at best, hybrid gas-electric powertrains from Audi, BMW, and Mercedes-Benz. Indeed, several times during the company's launch presentation yesterday, the Air was compared to what the E Class and S Class Mercedes offered.
Interior space is S Class-esque, Lucid says, but without the comparatively large external footprint. That's down to smaller E Class measurements, thanks in no small part to pushing the electric motors out to the edges of the car. However, inside the high-luxe accommodations are more akin to Mercedes' more expensive models, and intended to be a step up from the cabin of a Model S.
Lucid is claiming 400 mile range, but not straight away
At 400 miles, the Lucid Air would have one of the longest all-electric ranges of any EV on the market – or incoming over the next few years. Unfortunately, that battery option won't be available straight away. It's reliant on a 130 kilowatt hour pack which, though the automaker says is in the pipeline, won't be the launch version.
Instead, the first Air cars will have a 100 kilowatt hour pack. That'll be good for around 300 miles; still impressive, but a fairly large difference all the same. Lucid is getting its lithium-ion batteries from Samsung SDI, the two companies partnering to develop cells that are better able to handle fast charging without compromising on overall longevity.
Important stuff, yes, though it's not clear at this point how much the 130 kilowatt hour battery and its longer range will cost, versus the standard pack. Similarly, it's unknown whether Lucid will allow early-adopters to upgrade to its larger battery later on. Tesla, for instance, has in recent years offered a variety of Model S with the ability to "unlock" extra range by paying a one-time upgrade fee, but in that case the cars were fitted with larger batteries in the first place.
It'll be expensive - very expensive - at least initially
When you compare your new car to a luxury jet, nobody is going to assume it'll also have a bargain price tag. Even so, Lucid Motors is aiming not just at Tesla's Model S but higher still, nudging toward Mercedes-Maybach territory. Deposits are being taken from today, and you'll need deep pockets.
First will be the Lucid Air Launch Edition, the pinnacle of the fledgling automaker's cosseting. It'll have a final price around $160,000, and drivers wanting to add one to their fleet will need to cough up a $25,500 deposit to get their name on the list. It's the model that most embodies Lucid's luxe ambitions, though, complete with the jet-style independent twin reclining rear seats.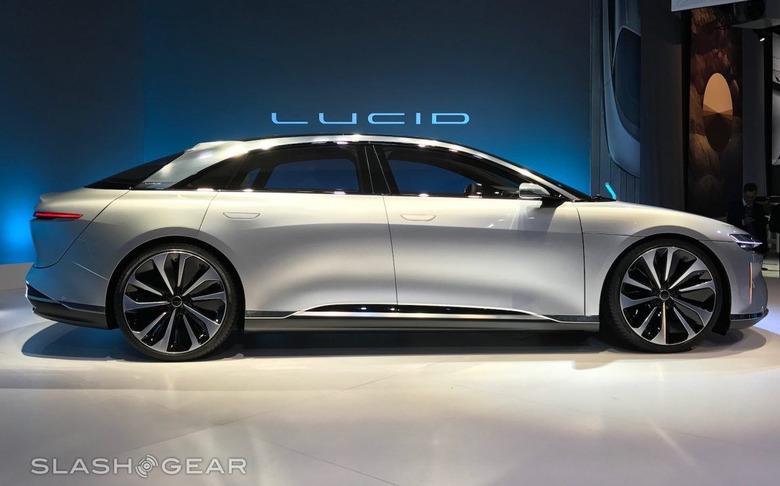 The "regular Lucid Air will be more manageable, at $100,000. That's still not cheap, no, but more akin to an S Class, 7 Series, or a high-spec Model S. It'll have a more affordable deposit, too, at $2,500, though you'll have to wait for Launch Edition drivers to get their cars first.
Later down the line, Lucid says, it'll offer Air variants more in the $65,000 bracket, at which point it'll be up against a high-end E Class. Almost certainly range, power, and luxury will be compromised in order to trim costs: don't expect the 1,000 horsepower and 2.5 second 0-60 mph time. Lucid hasn't said when it expects the cheaper models to arrive, either.
You'll have to wait a while to drive one
We're some way off the point where you could park an Air on your driveway. While the EV might be ready to show off to media – and prototypes ready for short test runs, as in the video below – there's a big difference between that and production cars arriving with customers. Lucid Motors says production should kick off in late 2018.
NOW READ: This is Lucid Motors' Air EV
That could well mean that, even if nothing slips between now and then – which is always an ambitious thing to assume in either automotive or tech – the first deliveries probably will happen in early 2019. Lucid's initial targets are conservative, at around 10,000 cars per year. That would put it roughly on a par with the output of something like Bentley.
However, in just 3-4 years it's aiming for as many as 60,000 cars per year. Considering Tesla, even after several years of Model S and more recently Model X production, currently makes around 50,000 cars per annum, that's more than ambitious. Lucid Motors is counting on high sticker prices to give it an edge, not to mention the cashflow needed to boost production.