Samsung's Galaxy Tab 10.1 cleared for sale in US after Apple arguments overruled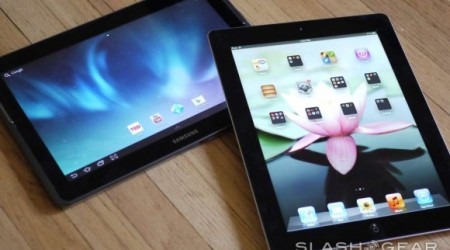 Samsung has squeezed its Galaxy Tab 10.1 out of a US sales ban, after a jury decision that the Android tablet did not, in fact, infringe any of Apple's patents. One of the earliest devices to be targeted by Apple, the Galaxy Tab 10.1 was barred from US sales in June of this year; however, the tablet was later found to not fall foul of the Cupertino firm's litigation, and Samsung demanded that sales be allowed to resume. Despite Apple arguments, Reuters reports, Judge Lucy Koh of the Northern District of California court agreed.
Apple's claim had been that Samsung infringed the D504,889 patent around the physical design of its tablets, and posted a $2.6m bond in order to enact the preliminary injunction it was granted against the Galaxy Tab 10.1. In the intervening period, several Samsung devices were found by a US jury to overstep the mark on various Apple patents, though the Galaxy Tab 10.1 was not among them.
Despite the 10.1 already having been superseded in Samsung's range, Apple was keen to have it kept from shelves. The company argued that no decision should be made until all of its motions had been reviewed, but Justice Koh was not convinced.
"The court does not agree with Apple that Samsung's motion for dissolution of the June 26 preliminary injunction cannot be fairly decided without resolving Apple's post-trial motions" she wrote in her statement on the decision.
Exactly what Samsung plans to do now that its older tablet is cleared for sale remains to be seen. The company had already begun offering the Galaxy Tab 10.1 2, the second-gen version, though likely has remaining stock of the first model and could simply seek to recoup some of the manufacturing investment in those devices.
"We are pleased with the court's action today," Samsung said in a statement on the ruling, "which vindicates our position that there was no infringement of Apple's design patent and that an injunction was not called for." Apple is yet to comment.
Samsung recently filed a motion to include the iPhone 5 in its ongoing case against Apple, alleging that the smartphone infringes eight patents it holds.