Samsung's Bixby Marketplace is here: 5 things you should know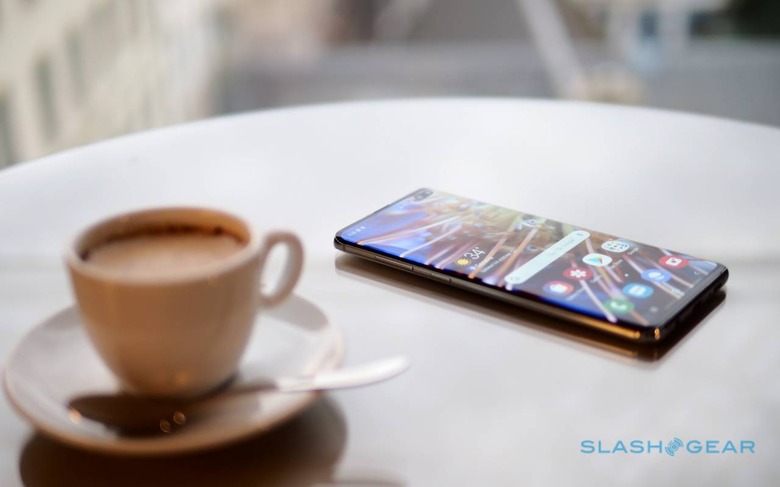 Samsung has thrown open the doors to its latest store, with the Bixby Marketplace hoping to replicate some of the success Amazon has had with Alexa skills. If you've not been keeping up with Bixby's evolution, though, you might not know much about the virtual assistant beyond it being triggered by a button you avoid pressing on your recent Galaxy smartphone.
It's fair to say that Samsung has faced no small amount of criticism for how it has pushed Bixby over the past few years. Launched alongside the Galaxy S8 and Galaxy S8+ back in 2017, the virtual assistant was Samsung's take on Apple's Siri, among other AIs.
Since then, Bixby has tried to muscle in elsewhere in Samsung's range. When you're a company with a footprint across not only smartphones and tablets, but home appliances and more, that's a big potential audience – if you can get the functionality right. Read on for five things you should know about the Bixby Marketplace, and what it means about the future of Bixby.
Bixby was always about more than just answering questions
One of the most popular uses for assistants like Alexa, Siri, and the Google Assistant is asking questions. The answers typically aren't always the most comprehensive, but it's a convenient way to get the essentials, without having to go Googling yourself. Bixby can do that too, but Samsung always had bigger ambitions than that.
When it launched in 2017, Bixby actually consisted of three parts. Bixby Voice was the traditional voice assistant; Bixby Vision used the camera for augmented reality along with translating text, recognizing landmarks and products, and scanning QR codes; and Bixby Home was a timeline of weather reports, news, fitness activities, and controls for smart home devices.
Samsung, though, wanted Bixby to enable a completely hands-off experience with its phones and tablets. The idea was that Bixby Voice could replicate pretty much any task you'd normally touch the display to achieve, all by spoken command instead. It was ambitious, perhaps a little too much: Bixby Voice launched in the US far later than intended, Samsung blaming the assistant's ability to understand English commands for the delay.
Bixby has spread beyond your phone
Samsung's goal to make Bixby a universal assistant rather than just a feature on your phone was clear from the outset, though it was only last year when its plans for how to achieve that began to come clear. At the company's annual developer conference last November, Samsung explained how it would make good on its CES 2018 commitment that all of its devices were on track to be connected and AI-enabled. That includes TVs, refrigerators, washing machines, and smart speakers.
In addition, Samsung is hoping to get third-party device-makers in on the action, though we're so far yet to see any successes there. More important, though, was the Bixby Marketplace.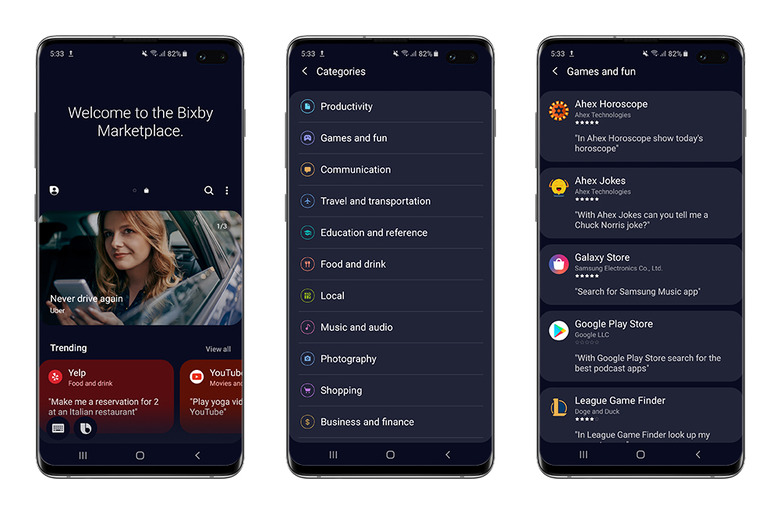 "Now, for the first time, we are opening Bixby up to all of you developers," Eui-Suk Chung, EVP head of software and artificial intelligence at Samsung, said at the event. "This means giving you a brand new set of developer tools – actually the same tools we use – so you can build your own Bixby experiences."
A Bixby skill is called a "capsule"
Samsung's vision for piecemeal upgrades to Bixby is based around what it has dubbed capsules: individual feature packages that it, or third-party developers, will release. Somewhere between an app and a shortcut, a capsule might consist of a restaurant review search tool, or a way to summon a car through a ride-hailing service, or a podcast search engine.
They'll be distributed through the Bixby Marketplace, which is split into categories like Productivity, Communication, Local, and Shopping. Installing a capsule is a little like Neo getting a knowledge pack in the Matrix movies. Suddenly Bixby has an extra talent it can call upon.
Samsung has two Bixby aces up its sleeve
It's fair to say that Bixby probably isn't at the top of the list for most third-party developers considering building a voice assistant app or service. Samsung is hoping to change that with the toolkit it has developed to actually build Bixby capsules. The promise is that AI will do most of the hard work.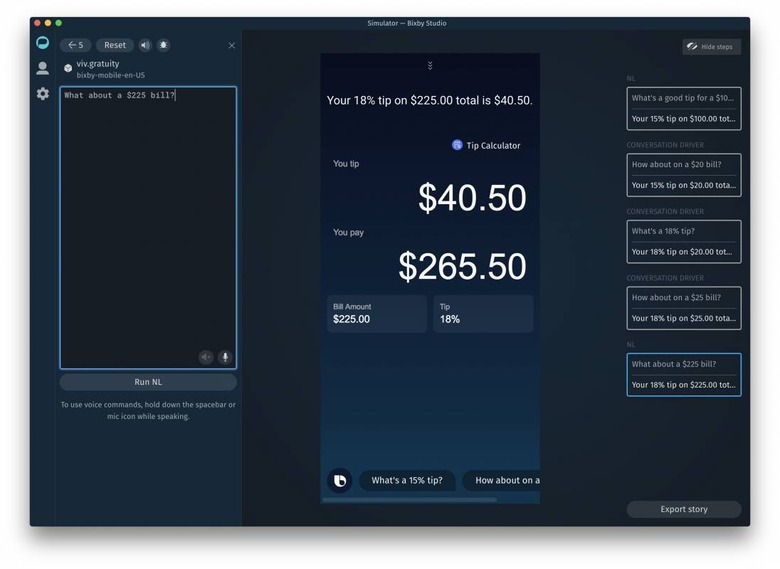 Developers tell the Bixby Developer Studio what they want to achieve – booking a certain restaurant at a certain time, for a certain number of people – and the code is automatically generated to suit. Each stage of the app requires minimal input from the developer themselves, as simple as dragging in a calendar for example. The hard, time-consuming stuff goes on in the background, Samsung promises.
Bixby's other big advantage is the flexibility to set up voice as you prefer it. One of the lingering criticisms of Siri, for instance, has been how historically Apple has forced certain defaults onto you. That's gradually changing with new versions of iOS, but it can still feel a little prescriptive.
Bixby, though, allows you to set preferred capsules in your voice workflow. If you want to set, say, a Lyft capsule as your go-to ride-hailing service, then you can do so, and from that point on Bixby will automatically use that service in preference to others.
It's still early days for the Bixby Marketplace
Right now, the Bixby Marketplace is open for business in the US and South Korea. Samsung says that broader availability – and more capsules – will come in due course. Still, it's fair to say that it's very early in this new evolution of Bixby.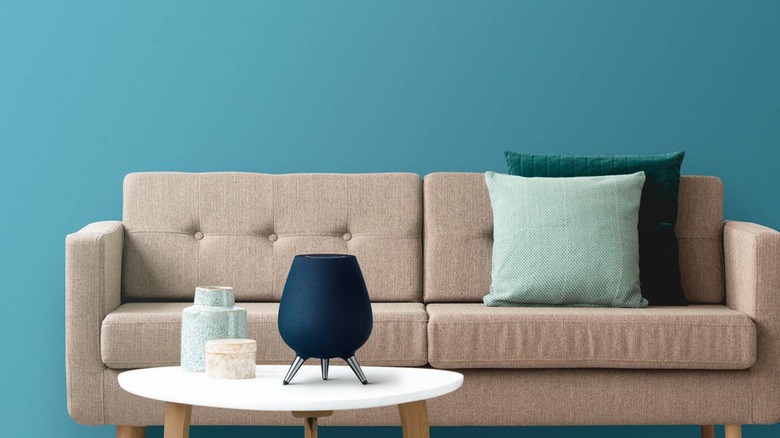 That struggle with momentum is something that's all too familiar, unfortunately. The Galaxy Home smart speaker, for instance, was meant to be the assistant's big expansion out of phones and into multimedia: instead, it's still yet to launch. Bixby on home appliances, too, is yet to make a significant dent.
What could tip the scales somewhat is the arrival of the Galaxy Note 10, which is expected in the coming months. Even than, Samsung needs to prove that Bixby has more of a role than just as a smartphone feature, if we're to think of it as more than just a default button annoyance.