Samsung Stratosphere Review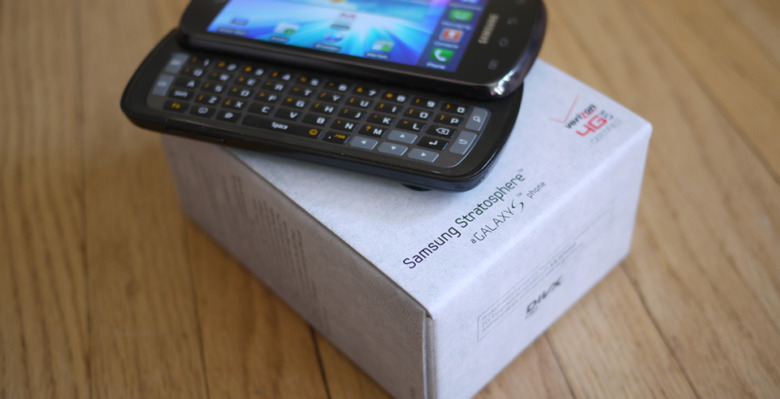 The next step forward in having the mobile world adopt a connection speed isn't always necessarily straight to the newest high for specs, and the Samsung Stratosphere is here to prove it. Fitted with a slide-out full QWERTY keyboard complete with Android menu shortcuts and coming in as the second Samsung handset to work on Verizon's 4G LTE network, the Samsung Stratosphere isn't here to win any benchmark wars with its single-core 1GHz processor and relatively thick chassis, but it IS the only 4G LTE device on the market with a full QWERTY keyboard, and the 4-inch 800 × 480 Super AMOLED display doesn't hurt none either. Will the Stratosphere access a market just waiting to be tapped? We shall see!
Hardware
This is a device that someone who seeks only the 4G LTE Verizon connection speed and absolutely cannot live without a full QWERTY keyboard that slides out from under the display will be picking up. Samsung makes a 4.3-inch device running on 4G LTE with the same amount of pixels and the same screen technology as well – no QWERTY, but four physical buttons below the display – that's the DROID CHARGE – it essentially has the same 1GHz processor as well. So which is best? Whichever one you want the most, of course.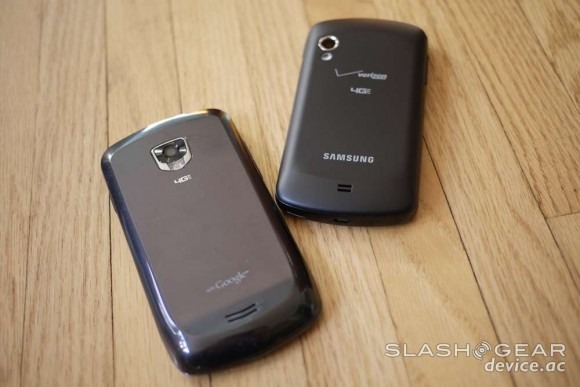 The Samsung Stratosphere is a rather bulky device at 14mm thick, and the back of the device's full-body battery cover, though formed rather nicely, is a hard plastic that makes the entire device a bit slippery to hold. Once the keyboard is slid out, and it does slide out nicely mind you, you'll have no trouble hanging on for some physical typing and navigating with the up/down/left/right keys.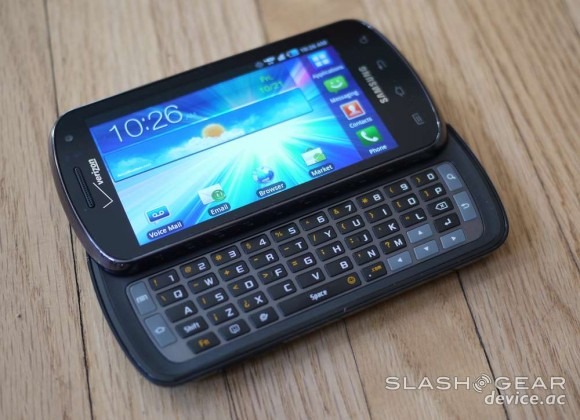 So what you've got here is a real competition between the Stratosphere and the Pantech Breakout if you want two devices that cost nearly the same. You've got the same 800 x 480 display at 4-inches (without Super AMOLED) and another 5-megapixel camera, a 1GHz processor (from Qualcomm this time) and some rather unique looking physical buttons. Pantech also provides a rather unique look at Android with their own user interface, this compared to the TouchWiz you'll see in the hands-on look at the Stratosphere here makes for an interesting one to one:
[vms 6761171b130dcb476a43]
Samsung Stratosphere hands-on
Again take a look at the Pantech Breakout in our full review of the device from a few weeks ago. There are of course some other more expensive and higher-end choices for LTE if you feel like dropping a few more bucks: LG Revolution, HTC ThunderBolt (the first LTE smartphone,) and the DROID BIONIC, currently the only dual-core processor toting LTE device. Also of course you could go full blast with the Samsung Galaxy Nexus that'll be out next month.
Software
Samsung runs a user interface over stock Android that's called TouchWiz. This iteration of TouchWiz is not the most advanced of all Samsung devices released thus far, that'd be the Galaxy S II here in the USA, but it's fairly decent. It's slick, customizable to a degree, and has that ever-so-enjoyable puzzle unlock that you may have heard of if you've ever seen TouchWiz in action before. What it consists of is a set of puzzle pieces running across your screen, each of them corresponding to a phone call you've had, a message, or any number of alerts, including a simple path to your homescreen – the rest, when pulled and placed in the correct open puzzle piece hole, lead to the corresponding app.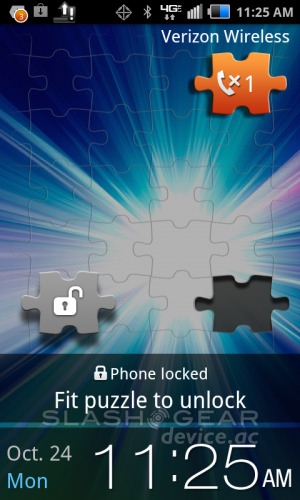 Inside you'll also find not one, but two docking modes, first one that works with your basic desk dock here: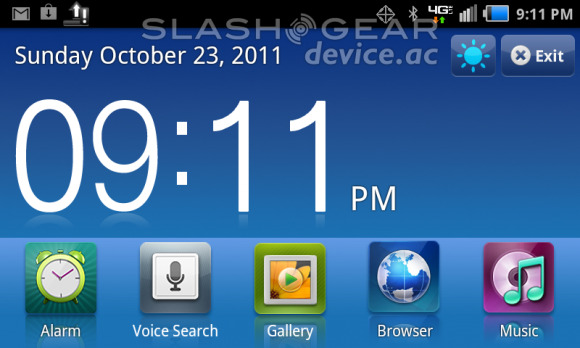 Then another that works with an automobile dock: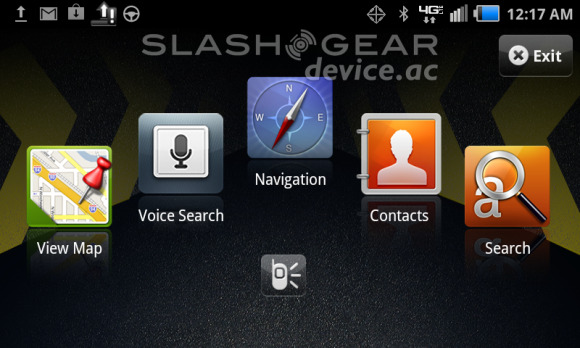 Both work rather well and set you up for a perfectly legit mini version of what you get with the DROID RAZR (another LTE dual-core device coming to Verizon soon) in its desktop mode. There are a few enterprise features in the software pack here that includes what Verizon calls the "most comprehensive mobile implementation" of Microsoft Exchange ActiveSync (EAS), B2B-enabled connectivity services, and some Sybase Afaria for remote device management as well. Need a BlackBerry alternative for your home business? This may well be it.
Camera
The camera on the front of the device is capable of a fairly standard 1.3 megapixels of quality that you'll basically just be using for video chat, while the back of the device's 5 megapixel camera can also record 720p quality video. Have a peek at a video recorded at top quality here, a photo at top quality as well, and a couple more photos in the gallery at the bottom of this post – you'll know em because they'll be the only ones that don't contain the phone itself as an image in them.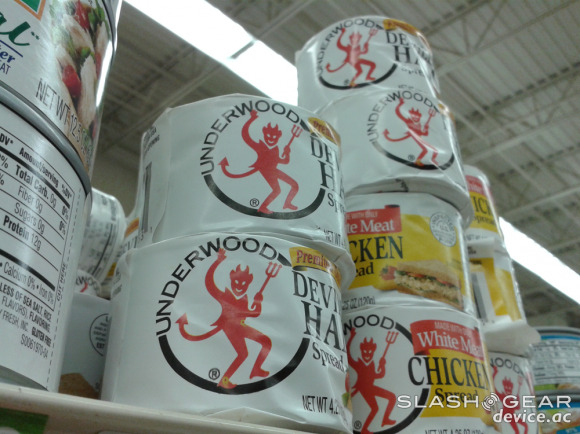 Battery
Like several Samsung devices we've seen very recently, Galaxy S II devices included, the standby time on this smartphone appears to be pretty good. It's certainly not the best handler of battery on earth, (that's still the Galaxy S II, for those of you counting,) but it's pretty good. Have a peek at this example of a normal medium-use day of the device here: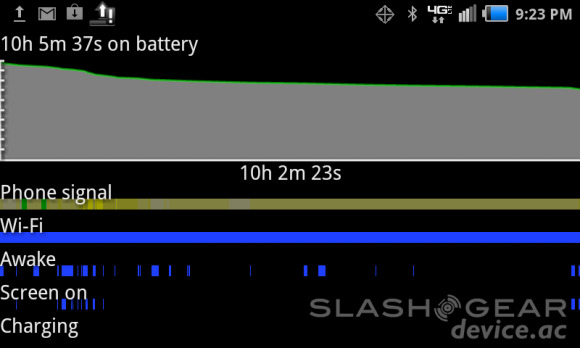 Connection Speed
One of the biggest selling points on this device will be the connection speed, as it's one of less than 10 devices on the market today to be able to connect at Verizon's 4G LTE speeds. Have a peek here at some speed tests done here in Minneapolis, Minnesota, where LTE speeds are real: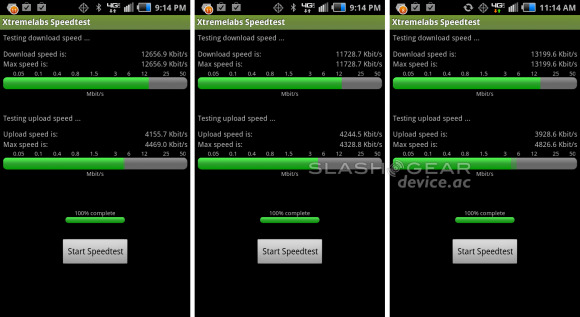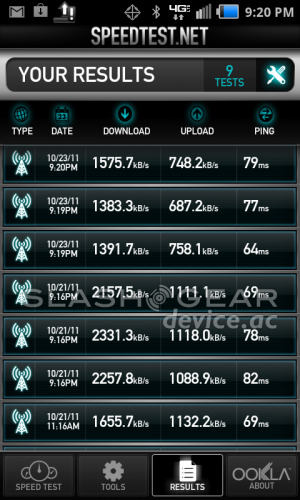 Wrap-Up
This device represents a unique choice, as all good smartphones should. Again, this is the only 4G LTE device on the market with a full QWERTY keyboard on it, and it's the second of two Samsung smartphones on the market today running on that same network. This device is neither the most powerful nor the most sleek device in any category, but it DOES have a keyboard, I assure you. Have a peek at the video and the photos above and below, and you tell me: will you slide with LTE?