Samsung N310 hands-on suggests style over substance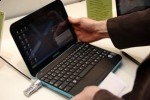 The Samsung N310's claim to fame might be its VAIO-style keyboard and rubbery shell, but in a segment with as little model differentiation as netbooks they could be enough to single it out.  Pocket-lint snagged some hands-on time with the Naoto Fukasawa-designed ultraportable.
It's not ruggedized, just has a "rubberised feel to it", and the embossed logo might work in small-scale like on the back of Samsung's cellphones but it's pretty intrusive across the reverse of a 10-inch display.  That keyboard, meanwhile, is 93-percent standard size, and the whole things weighs 1.23kg with up to 5hrs battery life. 
What that basically means is you're paying with weight and runtime for the style: Samsung's other new netbook, the N120, claims 10.2hrs battery in just 1.28kg of overall weight.  Still, the rubbery N310 will likely find some appeal when it hits Europe, Asia and the US in May, with pricing around $399 ($588).