Samsung Xplorer B2100: simply rugged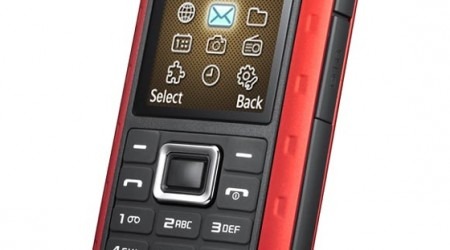 Samsung have launched their latest rugged cellphone, the Samsung Xplorer B2100.  Built to withstand submersion, dust, extremes of temperature and shocks, the Xplorer meets military specification MIL-STD-810F; since you'll want to use it as a phone, too, it's quadband GSM (850/900/1800/1900) though not 3G.
In fact like a lot of ruggedized phones you're getting very basic features for your money.  The Samsung Xplorer has a 1.77-inch 120 x 160 LCD display, microSD slot to augment the pitiful 7MB of internal storage, a 1.3-megapixel camera and speakerphone.  There's also Bluetooth 2.1 and a 1,000mAh battery good for 9hrs talktime or 600hrs standby.
Samsung also throw in an FM radio, and the whole thing measures 4.45 x 1.93 x 0.69 inches and weighs 3.63oz.  It'll apparently hit Europe – and Germany in particular – come April 2009; no US release has been detailed, nor price, though we'd expect to see the Xplorer B2100 free with a new contract.
Press Release:
SAMSUNG REINFORCES ITS LEADERSHIP IN OUTDOOR PHONE MARKET

'Samsung Xplorer' is Best Fit For Active Outdoor Lifestyle

Seoul, Korea, March 18, 2009 – Samsung Electronics Co. Ltd., a leading mobile phone provider, today introduced

'Samsung Xplorer' (B2100), a new phone that incorporates various outdoor features and robust durability, and boasts a stylish design and comfortable grip.

Following the successful launches of the M110 in 2007 and the B2700 in 2008, Samsung continues to introduce advanced outdoor mobile phones. With the unveiling of 'Samsung Xplorer', the newest submersible mobile phone, Samsung hopes to strengthen its leadership in the outdoor mobile phone market.

"Samsung Xplorer is the perfect companion for consumers who enjoy active outdoor activities." said JK Shin, Executive Vice President and Head of Mobile Communication Division at Samsung Electronics. "With the launch of Samsung Xplorer, Samsung will be able to solidify its position in outdoor phone market and continue to make products that excel in durability and usability."

Encased in anti-shock urethane material, the 'Samsung Xplorer' is built to withstand the bumps, bangs, scrapes, scuffs and even against dust and water. Featuring the IP57 certification, the phone provides perfect outdoor mobile experiences while supporting dust protection and water protection (under up to 1 meter of water for 30 minutes).

'Samsung Xplorer' is adaptable for even the toughest environment – including blowing rain, salt fog, and extremely hot and cold temperatures, etc. – and is compliant with Military Standard 810F (MIL-STD-810F).

Furthermore, 'Samsung Xplorer' is equipped with outdoor friendly features such as loud external speakers, noise cancellation and a flash light. It is offered in a variety of colors and the slimmest thickness among other submersible phones, making it the perfect choice for both of work and leisure activity.

'Samsung Xplorer' will be launched in Germany and other European countries from April, 2009.