Samsung June 2013 "Premiere" event teases new Galaxy and ATIV devices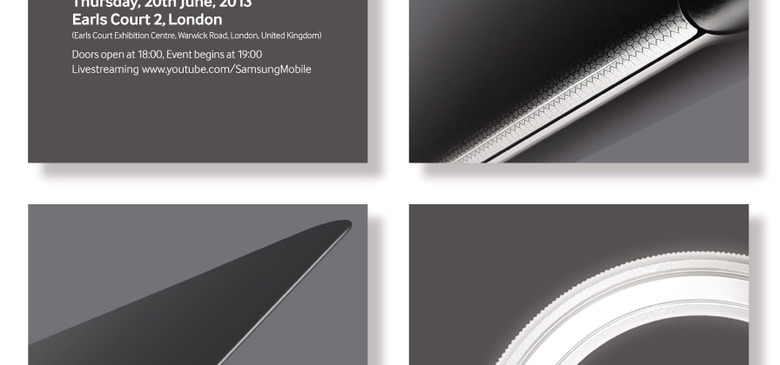 Samsung will bring a new batch of Galaxy and ATIV phones and tablets to play in a launch event in late June, the company has confirmed, teasing the new range ahead of its UK debut. The event, to be held in the evening of June 20 at London's Earl's Court Exhibition Center, has been dubbed "Samsung Premiere 2013" and will presumably see at least two devices added to the company's line-up.
The Galaxy range needs little introduction, being headlined of course by the Galaxy S 4. One possibility is that Samsung could use the London event to reveal the Galaxy S 4 mini, the rumored smaller version of the flagship.
However, the rumor-mill hasn't been quiet on possible Galaxy phones, with both the Galaxy S 4 Active and the Galaxy S 4 Mega expected to be unveiled sometime in the near future. Samsung's big reveal could also be around a Galaxy Tab, perhaps the Galaxy Tab 3 7.0.
As for ATIV, that branding is a little less known than the Galaxy series. On the one hand, there are the ATIV tablets, which have so far included Windows 8 and Windows RT models; that's been underplayed in recent months, especially after Samsung opted not to launch the RT-based ATIV Tab in the US.
The other possibility is a new Windows Phone, since Samsung uses the ATIV name for that series of devices as well. The company's mobile emphasis has so far been predominantly on Android, but a new Windows Phone 8 device, perhaps with some of the specifications of the Galaxy S 4, could be one possibility.
However, thanks to some brand streamlining, ATIV also covers Samsung's all-in-ones and laptops, in addition to its Windows-based tablets, so the London event could well see a broader line-up unveiled.
We'll know for sure on June 20, with the show kicking off at 6pm BST (1PM ET/10AM PT) and livestreamed at the Samsung Mobile YouTube channel.
VIA: The Next Web