Samsung Galaxy Tab 3 7.0 appears in video run-down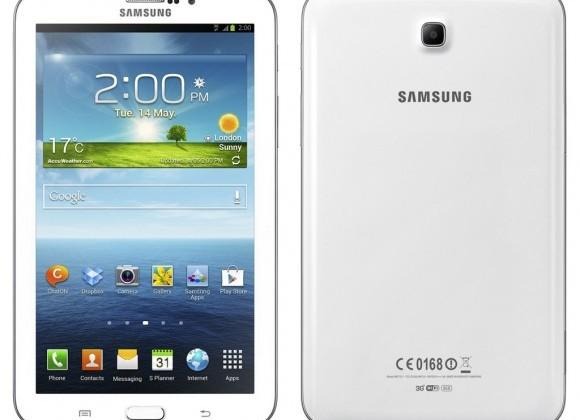 As the Samsung Galaxy Note 8.0 continues to appear as the company's newest device in the mid-sized tablet category, a video has appeared this week showing off the newest Samsung Galaxy Tab 3 7.0 – the non-stylus tablet segment for the company. This device will be part of the fourth wave for the tablet line in Samsung's arsenal, the first being the original Samsung Galaxy Tab, released with a 7-inch display and Android 2.3 Gingerbread back in the year 2010. This newest Galaxy Tab features an aesthetic and abilities similar to that of the newest Galaxy Note series.
This device has been tipped to be working with Intel processing power inside, that being one of the newer ATOM series SoCs according to benchmark results appearing this week. This device has been shown to be exceedingly similar to its predecessor in its display and processing abilities, while its form factor has left it a bit thinner and more sleek in appearance.
The Samsung Galaxy Tab 3 7.0 works with a 7-inch display at 1024 x 600 pixel resolution up front, 1GB of RAM inside, and an unknown release date inside the USA. This tablet will be coming in at 111.1 x 188 x 9.9mm large and will be launched with Android 4.1 Jelly Bean if not higher.
This device will be appearing with 8GB and 16GB internal storage sizes and will likely be appearing on more than one mobile carrier here in the USA. Whether or not it'll have its own microSD card slot for memory expansion may be dependent on region and/or carrier preference. Final pricing has not yet been revealed for USA-based sales, but it's likely that Samsung will target somewhere well beneath it's Galaxy Note 8.0 – so perhaps a bit closer to $250 USD.
The Samsung Galaxy Tab 2 7.0 was released last year with a styling that was rather similar to that of the Samsung Galaxy Tab 2 10.1. Before that, the Samsung Galaxy Tab 10.1 and Samsung Galaxy Tab 7.7 lead the way with a double-down on second-wave styling, while again, the first wave was only appearing in a 7-inch form factor.
SOURCE: Tablets Mag