Samsung Galaxy S 4 Active caught in wild as S4 Mini and S4 Mega lurk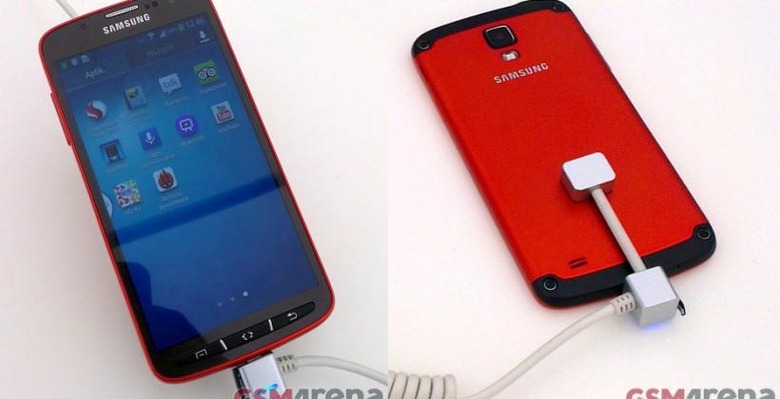 A new variation on Samsung's Galaxy S 4 has leaked, the Samsung Galaxy S 4 Active, with the quadcore 1.9GHz smartphone cropping up in Croatia ahead of an official release. The slightly aesthetically-redesigned phone, which apparently has physical menu and back buttons as well as what looks to be a more rugged rear casing, has turned up at GSMArena, having been previewed on a Samsung WhatON app update first, complete with some other new twists on the Samsung flagship.
That update – to the remote control software Samsung uses to turn its phones and tablets into universal remotes – name-checked not only the Galaxy S 4 Active but two other handsets. Version 5.0.4 of the software now has support for the S4 Mega and S4 mini, according to this screenshot from SamMobile; Samsung since updated the changelog to remove any mention of the unannounced phones.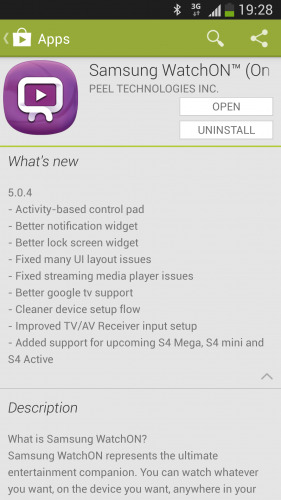 Judging by the AnTuTu benchmarking results run on the Galaxy S 4 Active (GT-I9295) handset in the wild, the phone sticks closely to the pattern already set by the Galaxy S 4. There's a 1920 x 1080 Full HD display running at 480 dpi along with Adreno 320 graphics; according to the person who shot the photos, it's a 5-inch device, too.
In fact, the big change is expected to be in how the phone is put together. Rather than the much-criticized plastic casing of the existing Galaxy S 4, the Active version is believed to use metal. There's also talk of a special waterproof coating to protect against splashes, with Samsung tipped to be relying on the P2i nano-coating which makes even the circuitboards water-resilient.
As for the S4 mini, a good guess would be a smaller version – likely with pared back specifications – of the regular S4. Samsung has already tried this once before, with the Galaxy S III Mini, though the underwhelming specifications made it more of a name cash-in rather than a true shrunken version of the flagship.
Finally, the S4 Mega presumably sees the regular S4 head in the other direction, getting even bigger. That could mean a bigger display – though that would be getting close to the size of the Galaxy Note II, which itself may be getting larger in its third generation expected to launch later in the year – or it might mean a larger battery. Alternatively, Samsung might step up to 5.5-inches and, since it would presumably lack a stylus, more closely compete with the LG Optimus G Pro.